Stephanie Alexander's fattoush salad
This fattoush salad is loaded with veggies and crunchy pita bread. It makes the perfect dinner or side to share.
Okay, today I'm going to make a salad called fattoush, quite well known in all Middle Eastern countries, and there are no doubt many variations. And I've chosen a whole wheat pita bread. And that's going to be brushed with extra virgin olive oil and pop it in the oven for about 10 minutes. So here's my finely chopped red onion, I don't need very much of it. So you can see I've just had a piece of this onion. It's been in here for 10 minutes, and I'm now going to strain it from the vinegar and give it a bit of a press. I discard that vinegar, now the onions are ready to use. So now I'm going to chop my cucumber like this. I like to leave a little bit of the skin on because it just looks nice really. Chop it into small pieces. Cucumber, the drained onion, a handful of the tomatoes and then I'm going to chop my herbs. So I'm going to pop those in there now. And now I'm going to make the dressing. Pinch of salt, clove of garlic finely chopped, about a half a lemon, juice from half a lemon, and a half a teaspoon of sumac. That's this very interesting tart spice. Mix together with some extra virgin olive oil - one to two tablespoons, I'm now just going to do that by sight. So now I'm going to pour that over the contents in my bowl and then move on to cutting the pomegranate. Okay, so here we have a beautiful pomegranate and I'm going to cut it in half crosswise. Look at that for a beautiful colour. Digging out some of these little arils as they're called with a teaspoon, will be used to garnish the finished salad. Okay, this is the exciting part when it really all comes together. And I've got my washed and dried greens, which are very floppy and the sort I really love. Just allow everything to tumble into the salad. And now the finishing things are, some of the pita bread, fall where it wants to fall. Those little bits will get soaked up a bit with the dressing. And then a little scattering of extra herbs, more mint, more parsley, and then we have our very beautiful pomegranate. Now, I think that's perfect. Fattoush, enough for two generous serves.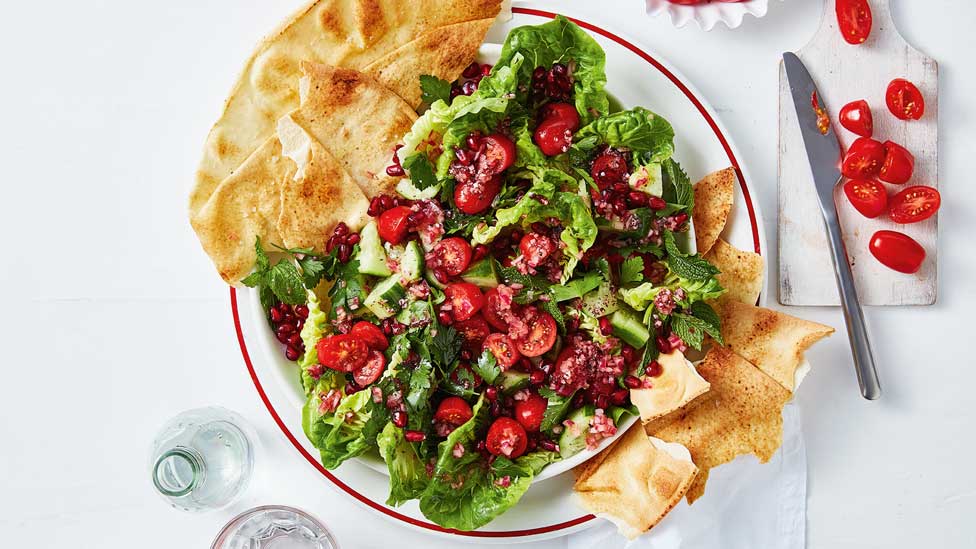 Ingredients
1 large piece wholemeal pita bread
1 tsp extra virgin olive oil
2 tbs finely chopped red onion
1 tbs red wine vinegar
8 red Perino tomatoes
1 Lebanese cucumber, peeled, halved lengthways, cut into 1cm pieces
Handful crisp lettuce leaves (such as little gem or baby cos), to serve
12 mint leaves, coarsely chopped
12 flat-leaf parsley leaves, coarsely chopped
Pomegranate arils, to sprinkle (optional)
Dressing
1/2 lemon, juiced
2 tbs extra virgin olive oil
1 small garlic clove, very finely chopped
1/2 tsp ground sumac
Method
STEP 1
Preheat oven to 200°C (180°C fan-forced). Place the bread on a baking tray and brush with the oil. Bake for 8-10 mins or until light golden and crisp. Set aside to cool. Break into coarse pieces. 
STEP 2
Meanwhile, place the onion and vinegar in a small bowl. Set aside for 10 mins to soak. 
STEP 3
To make the dressing, combine the lemon, oil, garlic and sumac in a small bowl. Season to taste. 
STEP 4
Drain the onion and discard the vinegar. Place the tomatoes, cucumber and onion in a bowl. Add the dressing, half the mint and half the parsley and toss to combine. 
STEP 5
Arrange the lettuce leaves on a serving platter. Top with the tomato mixture and drizzle over the dressing. Sprinkle with the remaining mint and parsley. Top with the bread. Sprinkle with the pomegranate, if using. 
Check ingredient labels to make sure they meet your specific dietary requirements and always consult a health professional before changing your diet. View dietary information here.