Stephanie Alexander's ratatouille
Whip up this classic ratatouille packed with rich flavours, feel-good textures and seasonal vegetables.
I'm Stephanie Alexander and now that we're all at home we're going to be doing lots of cooking. I know some of you are cooking for a family and I'm cooking just for one but I'm going to today make one of my favourite dishes which is Ratatouille and it makes a lot so it's ideal because I can have some for now and then I can freeze some in small containers for later on.
So I'm going to show you how I prepare the tomatoes. These three have been dipped in boiling water for about a minute and stripped of their skin. Give them a squeeze to get out most of the seeds. Just a rough chop you don't have to be particularly precise because these tomatoes are just going to melt into the sauce.
We want to cut these peppers into pieces about 3cm square. And then move on to onion and garlic. I'm going to cut my eggplant. They are inclined to be a bit slippery., so I recommend slicing an eggplant with a serrated knife. I'm going to move straight onto copping the zucchini into thickish rounds.
You can see the ratatouille is a colourful exciting dish.
Okay my olive oil in the pan and straight away I'm putting in the onion and garlic.
My onions have softened. In go the peppers, and I'm also just going to add two bay leaves from the garden and a few pieces of rosemary. And then I'm going to lower the heat and cover the pot for a good 5 minutes.
Okay now's the moment to add the eggplant. So it's all going in, and now I'm going to add the chopped tomato, sea salt, freshly ground black pepper. And I'm now going to transfer the pot to the oven which is on at 180 degrees for about 40 minutes.
So the ratatouille's been cooking for quite some time, I'm now going to add the zucchini. Zucchini is going in. I'm going to add a tiny little slither of olive oil. And then the lids going back on and I'm going to put it back in the oven for another 20 minutes.
Here we go the moment of truth. Look at that. Now of course you could just serve it like this with a leg of lamb or you can divide it up into small portions which is what I usually do so I have some for another day. It's a great time to get your kids interested in cooking with you and being interested in food generally.
To find out more go to the Stephanie Alexander Kitchen Garden Foundation Website and for this recipe go to coles.com.au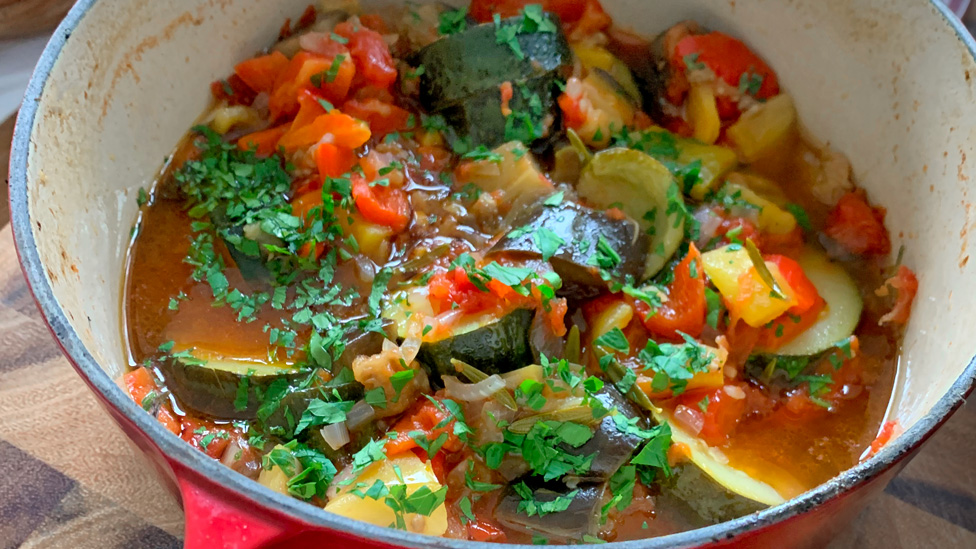 Note: + 1 hour standing time
Ingredients
3 eggplants, cut into 3cm pieces
1/2 cup (125ml) olive oil
2 onions, thinly sliced
2 garlic cloves, thinly sliced
3 red capsicums, seeded and cut into 3cm pieces
6 small or 3 large zucchini, cut into 3cm pieces
A few coriander seeds, crushed
4 large ripe tomatoes, peeled, seeded and chopped
Chopped parsley or basil, to serve
Method
STEP 1
Place the eggplant on a tray and lightly sprinkle with salt. Cover with a piece of foil. Top with a few cans of food and set aside for 1 hour.
STEP 2
Wipe any moisture off the eggplant with kitchen paper and discard juices. Heat oil in an enamelled cast-iron casserole pan or a heavy-based saucepan and sauté the onion until limp and golden. Add the garlic, capsicum and eggplant, then cover the casserole dish and cook gently for 40 mins.
STEP 3
Add the zucchini, coriander seeds, tomato and a grinding of pepper and cook for a further 20 mins or until the vegetables are tender. Stir in the parsley or basil.
Serve ratatouille alongside roast chicken, grilled fish or poached eggs.
Check ingredient labels to make sure they meet your specific dietary requirements and always consult a health professional before changing your diet. View dietary information here.