Stephanie Alexander's Smitten apple and hazelnut salad with green beans
Have a go creating Stephanie Alexander's fresh-tasting salad using in-season Smitten apples. Complete with crispy bacon, egg and hazelnuts, it's a winner.
Hi, I'm Stephanie Alexander with exciting news. From the 17th of March to the 13th of April, Coles has combined with Smitten apples to offer a special deal to the Stephanie Alexander Kitchen Garden Foundation. For every kilo of apples purchased, 30 cents will go to the foundation and that, of course, will help us promote wonderful food education for children. There's so many wonderful things you can do with Smitten apples. Let's get started.
Okay, so I'm going to make a dressing and this is in a large bowl for a very small amount of dressing because later on, I'm going to toss the just warm green beans in that dressing. I'm going to use a tablespoon of Australian extra virgin olive oil and a teaspoonful of red wine vinegar and sprinkle of sea salt and a grind of pepper. I'm just going to give it a quick stir and then it just gets left until I'm ready to put the beans in it later. 
Okay, so now I want to cut this apple. Push right through the centre of the apple and it actually takes quite a bit of force, like that. Then you turn it around and you lift out this core of apple core, it's got all the seeds in it which of course you don't want, that gets discarded, and now I can cut the alternate on its side so I maximise the beautiful colour of the skin and cut reasonably thin slices. I'm going to squeeze half a lemon and before you pour it over, it's a good idea to look for any lemon seeds that have gotten themselves into the juice. Okay, over it goes. Quick stir, and just leave until needed later. 
Next bit of my salad is I'm roasting some hazelnuts. They've been in the oven for 15 minutes and they're looking good. Turn the oven down to quite low and I'm cooking some bacon and this is streaky bacon which I love best of all, and I like to add a few drops of water to the pan when it starts off, just to start the bacon cooking, so it doesn't stick to the pan.
Now I've got beautiful toasted hazelnuts, lovely crisp pieces of bacon and I'm going to put them back into an oven at about 100 degrees centigrade just to keep warm until I'm ready. This is a very simple omelette, I'm just going to whisk these eggs. I've got my parsley. I'm going to add one chop of fresh chives. Egg going in. Straight away tip the pan so that it makes a very thin coating. And I scatter over the herbs while still moist.
Okay, I've got a little bit of baking paper on my board here because I'm going to do my omelette out onto this board like that, and once it's cooled for a moment I'll roll it up so we can cut some nice little rings from it to scatter into my salad. There we go. So I've got some very beautiful baby beans here, if you grow them yourself you'll be able to see just how lovely they are, and I'm going to drop these into lightly salted water. It'll take no more than three, four maybe five minutes to be tender then I'm going to drain them and then I'm ready to actually dress the salad.
So what I've got now is my drained beans and they are going into the dressing that I made at the beginning. Give them a bit of a shoosh around in the dressing, so beans are going on, dressing is dripping at the same time.
Now the apples might need a bit of placing, so we'll see how we go. Bacon and the hazelnuts to be scattered. Some omelette, very fancy salad this, isn't it? And add a final touch of a little bit of rocket, which I have very carefully made sure that there's no long stems. Final, final thing is to spoon the rest of the dressing just over and around, and there we have it. Smitten apple, hazelnut and green bean salad.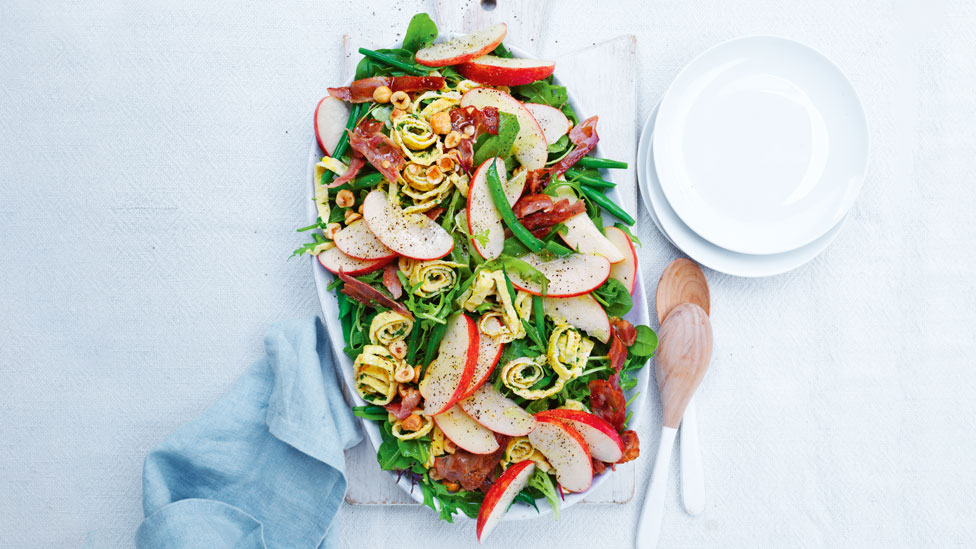 Ingredients
1/4 cup (35g) hazelnuts
3 streaky bacon rashers
2 Coles Australian Free Range Eggs, lightly whisked
1 tbs chopped flat-leaf parsley
2 tbs extra virgin olive oil
1 tbs red wine vinegar
160g green beans, trimmed
2 Smitten apples
1 lemon, juiced
40g mixed salad leaves
20g baby rocket leaves
Method
STEP 1
Preheat oven to 150°C. Line a baking tray with baking paper. Place hazelnuts on lined tray. Roast for 15 mins or until golden. Place in a clean tea towel and rub to remove the skins. Discard the skins and coarsely chop.
STEP 2
Meanwhile, heat a large non-stick frying pan over medium heat. Add the bacon and cook for 2 mins each side or until the bacon is crisp and golden brown. Transfer to a plate lined with paper towel. Cool slightly. Break into bite-sized pieces.
STEP 3
Add the egg to the frying pan and swirl the pan to coat the base. Sprinkle with parsley. Cook until the egg is just set. Transfer to a chopping board and set aside to cool slightly. Roll up the egg and thinly slice crossways.
STEP 4
Whisk the oil and vinegar in a small bowl. Season with salt and pepper.
STEP 5
Cook the green beans in a medium saucepan of boiling water for 2 mins or until tender crisp. Refresh under cold water. Drain well. Transfer to a bowl. Add vinegar mixture and toss to coat.
STEP 6
Quarter and core the apples, then cut into thin slices. Place in a small bowl and toss with the lemon juice (this helps to prevent browning).
STEP 7
Arrange the salad leaves and rocket on a large serving platter. Top with the green beans, egg, bacon and apple. Sprinkle with hazelnuts and season with black pepper to serve. 
Check ingredient labels to make sure they meet your specific dietary requirements and always consult a health professional before changing your diet. View dietary information here.