Stephanie's spinach and sourdough fritters
These bite-sized fritters are the perfect snack or light meal. Packed with flavour, they're a great way to use up any leafy greens in the fridge.
Hi, I'm Stephanie Alexander and today I'm going to make for you a wonderfully simple recipe, spinach and sourdough fritters, and it uses green leaves either gathered from your garden or green leaves that you might find in Coles, who are supporting the Stephanie Alexander Kitchen Garden Foundation.
But probably the most important thing is really good quality bread. This is a sourdough loaf and you'll note that it's got really fatblack olives in it and that gives it a lot of extra flavour. That is going to be soaked with a half a cup of just ordinary milk. Just leave that there.
Then I have baby spinach leaves, that is what I've chosen to be my green, and it only takes about a minute to cook in rapidly boiling water, and then I'm going to drain it and bring it across and give it a squeeze. Here's my spinach, it's been run under the cold tap to cool it down and I have got here a tea towel with some paper in it. Give it an extra squeeze here and drop the spinach in the paper, fold it loosely, roll it up loosely in a dry clothand then over something, a sink or a bowl, just give it a really good twist because a lot of extra water will get into the cloth and you'll have much drier spinach. Now I'm going to put it in my bowl ready for the next stage.
Now I'm going to mix my cheeses in this little bowl. So I've got 50 grams of parmesan, which I've already grated. I've got half the amount, about three tablespoons, of grated mozzarella which I grated on the coarsest hole of a grater. Some parsley, and that could be other herbs, and one egg. I'm just going to mix that together and then we're ready to put everything together for the fritters.
So the first thing that's going in here is the bread and what's left of the milk. We squeeze out any real excess, butit's just about all soaked up. And I'm going to run that, and now I'm going to add the chopped garlic and the spinach and I'm hoping that after this runs for a minute it will be very bright green, and then I will add the eggs and the cheese mixture. I'm going to stop it to give it one scrape, which is always a good thing to do when you're using a food processor.
Now it's time to add the last ingredient: the cheeses and the egg. So that's really it,so you can see how easy this recipe is. Now I'm going to scrape that mixture into this bowl, chill it and then form it into little patties. So the recipe makes somewhere between 10 and 12, depending on the size of the patty. You can always add an egg, bacon, a sausage, all sorts of things could go with it.
I'm now going to chill these before I start to fry. So my fritters are being fried in olive oil. They do need to get a nice crust, so there's no need to rush the turning of them. And because we're talking about bread, cheese and egg, there's nothing very much to cook here, wejust want a lovely crust on both sides of the fritter. You can see they've got a lovely crusty top and we're just giving them a few minutes on the bottom and then I'll lift them out onto this paper lined tray, which has beenin the oven keeping warm, and then we'll serve them up.
So I've got my little warm bit of tomato sauce. I'm going to give each little fritter a little bed, but you can do this however you like and they'll be very very delicious. Here we have spinach and sourdough fritters - yum yum!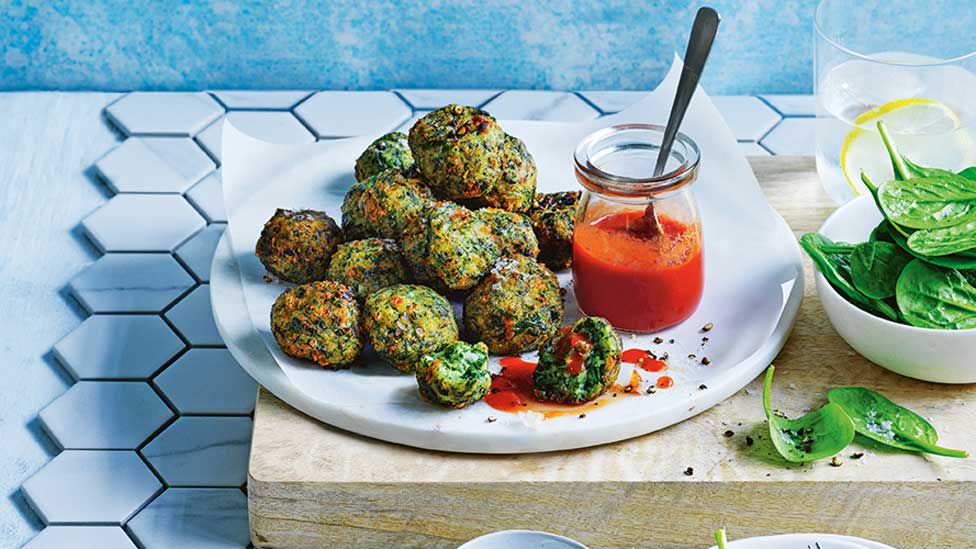 Note: + 1 hour soaking & 30 mins chilling time
Ingredients
1/2 cup (125ml) milk
260g crustless sourdough bread, cut into large pieces
280g pkt Coles Australian Baby Spinach
50g finely grated parmesan
1/4 cup (25g) coarsely grated mozzarella
1 Coles Australian Free Range Egg
1/4 cup chopped flat-leaf parsley
1 garlic clove, chopped
Olive oil, to deep-fry
Tomato sauce, to serve
Method
STEP 1
Place the milk in a bowl. Add the bread and set aside for 1 hour to soak.
STEP 2
Cook half the spinach in a large saucepan of boiling water for 1 min or until bright green. Refresh under cold water. Drain well, then use your hands to squeeze as much liquid from the spinach as possible. Discard the excess liquid.
STEP 3
Combine the parmesan, mozzarella, egg and parsley in a large bowl. Drain the bread pieces, then use your hands to squeeze as much liquid from bread as possible. Discard the excess liquid. Transfer the bread to a food processor and pulse until coarsely chopped. Add the garlic and cooked spinach. Pulse until well combined. Add the parmesan mixture and pulse until well combined. Season. Transfer to a clean bowl and place in the fridge for 30 mins to chill.
STEP 4
Use your hands to shape 1-tbs portions of the spinach mixture into balls. Place on a tray. Add enough oil to a saucepan to come 5cm up the side of the pan. Heat over medium heat. Cook the balls, in batches, for 2-3 mins or until golden and cooked through. Use a slotted spoon to transfer the fritters to a plate lined with paper towel.
STEP 5
Serve the fritters with tomato sauce and the remaining spinach.
Check ingredient labels to make sure they meet your specific dietary requirements and always consult a health professional before changing your diet. View dietary information here.