Sticky fig and date puddings with butterscotch sauce
These sticky fig and date puddings are a must-try this winter. They're topped with an irresistible butterscotch sauce, so you can't go wrong.
One of my favourite warming desserts is sticky date pudding. I'm going to show you a twist on the classic recipe using Earl Grey tea in these sticky fig and date puddings with butterscotch sauce.
To get started, preheat the oven to 180 degrees. Then grease and line eight one-cup dariole moulds. We're just going to put a little round of baking paper in the bottom of the moulds and that will stop the cake from sticking.
So, grab a large heatproof bowl and combine your figs, some dates and the Earl Grey tea bags with some boiling water. Then, add some bi-carb of soda. This is going to help soften the dates.
Next up, we're going to beat the butter and sugar until it's pale and creamy. I'm going to add the eggs one at a time. I like to crack them into a separate bowl before adding into the mix. That way if you get any egg shell in there you can remove it easily. Now, the fig mixture has been soaking for ten minutes. I'm going to remove the tea bags and I'm going to add the egg mixture, some flour and some cinnamon. I'm just going to stir that together until it's combined.
So all that's left to do is to spoon them into the moulds. You want to divide the mixture as evenly as possible into the mould so that they all cook at the same. Pop them in the oven to bake for 30 minutes.
While the puddings are baking, I'm going to make the butterscotch sauce. It's really simple. All you have to do is add sugar, some cream and butter in a small saucepan over low heat. Now, you just want to melt the butter and make sure those sugars dissolve. Give it a stir every now and then. Keep cooking until the sauce has thickened slightly. Turn off the heat and set it aside until you're ready to serve.
To test the puddings, grab a skewer and insert it into the centre. If it comes out clean, they're ready. Serving is so easy. Just turn the warm puddings out onto the serving plate and remove the paper. Let's drizzle the puddings with some butterscotch sauce and then we can add some whipped cream. These little puddings are pure comfort food and so easy to make.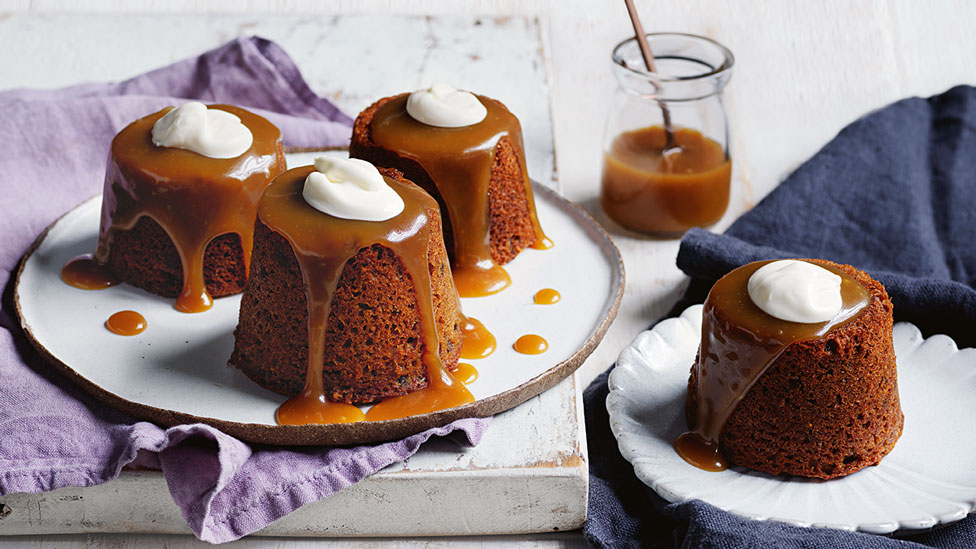 Note: + 10 mins standing time
Ingredients
3/4 cup (150g) finely chopped dried figs
3/4 cup (120g) finely chopped dates
2 Earl Grey tea bags
1 1/4 cups (310ml) boiling water
1 tsp bicarbonate of soda
125g butter, softened
3/4 cup (165g) brown sugar
3 Coles Australian Free Range Eggs
1 1/2 cups (225g) self-raising flour
1/2 tsp ground cinnamon
Whipped cream, to serve
Butterscotch sauce
1 cup (220g) brown sugar
1 cup (250ml) thickened cream
50g butter, chopped
Method
STEP 1 
Preheat oven to 180°C. Grease bases of eight 1-cup (250ml) dariole moulds or ramekins. Line with baking paper.
STEP 2 
Combine fig, date, tea bags, boiling water and bicarbonate of soda in a large heatproof bowl. Set aside for 10 mins to soak. Discard the tea bags.
STEP 3 
Use an electric mixer to beat butter and sugar in a large bowl until pale and creamy. Add eggs, 1 at a time, beating well after each addition. Add fig mixture, flour and cinnamon. Stir to combine. Spoon mixture evenly among prepared moulds or ramekins. Place on a baking tray. Bake for 30 mins or until a skewer inserted in the centres comes out clean.
STEP 4 
Meanwhile, to make the butterscotch sauce, combine the sugar, cream and butter in a saucepan over low heat. Cook, stirring, for 5 mins or until butter melts and sugar dissolves. Increase heat to medium. Bring to a simmer. Cook, stirring occasionally, for 5 mins or until the sauce thickens. Set aside to cool slightly. Transfer to a heatproof jug.
STEP 5 
Turn the puddings onto serving plates. Drizzle with butterscotch sauce. Serve warm with whipped cream.
Check ingredient labels to make sure they meet your specific dietary requirements and always consult a health professional before changing your diet. View dietary information here.