Curtis Stone's sugar-crusted pear and brown butter cake
Using sweet caramelised pears, Curtis Stone's brown butter cake is a must-try. To save time on the day, you can make the brown butter up to 2 days ahead.
We all love a classic butter cake, but I've got something even better. It's my brown butter cake. Browning the butter first adds an extra layer of nutty flavour to the cake, which is just perfect with pears. Now before you turn on the oven, make sure the rack is in the centre. This helps the cake to cook evenly as the heat really circulates around. Then preheat it to 180 Celsius, or 160 if you're using a fan forced oven.
First of all, take your butter, put your pan over a medium heat, I'm using a non-stick one just like that, and add your butter. You're going to cook it for about four to five minutes. It's going to get lots of bubbles on the top and beautiful and golden brown on the bottom. Once that foam subsides, you'll see that melted butter's turned a deep golden brown. Pour that brown butter into a heatproof bowl and then let it cool down until it's lukewarm. Now you're ready to make the cake.
Start with the dry ingredients in a bowl. So, we've got our flour, one and a quarter cups to be precise. A cup of sugar and some salt. Some baking powder. You can sieve it if you really want, but all I do is get a whisk and I just whisk them together so they're really well combined. Okay, we've got our dry ingredients. Now let's mix together our wet ingredients. First, the brown butter, then a cup of milk, two whole eggs, some vanilla, and some lemon zest. Just go ahead, zest it right there.  
Alright guys, this bit's super simple. You pour the flour mixture into the butter mixture and you whisk it until it's just a nice smooth batter. Don't overwork it. We don't want to exercise that gluten and make it a hard cake. We want a nice soft cake. Take yourself a cup of that batter and put it into a small bowl over here.
And then, what we're going to do is take about a tablespoon and a half of flour, add that in and give that a whisk. The reason we're doing this is we're making a little bit of a thicker batter and this way it's going to protect that custardy centre of the cake. Take your whisk, get two more egg yolks and then add that to the rest of the batter over here. That's what gives it that beautiful custard-like consistency. But if you did it with all of it, the pears would sink.
Next we add our pears, they will oxidise, so once you peel them, go ahead and throw them in as quickly as you can because you don't want them to turn too brown. These pears have already been cored, peeled and sliced. Give them a good mix through. Next, get your springform pan, and it's time to dump it in.
First I give it a real quick spray with a grease proof spray. Okay, so get your cake batter and just pour it straight into your pan. How good does that look? So you spread this batter out nice and evenly in your cake tin and then, carefully, take that last cup of mixture, remember the one that we kept aside and put a little bit more flour in? And you gently pour this over the top. Beautiful.
Now just before the cake goes in the oven, you sprinkle a little bit of sugar over the top and that's it - you need about two tablespoons. You bake it for 40 to 45 minutes, and you want that top to be beautiful and golden.  
See what I mean about that beautiful golden crust that you get from the sugar? Now to test if it's done, you put a cake tester all the way in, it should come out nice and clean. That's perfect. So now we just leave it here on a wire rack to cool for about five minutes.
Now here's how you  make the caramelised pears to serve with the cake. First of all, in a nice hot pan, you're going to  melt the butter over a medium heat. And then you add your pear wedges and give them a little toss. Now you're going to cook them for about eight minutes, turning occasionally. You want to make sure that you brown them on each side, and especially make sure you brown them on the skin side as well.
After that seven or eight minutes is gone, we're going to add some maple syrup. And then just a little bit of water so it doesn't get too sticky. You stir that to make that beautiful syrup. The pears are done, turn the heat off. And then I'm just going to take those and pop them into a bowl to cool ever so slightly.
Now that our cake's had that 20  minutes or so to cool, you might want to just go around with a small knife, just to make sure that it's not attached to the sides. If you greased it well you might not have to, but I just like to know that when I release this springform, it's not going to tear the cake.
Well, there's only one thing left to do. And that's the best bit. Cut yourself a nice big piece of that cake. I serve it with those syrupy pears and then, if you like, just a little bit of cream. And I serve it with those syrupy pears, and if you like, just a little bit of cream. And seen as there's no one else here to taste it, I guess I'll just have to do it for everybody.
Let me tell you something, those beautiful slices of pear down the bottom and that perfectly delicate cake with a little bit of nutty brown butter. What are you waiting for? Go and make it.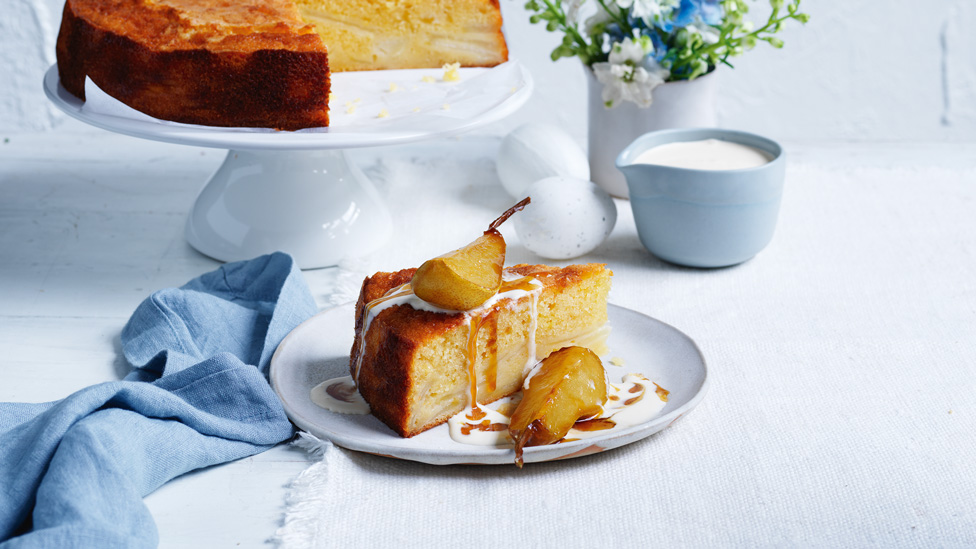 Note: + 40 mins cooling time
Ingredients
250g unsalted butter
1 1/4 cups (185g) plain flour
1 cup (220g) caster sugar
2 tsp baking powder
1 cup (250ml) full-cream milk
2 extra-large Coles Australian Free Range Eggs
1 tsp vanilla extract
1 lemon, rind finely grated
1 1/2 tbs plain flour, extra
2 extra-large Coles Australian Free Range Egg yolks
600g (about 4) William Bartlett pears, peeled, quartered, cored, cut into 5mm-thick slices
2 tbs caster sugar, extra
Pouring (pure) cream or thickened cream, to serve
Caramelised pears
40g butter, chopped
4 small William Bartlett pears, quartered
1/4 cup (60ml) maple syrup
Method
STEP 1
Position a rack in the centre of the oven and preheat oven to 180°C (160°C fan-forced). Lightly spray the base and side of a 23cm (base measurement) springform pan with canola oil spray.
STEP 2
In a frying pan over medium heat, add the butter and cook, stirring frequently, for 4-5 mins or until foam subsides and the butter is deep golden brown. Transfer the butter to a large heatproof bowl and cool for 5 mins or until lukewarm.
STEP 3
In a large bowl, mix the flour, sugar, baking powder and ½ tsp sea salt flakes. Whisk cooled butter, milk, eggs, vanilla and lemon rind in a separate large bowl. Gently whisk the flour mixture into the butter mixture until the batter is just smooth.
STEP 4
Transfer 1 cup of the batter to a bowl. Mix in the extra flour and reserve. Whisk the egg yolks into the remaining batter. Gently fold pears into egg yolk mixture. Transfer pear mixture to the prepared pan and spread evenly. Pour reserved batter evenly over the pear mixture.
STEP 5
Sprinkle extra sugar over the top
STEP 6
of the cake. Bake for 45-50 mins or until a skewer inserted into the centre comes out clean and the top is golden brown. Transfer the pan to a wire rack and set aside for 5 mins to cool slightly. Run a small knife around the sides of the cake and release the pan sides. Set the cake aside for 30 mins to cool.
STEP 7
Meanwhile, to make the caramelised pears, melt butter in a non-stick frying pan over medium heat. Add the pears and cook, turning occasionally, for 8 mins or until evenly browned all over. Add the maple syrup and 1 tbs water. Stir until the mixture is syrupy.
STEP 8
Transfer the cake to a serving platter. Cut into slices and serve warm with cream and caramelised pears. 
Get ahead
Make brown butter up to 2 days ahead. Cover and store in the fridge. Reheat to melt before using. 
Check ingredient labels to make sure they meet your specific dietary requirements and always consult a health professional before changing your diet. View dietary information here.