Tasia and Gracia's baked crispy chicken wings with homemade sweet chilli jam
Bring some heat to the dinner table with these crispy chicken wings. It's a crowd-pleasing dish the family will love.
 Hi everyone, it's Tasia and Gracia here from Makan restaurant.
We are back tonight for more Coles What's for Dinner reciepe.
Tonight we're creating a simple dish using our pantry staples, a great value family recipe. 
So tonight's dinner we're going to be creating crispy chicken wings with Tasia and Gracia's homemade sweat chill jam. So Tasia, we've got about one kilo of coles chicken wings that is enough to feed four people. 
To prepare to chicken we're going to be cutting the chicken into drumlets and winglets. 
We're going to start marinating it with some of the spices, so we've got the paprika, garlic powder, chicken stock powder, our pepper. Mix it in, and Tasia, your secret ingredient baking powder because that's actually what's going to make it crispy.
So you want to arrange your chicken wings on a wire rack. We're going to put it inside and oven 30 to 40 minutes, so let's make this sweet chili sauce. We're going to make a little bit more so we can store them in a jar to use for another dish. 
It just consists of chilli, red chilli and we've got garlic.
So let's blitz this up. 
Look at the colour guys.
That's spicy. So now we going to add the chopped chilli and garlic onto a small pan, and now we're going to be adding about 3 cups of vinegar, give it a stir and  now we're going to be adding about 3 cups of caster sugar.
So Tasia we're going to keep this on low heat and we're going to make sure it thickens up. It should reduce about one third to half its volume and we're just taking a peek this is about 15 minutes in.
This has been reducing for about 30 minutes and it's thicjkening up really nicely. The sauce is so beautiful, it's so versatile. We're going to be making some salad to go with it. So two tablespoons of olive oil, we've got about maybe 3 tablespoon to 4 tablespoon of the sweet chilly jam. We're going to be adding a bit of lemon. 
Oh yeah that looks so good. So Gracia, now let's plate up.  So now let's plate up our chicken wings, finish the chicken off with our homemade sweet and chilli jam.
Oh my god that looks so delicious.
So good.
So here you have it, the start of something delicious and great value family dinner recipe. 
Our crispy chicken wings with Tasia and Gracia homemade sweet chili jam in less than $5 per serve.
So everyone get in the kitchen and let's get cooking.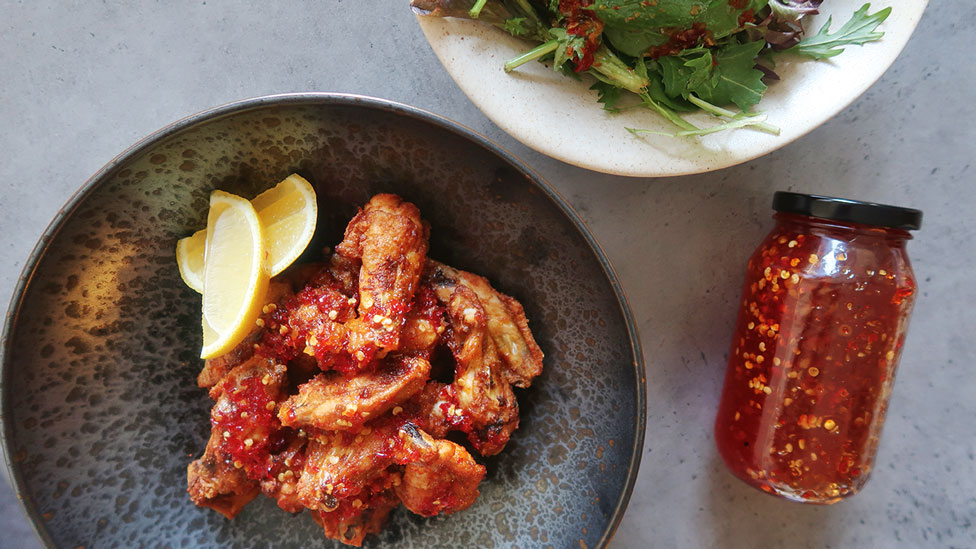 Ingredients
1kg chicken wings, cut into winglets and drumettes
1 tsp smoked paprika
1 tsp garlic powder
1 tbs chicken stock powder
White pepper, to taste
1 tbs baking powder
200g pkt Coles Australian 4 Leaf Salad
2 tbs olive oil
1/2 lemon, juiced
Lemon wedges, to serve
Sweet chilli jam
50g garlic
100g long red chillies (seeded if desired)
3 cups (750ml) white vinegar
3 cups (750ml) caster sugar
Method
STEP 1 
Preheat oven to 230°C. Line a baking tray with foil and place a wire rack on top. Place tray in the oven to heat.
STEP 2 
Place the chicken wings, paprika, garlic powder and chicken stock powder in a large bowl. Season with white pepper and toss to combine. Add the baking powder and toss to combine. 
STEP 3
Arrange chicken wings on the preheated wire rack, leaving some room between each piece. Bake for 15 mins. Turn and cook for a further 20-25 mins or until the chicken is crisp, golden brown and cooked through. 
STEP 4
Meanwhile, to make the sweet chilli jam, process the garlic and chilli in a food processor until finely chopped. Transfer the chilli mixture to a saucepan over low heat with the vinegar and sugar. Stir to combine. Simmer for 30 mins or until the mixture thickens and reduces by about half. Pour into a sterilised jar and seal. Store in the fridge for up to 2 weeks. 
STEP 5
Place the salad leaves in a large bowl. Whisk the oil, lemon juice and ⅓ cup (80ml) sweet chilli jam in a small bowl to combine. Drizzle over the salad. Season. 
STEP 6 
Drizzle the chicken wings with a little sweet chilli jam. Serve with the salad and lemon wedges.
Check ingredient labels to make sure they meet your specific dietary requirements and always consult a health professional before changing your diet. View dietary information here.