Tasia and Gracia's ginger chicken wings
Looking for a tasty dinner idea packed with Asian-style flavours? This tasty chicken wing dish is fresh and filling. Try it!
Hi Everyone. It's Tasia and Gracia here from Makan restaurant. Tonight we are back for more Coles What's for Dinner value recipe. So Gracia what are we making tonight? 

So tonight we're going to be making an easy, tasty, simple recipe in less than $5 per serve. Lemongrass and ginger marinated chicken wings with Asian noodle salad in coriander dressing. 
So the first thing we're going to do we're going to marinate the chicken wings. With 1 tbs of ginger paste. 2 tbs of lemongrass paste. And I've got some garlic clove. 1 tbs of kecap manis. We need to season this with just some salt. 
So I'm going to be marinating this for at least 20 minutes. Um but Gracia you can always do it a day before, overnight to get more of the flavour in that chicken. 
So Tasia the second part of this dish is the coriander dressing for the asian salad. We've got here. Two bunch of coriander. Take some of the leaves for the salad later on. We're going to be adding our quarter cup of lemon juice. A quarter cup of our fish sauce. 5 garlic cloves. We've got about 3 birdeye chilli. We've got 4 big red chilli here. And here I've got my half a cup of water. So I'm going to be adding about 4 tbs of sugar. And then we're going to blitz it a little bit more. That is delicious. 
So the chicken wings have been marinating for about 20 minutes. We're going to be cooking it for about 35 minutes roughly making sure the chicken is cooked through and you probably want to flip it from time to time. Cooking spray. So it's ready to go inside our oven. 
What are you doing? 
Trying to take a peak. I'm so hungry. 
Tasia. It's time to make the salad. 
Yep
So here we've got our rice vermicelli. So for our salad I'm going to be adding some cucumber. Fresh ribbons of carrots. And half an iceberg lettuce. 
We're just going to drizzle a little bit of our coriander dressing. And now you just want to gently toss it. 
So Gracia. We're going to check the chicken. I'm pretty sure... it's actually done. So beautiful. We're just going to pop it on top of your salad. So I'm going to drizzle this beautiful coriander dressing. Now we're going to add some beautiful fresh coriander. 
What a delicious treat this is for you and your family. 
And Tasia great value too.
Feeding a family of 4 in under $20.
So guys what are you waiting for? Get cooking this is a winner winner chicken dinner. Bye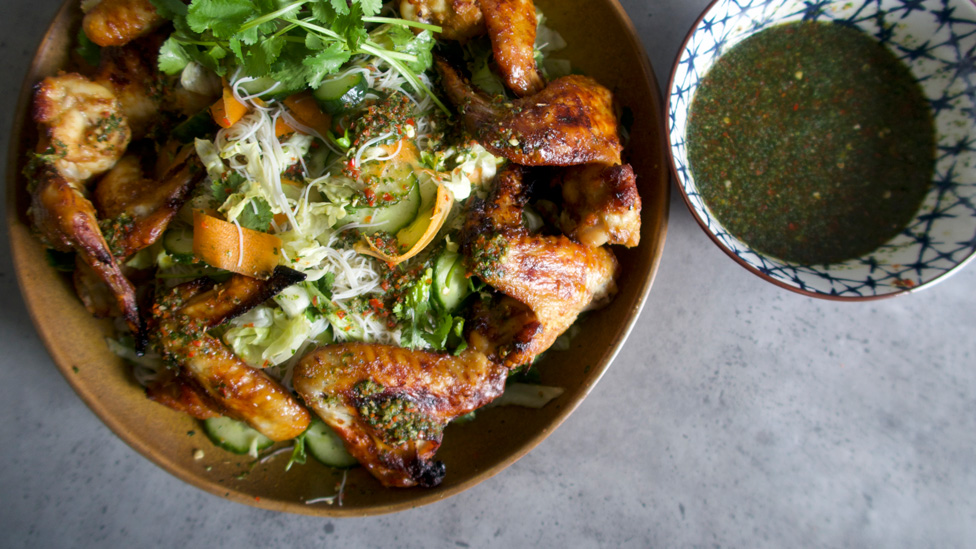 Ingredients
1kg chicken wings
1 tbs ginger paste
2 tbs lemongrass paste
2 garlic cloves, coarsely chopped
1 tbs kecap manis
Oil spray or vegetable oil, to coat
200g vermicelli noodles
2 carrots, peeled into ribbons
1 continental cucumber, thinly sliced crossways
1/2 iceberg lettuce, shredded
Coriander dressing
2 bunches coriander
1/4 cup (60ml) lemon juice
1/4 cup (60ml) fish sauce
5 garlic cloves
3 red birdseye chillies, seeded if desired
4 long red chillies, seeded if desired
1/3 cup (75g) caster sugar
Method
STEP 1
Preheat oven to 220°C (200°C fan-forced). Line a large baking tray with baking paper. Combine the chicken, ginger, lemongrass, garlic and kecap manis in a large bowl. Season with salt. Cover with plastic wrap and place in the fridge for 20 mins, or overnight, to develop the flavours. 
STEP 2
To make the coriander dressing, reserve half the coriander leaves. Place the remaining coriander leaves and stems, lemon juice, fish sauce, garlic, combined chilli and ½ cup (125ml) water in a food processor. Process until well combined. Add the sugar and process until smooth.
STEP 3
Place chicken on the lined tray and lightly spray with oil spray. Alternatively, lightly drizzle with vegetable oil. Bake, turning halfway through cooking, for 35 mins or until the chicken is cooked through. 
STEP 4
Place the noodles in a large heatproof bowl and cover with boiling water. Soak for 3-4 mins or until the noodles are tender. Refresh under cold water. Drain well.
STEP 5
Place the carrot, cucumber, lettuce and noodles in a large bowl. Drizzle with half the coriander dressing and toss to combine. 
STEP 6
Top the salad with chicken. Drizzle with the remaining coriander dressing and sprinkle with the reserved coriander leaves to serve.
Check ingredient labels to make sure they meet your specific dietary requirements and always consult a health professional before changing your diet. View dietary information here.