Tasia and Gracia's Indonesian braised pork with jasmine rice
Combining traditional Indonesian flavours with tender pork, this dish is a real crowd-pleaser.
Hi everyone, it's Tasia and Gracia here from Makan restaurant. Tonight we are back for some more delicious family value recipes.
This dish will bring amazing aromas into your kitchen our Indonesian braised pork is definitely a little slice of comfort you need this winter, at under $5 per serve this is an affordable dinner solution.
So let's get cooking. We're going start by making this my spice base and we're going to use half a spanish onion and 25 grams of garlic, which we're going to blitz into a paste. So for our Indonesian braised pork, the highlight of the dish is this pork leg. For this recipe you only need one kilo, so you what you can do is just cut what you need, either freeze it or save it for another dish. Cut it into quite small pieces and what we love about this cut of pork is that it's got a little bit of fat in there. It's going to add extra flavour.
So Gracia, the next thing we're going to do is you got some flour here, I'm going to pass it to you and you're going to lightly toss it in some salt. 
And the first thing we're going to do is sear our pork. 
Pop all of our spice base in. One tablespoon of ginger going in as well. Four pieces of cardamom, one cinnamon stick, three pieces of cloves, this beautiful coriander powder in there and now it's time to add the seared pork back in. And Tasia, at under $5 per serve, this is definitely one of the dishes that I will be cooking this winter. Two cups of kecap mains, half a teaspoon of white pepper.
We're going to add in about one tablespoon of nutmeg, so then add enough water just to cover it. Two cubes of the beef stock powder and two tomatoes. We need to make sure we cook this for one to one and a half hour, until the pork is completely tender. 
But in the meantime, we're going to serve this with a beautiful jasmine rice and I'm just going to cook that in my rice cooker. The pork is caramelized, look at the sauce.
There you have it our Indonesian braised pork served with warm jasmine rice. And Tacia, to finish...
Will you do the honour of just sprinkling some fried shallots, around 3 tablespoons, just for some crunch and a little bit more flavour.
In under $5 per serve, it is a great family value recipe. So for more recipes like this head to Coles.com.au Happy cooking. Bye!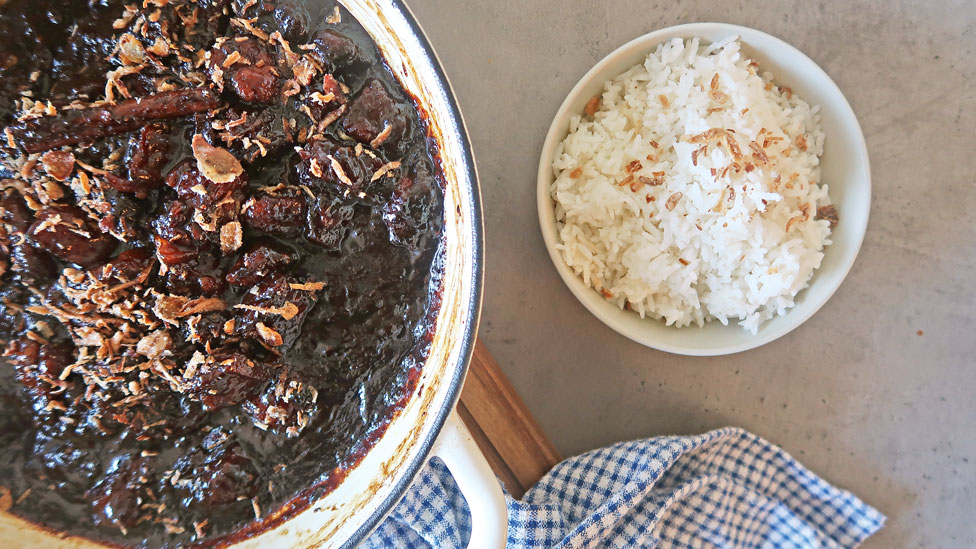 Ingredients
1/2 red onion, coarsely chopped
25g (about 8 cloves) garlic
1kg Coles Boneless Pork Leg Roast, cut into 2cm pieces
100g plain flour
1/3 cup (80ml) vegetable oil
1 tbs ginger paste
4 cardamom pods
1 cinnamon stick or quill
3 whole cloves
1 tbs coriander seeds, ground
2 cups (500ml) kecap manis
1/2 tsp finely ground white pepper
1 tbs ground nutmeg
2 beef stock cubes
2 tomatoes, chopped
2 cups (400g) jasmine rice
1/4 cup (20g) fried shallots
Method
STEP 1 
Place the onion and garlic in a food processor and process until smooth.
STEP 2 
Place the pork and flour in a large bowl. Toss to coat. Season with salt. 
STEP 3 
Heat the oil in a large cast-iron skillet or a heavy-based frying pan over medium heat. Cook the pork, in batches, for 2-3 mins or until browned and caramelised. Transfer the pork to a plate.
STEP 4 
Add the onion mixture and ginger to the skillet or pan. Cook, stirring, for 1-2 mins or until slightly caramelised. Add the cardamom, cinnamon, cloves and coriander and cook, stirring, for 1-2 mins or until aromatic. Return the pork to the skillet or pan and stir until well combined.
STEP 5 
Add the kecap manis, white pepper and nutmeg to the skillet or pan. Stir to combine. Add enough water to completely cover the pork. Crumble over the stock cubes and add the tomato. Stir to combine. Reduce heat to low. Cover and cook for 1-1-1/2 hours or until the pork is very tender, adding more water if necessary.
STEP 6 
Meanwhile, cook the rice following packet directions.
STEP 7 
Sprinkle the pork mixture with fried shallot and serve with rice.
Check ingredient labels to make sure they meet your specific dietary requirements and always consult a health professional before changing your diet. View dietary information here.