Tasia and Gracia's miso steak tacos with kaleslaw
You can't beat tacos for a tasty family meal. These ones have an Asian-style twist and are filled with tender miso steak, crunchy slaw and coriander.
Tasia: Hi everyone it's Tasia and Gracia here from Makan restaurant.
Gracia: And tonight we're back for more what's for dinner recipe by Coles.
Tasia: Tonight we're making a miso steak taco's with kaleslaw, an easy and fun recipe to make at home. 
Gracia: The first thing we're going to do is marinade our miso steak. We're going to have about a hundred grams of miso paste, fifty grams of mirin. About two teaspoon of sugar and a pinch of salt make sure to mix.
Tasia: So you want to marinate the steak for about half an hour in the fridge. So Gracia and I have been cheeky here, we bought ourselves Kaleslaw kit from Coles, it's super delicious, but we're going to be adding a few ingredients to make this super tasty. It comes with a sauce as well, I'm just going to put in all the sauce that comes with it.
Gracia: Yep, that's the yogurt sauce.
Tasia: And we're going to add a little bit of our own twist to it by adding some mayonnaise. We're also going to be adding a little bit of lime juice to this. And it comes also with some nuts and we're going mix it into give it that nice crunch.
Gracia: So now we're just gonna go ahead and toast these wraps you wanted nice and hot, and you want to just get a little bit of char and little bit of browning. So now our miso steak has been marinating for about half an hour and we're ready to get cooking. You want a nice griddle pan. Nice and hot, just drizzle a little bit of all of olive oil and you want to cook it on a griddle pan on a high heat and you want to cook this medium rare. 
Tasia: Gracia that looks so good.
Gracia: It smells so good Tasia.
So before we cut and slice it make sure you want to rest your steak for at least half the cooking time or roughly about five to ten minutes. We just want to slice it thinly. Look at that.
Tasia: We got some fresh chilli, because you know Gracia and I love the heat. We've got some fresh coriander to garnish our tacos. And some lime wedges here.
Gracia: So Tasia were going to assemble the tacos, the taco shell. Our Kaleslaw, a few slices of the beef. Chile, Coriander leaves. You can serve it on the side of the lemon wedge.
Tasia: Oh my god that looks so scrumptious so there you have it our what's for dinner coles recipe. Miso Steak tacos with Kaleslaw.
Gracia: So Tasia, lets dig in.
Tasia: Yep, yum.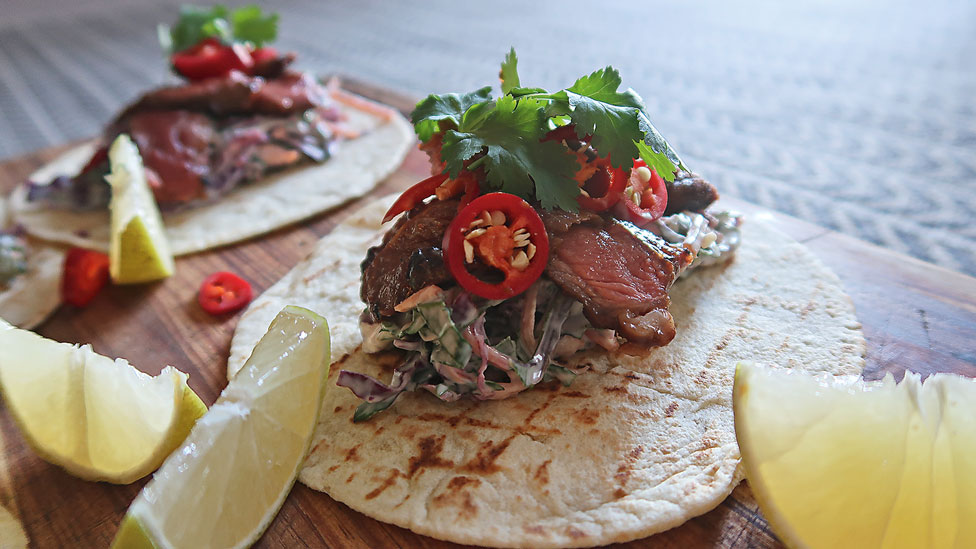 Note: + 5 mins resting & 30 mins marinating time
Ingredients
100g miso paste
50ml mirin seasoning
2 tsp caster sugar
Pinch of salt
500g beef rump steak
350g pkt Coles Kaleslaw Kit
100g mayonnaise
1 tbs lime juice
10 Coles Street Tortillas
1 tbs olive oil
Sliced red chilli, to serve (optional)
Coriander leaves, to serve
Lime wedges, to serve
Method
STEP 1
Place the miso paste, mirin seasoning, sugar and salt in a large bowl. Stir until smooth and well combined. Add the steak and turn to coat. Cover and place in the fridge for 30 mins to develop the flavours.
STEP 2
Place the Coles Kaleslaw Kit in a large bowl. Add the yoghurt dressing and seed mix sachets from the kit, mayonnaise and lime juice. Toss until well combined.
STEP 3
Heat a chargrill over medium-high heat. Cook the tortillas, in batches, for 30 secs each side or until lightly charred. Transfer to a plate and cover with a clean tea towel to keep warm. Repeat with the remaining tortillas.
STEP 4
Remove steak from the marinade and wipe off the excess. Transfer to a plate and drizzle with oil. Cook the steak for 2 mins each side for medium-rare or to your preferred doneness. Transfer to a clean plate. Allow the steak to rest for 5 mins. Thinly slice.
STEP 5
Divide the tortillas among serving plates. Top with the kaleslaw and steak. Sprinkle with the chilli, if using, and coriander. Serve with lime wedges.
Check ingredient labels to make sure they meet your specific dietary requirements and always consult a health professional before changing your diet. View dietary information here.