Tasia and Gracia's nasi goreng
Whip up this tasty rice dish for a meal full of flavour. Topped with a gooey fried egg, it's guaranteed to get the tick of approval.
Hi everyone, Tasia and Gracia here from Makan restaurant. We are back again tonight for more Coles What's for Dinner value recipe.
Today we will be making Nasi Goreng which is Indonesian fried rice and if you don't already know, Nasi Goreng is one of the famous national dish of Indonesia. And one of the first dish that Gracia and I ever made, so let's get cooking!
So the best thing about Nasi Goreng is that you can pretty much fill it with whatever you have leftover in the fridge. Tasia and I we've got our leftover Coles roast chicken, we have some cabbage, some choy sum, some carrots and some rice. Alright, so Gracia let's get started!
So the start of any Nasi Goreng is a spice paste. We are going to be pounding this in to a rough paste. So our spice paste is done. I am going to shred some chicken here.
So our spice paste is ready, our chicken is shredded and we are going to prepare the vegetable. We are going to be using some cabbage, we have some choy sum which is already cut up and you want carrots cut it in to ribbons – just a little trick if you don't have a julienne cutter.
Now that we got all the ingredients, the spice paste and everything ready. It's time to be making our fried rice. So now I am going to be adding about 4 tablespoon of vegetable oil and we are going to add the spice paste and now I am going to be adding one of the egg, scramble the egg a little bit. And now we are going to be adding our chicken first and Tasia the best thing about this is that it feeds a family of 4 and less than $5 per serve.
And now we are going to be adding cabbage, and this is a good way to add vegetables for those who have children and now we are going to be adding the choy sum and we are going to add our rice.
So here we've got some chicken stock powder, white pepper, salt. Alright Gracia now we are going to be adding kecap manis which is an Indonesian sweet soya sauce. And to finish our fried rice, nasi goreng we are going to be adding some spring onion.
So everything is finished cooking we have our fried rice, nasi goreng. We also have our sunny side up fried egg and it's time to plate up and to finish off we got some fried shallots.
So there you have it, our Coles What's for Dinner recipe – nasi goreng, with fried egg and crispy prawn crackers.
Guys just cook it, so good. Delicious.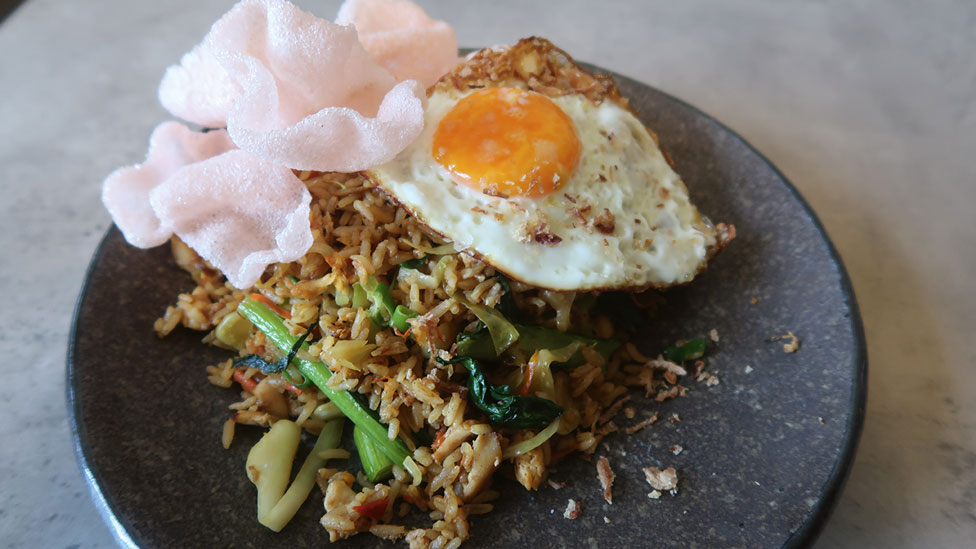 Ingredients
8 garlic cloves
1/2 shallot
2 long red chillies (optional)
1/3 cup (80ml) vegetable oil
5 eggs
1/2 Coles RSPCA Approved Hot Roast Chicken, bones removed, meat shredded
150g cabbage, thinly sliced
1/2 carrot, peeled into ribbons, thinly sliced
75g coarsely chopped choy sum
750g cooked long-grain rice
3 tsp chicken stock powder
1 and 1/2 tsp ground white pepper
2 tsp salt
100ml kecap manis
2 spring onions, thinly sliced
2 tbs fried shallots
Prawn crackers, to serve
Method
STEP 1
Use a mortar and pestle to crush the garlic, shallot and chillies, if using, into a rough paste. (Alternatively, place the garlic, shallot and chillies, if using, in a food processor and process until coarsely chopped.)
STEP 2
Heat the oil in a wok or large frying pan over high heat. Add the garlic mixture and cook for 1 min or until the garlic mixture begins to soften and is aromatic. Push the garlic mixture to one side of the wok or pan and add 1 egg. Cook, stirring to scramble the egg slightly, until the egg begins to set. Add the chicken and stir-fry for 2 mins. Add the cabbage, carrot and choy sum. Stir-fry for 4 mins or until the vegetables start to soften. Add the rice and stir-fry for 5 mins or until the rice is heated through and well combined.
STEP 3
Meanwhile, heat a non-stick frying pan over medium heat. Cook the remaining eggs sunny-side up or to your liking. Transfer to a plate. 
STEP 4
Add the stock powder, pepper, salt and kecap manis to the rice mixture. Stir-fry until well combined. Add the spring onion and toss to combine. 
STEP 5
Divide the rice mixture among serving plates. Sprinkle with fried shallots. Top with fried egg and prawn crackers to serve.
Check ingredient labels to make sure they meet your specific dietary requirements and always consult a health professional before changing your diet. View dietary information here.