Tasia and Gracia's Indonesian grilled chicken
Bring some heat to the dinner table with this Indonesian grilled chicken. Combining smoky flavour and a spicy coconut sauce, it's a sure-fire hit.
Hi everyone, I'm Tasia. 
And I'm Gacia.  
And you might remember us from My Kitchen Rules 2016. 
Since then Tasia and I have opened our first Restaurant Makan in Melbourne CBD. 
But due to the current situation we are temporarily closed for dining in, but we are still open for some delicious takeaway. 
We know a lot of you are stuck at home, and have all this time on your hands, but Tasia and I will show you how to make one of our family favourite recipes. 
We are going to be cooking Ayam Panggang or Indonesian Grilled Chicken 
It's so delicious, super easy, so let's get cooking. 
For our Indonesian Grilled Chicken recipe we've got a simple spice base consisting of Garlic, Chilli, Shallots and Lemongrass. So Tasia, we're gonna blitz this up into a smooth paste. Alright, let's make the spice base. So see, you want it to be a smooth spice base. 
You wanna get your pan nice and hot, now we are gonna be adding 3 tablespoon of vegetable oil, and now I'm gonna add in spice base you made earlier. 
This smells so delicious, and you know the whole house is filled with that shallots, lemongrass, garlic, chilli it smells like south east Asia. The spice base is cooked off and you can see that it's very fragrant and it's quite dry. So we are going to be adding our 1 kilo of chicken thigh cutlets. So you wanna get the chicken, nice and brown and sealed. 
We're gonna be adding 800ml of coconut milk, oh my god, looks so good. 
We're gonna be adding about 2 tablespoon of Tamarind Paste. 
We're gonna now season it with some salt, and some sugar and pepper. So while our sauce is cooking and reducing, we're gonna accompany our Indonesian Grilled Chicken with some Broccolini. So we're goona be serving this  Grilled Chicken with some Jasmin Steamed Rice, which I cooked earlier. 
To finish it off we're gonna put the chicken in an oven proof tray and we're gonna put it in the oven at about 200 degrees for about 10 minutes, just to add a bit of colour and charr. 
Alright guys, so the chicken is cooked through, let's put it on a plate. 
Finish it off with a little bit more sauce. 
Add some fried shallots. 
Fresh Chilli. We're gonna drizzle a little bit of Indonesian Sweet Soy Sauce or Ketchup Mayonnaise. 
Oh yeah. 
So there you have it, our Indonesian Grilled Chicken served with Jasmin Rice and your favourite green vegetables.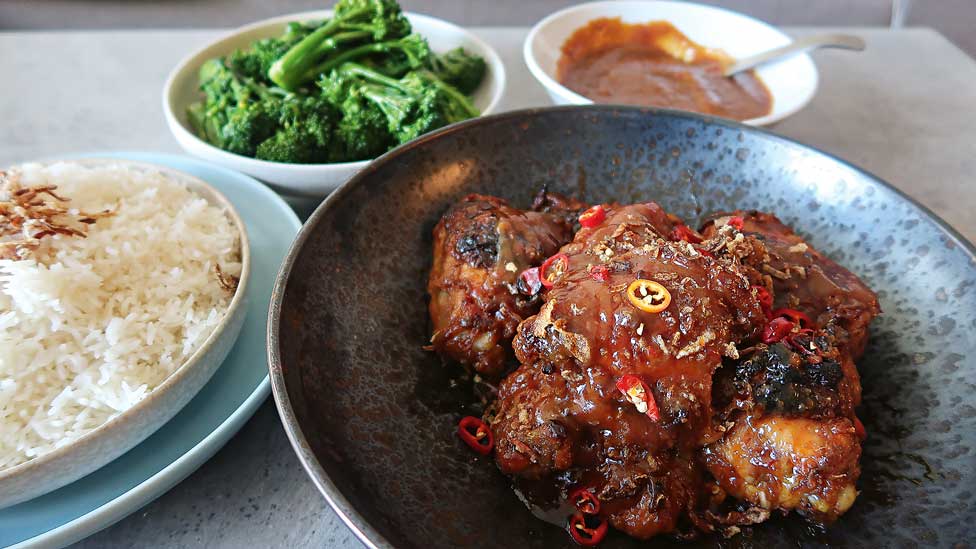 Ingredients
3 tbs vegetable oil
800ml coconut milk
2 tbs tamarind paste
1kg chicken thigh cutlets
Indonesian sweet soy sauce (kecap manis), to drizzle
Fried shallots, to garnish
1 long red chilli, thinly sliced
Salt, pepper and sugar, to taste
Spice paste
100g long red chillies
100g shallots
100g garlic cloves, peeled
50g lemongrass stalks or 2 tbs lemongrass paste
Method
STEP 1
Preheat grill on high. To make the spice paste, process the chillies, shallots, garlic and lemongrass in a food processor to form a smooth paste. 
STEP 2
Heat the oil in a large wok or frying pan over high heat. Cook the spice paste until fragrant and dry. Add the chicken and cook, stirring to make sure the chicken is coated in the spice paste.
STEP 3
Add the coconut milk and tamarind paste and cook the chicken for 15-20 mins or until chicken cooked through and the sauce is slightly reduced. Season with salt, pepper and sugar to taste. Transfer the chicken to a lined baking tray, keeping the coconut milk mixture in the wok or pan. 
STEP 4
Cook chicken under the grill for 10 mins or until the chicken begins to char and the sauce is caramelised.
STEP 5
Meanwhile, cook the coconut milk mixture in the wok or pan until it is slightly reduced. 
STEP 6
Pour some of the coconut milk mixture over chicken. Drizzle with the Indonesian soy sauce and garnish with fried shallots and chilli.
Tip: Serve the chicken with your favourite vegetables and steamed jasmine rice.
Check ingredient labels to make sure they meet your specific dietary requirements and always consult a health professional before changing your diet. View dietary information here.