Thahn and Duncan's Vietnamese coleslaw with poached chicken
Impress the family with Thahn & Duncan's Vietnamese coleslaw with poached chicken. It's loaded with crunchy veg and mouth-watering Asian-style flavours.
G'day I'm Thanh
G'day I'm Duncan
And we're team Vietnam from Plate of Origin.
So Thanh, what are we having for dinner.
Tonight we're making my mums Vietnamese 'slaw with poached chicken and rice. It's a family favourite. This dish costs $5 per serve for 4 people.
Ok Thanh, first step we're gonna poach the chicken. TO poach a chicken, we need to wash it really well and remove any excess fat. And then to flavour it, carrot, brown onion, salt, pepper, coriander stalks and top it up with some cold water. The waters boiling, skim all the impurities off. Simmer and cover for 10 minutes.
So put 3 cups of rice in a pot, make sure you wash the rice to remove the dusty starch. Bring 5 cups of water to the boil, once the hot water is boiling, pour in the rice and let it simmer for 18 minutes.
Once it's been simmering for 10 minutes, turn off the flame and allow the residual heat to poach the chicken further for 45 minutes.
Have a look at that rice, so you wanna close the lid and let the rice naturally absorb the rest of the moisture.
Let's move onto the fish sauce dressing for the Vietnamese coleslaw. You want 2 tablespoons of brown sugar, dissolve it with some boiling water. 3 tablespoons of fish sauce, half a teaspoon of white vinegar, lime juice and finely dice the chilli. Crush and finely dice the garlic and add it to the mix. Grate the carrot using a cheese grater and add it into the fish sauce.
Alright Thanh, I'm gonna move to the savoy cabbage, thinly slice it, finely julienne your carrots, romve the mint leaves from it's stalk and place into the bowl.
Duncan let's not forget about the coriander, nice.
Look at that golden colour of that broth, looks delicious.
I'm gonna remove the legs and separate the legs.
Alright, so we're just gonna shred this up now. After adding the shredding breast chicken meat to the Vietnamese 'slaw, add the fish sauce dressing and toss well.
The borth is going to make a really nice soup on the side, all you've gotta do add a bit of cheeky fish sauce, it's gonna give that salty umami flavour to that soup.
My favourite part, time to plate up.
There you have it, my mums Vietnamese 'slaw with poached chicken and rice. Fresh, wholesome, quick and easy.
Be watching plate of origin tonight to win your share in $25 000 of Coles gift cards.
And if you're after more fantastic recipes, make sure you head over to Coles & co for great ideas.
I hope you get to enjoy this dish as much as my family does.
Thanks for sharing your recipe mate.
No worries.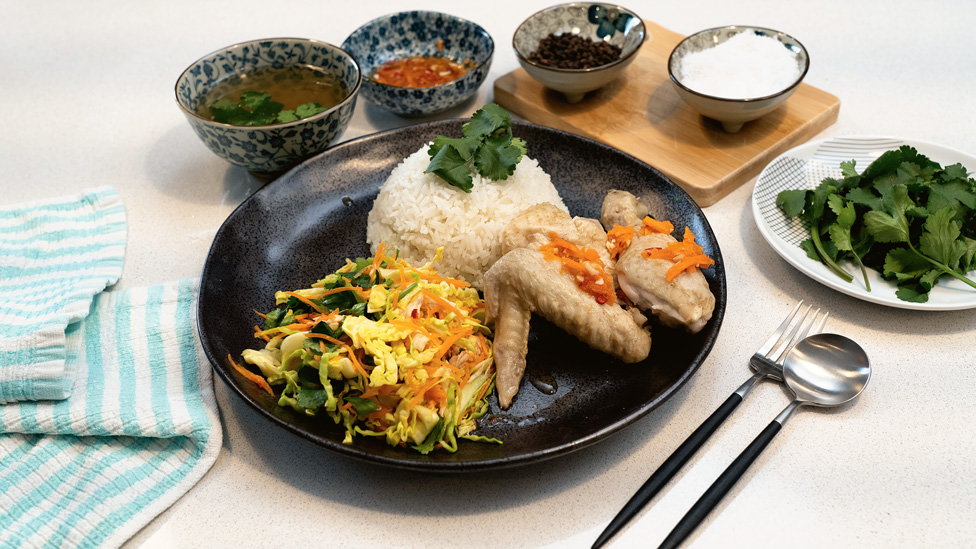 Note: + 55 mins standing time
Ingredients
1.5kg Coles RSPCA Approved Australian Whole Chicken, fat trimmed
4 carrots, trimmed
1 brown onion
1 tsp salt
1 tsp whole black peppercorns
1 bunch coriander, roots separated, stems and leaves coarsely chopped
3 cups (600g) Coles Jasmine Rice, rinsed, drained
2 tsp fish sauce
1 savoy cabbage (about 800g), thinly sliced
600g coarsely grated carrot
1 bunch mint, leaves picked
Fish sauce dressing
2 tbs brown sugar
2 tbs boiling water
1/4 cup (60ml) fish sauce
1/2 tsp white vinegar
1 lime, juiced
2 birdseye chillies, seeded, finely chopped
4 garlic cloves, crushed, finely chopped
1 carrot, peeled, coarsely grated
Method
STEP 1
Place the chicken in a large saucepan. Add the carrots, onion, salt, pepper, and coriander roots. Add enough cold water to the pan to cover the chicken. Cover and bring to the boil over high heat. Use a spoon to skim any foam from the surface. Reduce heat to low and simmer for 10 mins. Remove from heat and set aside, covered, to allow residual heat to poach chicken for a further 45 mins or until cooked through.
STEP 2
Meanwhile, bring 5 cups (1.25L) water to the boil in a medium saucepan. Add the rice. Cover and simmer for 18 mins. Remove from heat and set aside for 10 mins to steam.
STEP 3
To make the fish sauce dressing, combine the sugar and boiling water in a medium bowl. Add the fish sauce, vinegar, lime juice, chilli, garlic and carrot and stir to combine.
STEP 4
Use tongs to transfer chicken to a plate, reserving the broth. Remove chicken drumsticks, thighs and wings. Shred the remaining breast meat.
STEP 5
Remove and discard vegetables from the broth mixture. Add fish sauce and simmer for 10 mins.
STEP 6
Combine the cabbage, coarsely grated carrot, mint and chopped coriander in a large bowl. Add the shredded chicken breast and toss to combine. Drizzle with fish sauce dressing.
STEP 7
Divide the rice, coleslaw and chicken pieces among serving plates. Drizzle with the remaining fish sauce dressing and serve with chicken broth.
Check ingredient labels to make sure they meet your specific dietary requirements and always consult a health professional before changing your diet. View dietary information here.