The Golden Snitch™ cake pops
Throw your own Harry Potter themed party with these impressive The Golden Snitch™ cake pops. With just 5 simple ingredients, this easy recipe makes for a magical sweet treat.
Note: + cooling, setting & 25 mins freezing time
Ingredients
600g Coles Caramel Mud Cake, coarsely chopped
290g pkt white chocolate melts
150g white chocolate melts, extra, melted
2 x 4g pkts edible shimmer dust
Gold sprinkles, to serve
Method
STEP 1
Line a large baking tray with baking paper. Place the cake in a food processor and process until the mixture comes together. Roll 1-tbs portions of the mixture into balls and place on the lined tray. Place in the freezer for 20 mins or until firm.
STEP 2
Place the chocolate in a small heatproof bowl over a saucepan of simmering water (make sure the bowl doesn't touch the water). Stir with a metal spoon for 4-5 mins or until the chocolate melts and the mixture is smooth. Set aside to cool slightly. Insert a lollipop stick into each cake ball. Return to the freezer for 5 mins to chill.
STEP 3
Transfer the chocolate to a small, tall glass. Dip the cake pops, 1 at a time, into the chocolate, turning to coat. Gently tap on the side of the glass to remove any excess chocolate. Place in a tall glass or insert into a box to stand upright. Set aside to set.
STEP 4
Line a baking tray with baking paper. Place extra chocolate in a sealable bag. Cut off 1 small corner. Pipe two 3cm wing shapes side-by-side on the lined tray. Place 1 cake pop in the centre of the wings. Repeat with remaining chocolate and cake pops. Set aside to set.
STEP 5
Spray cake pops evenly with gold shimmer dust to coat. Insert cake pops in cups or glasses filled with sprinkles.
Discover Coles Magical Builders
Take your party to the next level with Coles Magical Builders. From Harry to Hermione, discover all your favourite Wizarding World characters in the link below.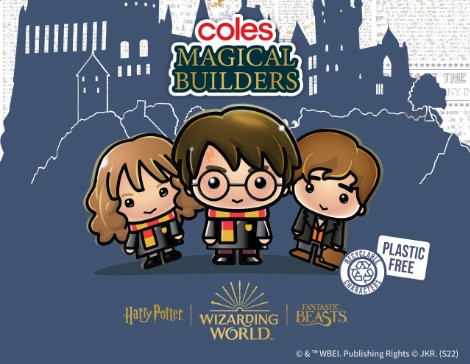 Check ingredient labels to make sure they meet your specific dietary requirements and always consult a health professional before changing your diet. View dietary information here.