Traditional shortbread
Rich and buttery, shortbread is right up there in the favourite bikkie stakes. The good news is, it's easy to make. Follow our foolproof recipe for traditional shortbread and add this all-time classic to your baking repertoire.
Rich buttery shortbread is a classic Christmas treat. It's great to have on hand when friends come around and it makes the perfect gift from the kitchen. I'm going to show you how to make a basic shortbread dough and shape it into a traditional fluted wheel.
To start the dough I'm going to add some softened butter to a bowl with some castor sugar and we're going to beat it with an electric mixer and you want the butter and the sugar to become really pale and creamy. Just scrape down the bowl as you go to keep the ingredients nice and together and it can take about three to five minutes to get the butter and the sugar to be pale and creamy. For the flour I'm going to use a mixture of plain flour and rice flour. The rice flour gives the shortbread that distinctive texture. I like to add a little bit of the flour in at a time. This will help incorporate the mix easily and you won't overwork it. So just when it's incorporated add the next lot of flour.
The last little bit of flour going in, and if you need to, if it gets too hard with the wooden spoon you can just use your hands to bring it together. So once the dough is come together you just want to lightly flour a clean surface and turn out the dough. I like to just give it a little bit of a knead, not too hard but just so that it all comes together and you get a nice smooth shortbread. And that's ready to roll out. To prepare for baking, preheat the oven to 160 degrees Celsius. Now we're going to line the baking tray. What we want to do with this is get a sheet of baking paper. We're going to use a 20 centimeter plate to get the disc and just use a lead pencil and trace the plate. Flip your baking paper over so that you don't get the pencil mark on your shortbread.
Place the shortbread in the center and using a floured rolling pin, because sometimes the short food can be a little bit sticky, just roll it and you can just use your hands to get the perfect shape. And if you use the side of your hand you can get a nice flat edge. Okay now to do the fluted sides. If you just pinch with your finger and your thumb you can just get the pointed edge and then the other thumb on the other hand just makes the little indent. Carefully lift it and place it on the tray. The good thing about shortbread, it's a pliable dough so you can always fix any little mistakes or cracks. Next we're going to get a knife and we're going to cut it into the triangles and you don't want to cut all the way through. So it's just like scoring.
And next we get a fork and we're just going to put two fork marks into each triangle. I find it easy to turn the tray as you go and then they're nice and even. And this will also help in the baking, that the center of the shortbread bakes at the same time as the rest of the shortbread. Just to add an extra special touch, I'm going to sprinkle the shortbread with some caster sugar just before baking. Now I'm going to pop this in the oven for about half an hour until it's lightly golden brown and still a little bit soft. It may be a little bit soft when you get it out of the oven but don't worry about that, it'll firm up when it cools. So I'm going to transfer this carefully to a wire rack and just let that cool completely.
Now that the shortbread is cool, we're going to cut it into wedges. It makes it easy having the lines to follow and that's ready to serve to your guests. So when you're baking for Christmas give this traditional shortbread a go. It's buttery, crumbly and melts in your mouth. For more festive recipes head to our Christmas entertaining playlist here and to make sure you don't miss out on any of our videos click here to subscribe.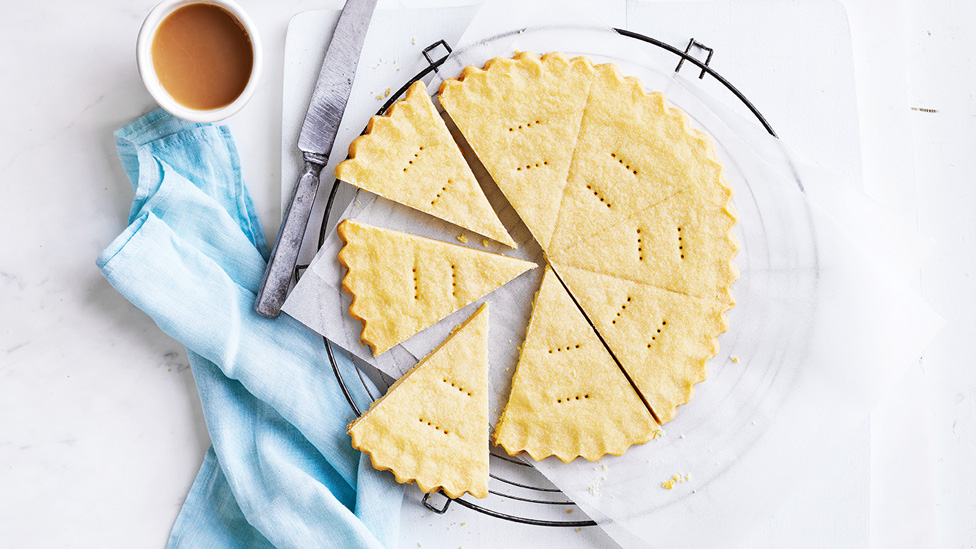 Ingredients
125g butter, softened
1/4 cup (55g) caster
1 cup (150g) plain flour
1/4 cup (45g) rice flour
Caster sugar, extra, to dust
Method
STEP 1
Use an electric mixer to beat the butter, sugar, plain flour and rice flour in a bowl until the dough comes together. Shape into a disc. 
STEP 2
Preheat oven to 160°C. Line a baking tray with baking paper. Draw a 20cm circle on the paper and turn over.
STEP 3
Place dough on the lined tray. Using paper as a guide, roll dough out to a 20cm disc. Use your fingertips to pinch dough to create a fluted edge. Use a large sharp knife to score 8 wedges into dough (don't cut all the way through). Use a fork to prick each wedge twice. 
STEP 4
Sprinkle evenly with extra sugar. Bake for 30 mins or until light golden. Set aside on the tray to cool completely.
Check ingredient labels to make sure they meet your specific dietary requirements and always consult a health professional before changing your diet. View dietary information here.