Luke Mangan's top tomato tips
The chef and Coles ambassador shares his favourite ideas with tomatoes, from clever recipes to no-waste and storage tips.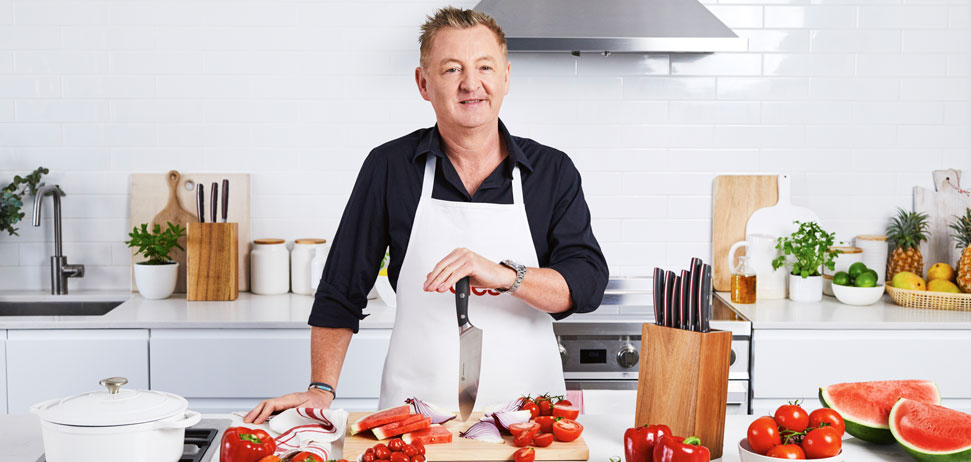 Five simple ways to use tomatoes
1.     Semi-dried tomatoes
Cut tomatoes in half, sprinkle brown sugar, salt flakes, sliced garlic, your preference of freshly chopped dried herbs and cracked black pepper, then drizzle with extra virgin olive oil. Place in an oven at 100C degrees until "semi-dried".
2.     Green tomato chutney
Take 3-4 whole green tomatoes and cook them down slowly in a heavy-based pan until the reach a jammy consistency with about half a cup of brown sugar, 100ml white wine vinegar and spices (such as cardamom, turmeric and cinnamon). I also add grated ginger, grated apple and raisins. Enjoy on toasted sourdough with soft cheese… amazing! 
3.     Tomato salt
If you're thinking of throwing out that wrinkly old tomato that has been sitting in the corner of your fridge, then hear me out: try making a salt! Cook your chopped wrinkly old tomato in a pan over low-medium heat until the liquid evaporates. You should be left with something that resembles tomato paste with seeds.
Spread evenly on a baking sheet and bake in a pre-heated oven at 100C until dry. Once dried, process into a powder using a spice grinder, adding in dried basil and salt flakes.
4.     Tomato consommé 
Take about 1kg of very ripe tomatoes, a pinch of saffron, a stick of lemongrass, 2-3 coriander roots, 2 cloves of garlic, a dash of tabasco, salt to taste and 2 tsp sugar to make a moreish tomato consommé. Simply blend the ingredients together, wrap in a muslin cloth, tie the ends together, let hang in the fridge overnight with a bowl underneath, and collect the liquid from the tomato mixture.
5.     Tomato granita 
Try this on your oyster! Blend together 2-3 very ripe tomatoes, 1 clove of garlic, tabascoto taste, a couple of pinches of sugar, salt to taste, freshly ground black pepper and 30-50ml red wine vinegar. Pour into a tray and freeze. Once frozen, scrape with a fork to create shaved ice (granita) and place on top of fresh oysters.
Roma tomatoes and basil  
Tomatoes and mozzarella
Kumato tomato and horseradish 
Perino tomatoes and watermelon
Truss tomatoes and fetta 
How to choose a perfectly ripe tomato
Check for firmness. A ripe tomato should feel firm
Feel the tomato's weight; you want the tomato to be plump for its size
Make sure the tomato has no blemishes and avoid the wrinkly ones
Sniff the tomato for a grassy and green perfume, but also a little spice and sweetness
What do you do with any older/leftover tomatoes to avoid waste?
There are many ways of using left over tomatoes to avoid wastage:
Slow-cook tomatoes for stews 
Use in relishes, jams and chutneys
Make delicious soups, sauces and consommés
Dry the seeds and re-plant
Dry tomatoes (see above tip) and store in olive oil
Reduce to a paste for pizza toppings
Tips on how to best store tomatoes?
They need to stay at room temperature, ideally in a single layer out of direct sunlight. Most importantly for keeping them fresher longer, store them stem-side down while they finish ripening.
Why tomatoes are good for you
Coles' nutritionist Kim Tikellis explains the health benefits of tomatoes:
The rich red colour in tomatoes is due to lycopene, natural plant antioxidants for good health. Add olive oil to boost lycopene absorption in foods.
One medium fresh tomato (150g) provides B-Vitamin Folate and half your daily requirement for Vitamin C, to help support immunity.  Another bonus is that tomato pairs well with meat proteins, where the vitamin C helps enhance iron uptake from these foods.
Tomatoes are a source of natural carotenoid plant pigments, lutein plus beta-carotene, important for eye health.
Did you know? While we use tomatoes like a vegetable, they are botanically fruits, formed from a flower and contain seeds. The tomato plant is a member of the deadly nightshade family.  However, tomatoes are a delicious and nutritious addition to a healthy eating plan.