How to get ready for bushfire season
Rising temperatures can come as a welcome change after a long, chilly winter. But warmer weather should also come as a reminder for many Australians to get ready for the upcoming bushfire season.  

Being well-prepared for a bushfire can make you feel more confident heading into the riskier times of year, as well as drastically reduce its economic impact and give your property the best chance at withstanding one.
Here's a number of key ways in which to keep your home, car and, more importantly, your loved ones, as safe as possible. 
1. Reduce your debris
You may love your garden – but unfortunately, a bushfire sees it as fuel. To limit the chance of a fire reaching your property or catching your roof, remove any surrounding debris, such as dry leaves and bark, plus any overhanging branches nearby. 
2. Store flammable items safely
Keep your highly flammable objects well covered, stored separately and out of direct sunlight when not in use. These include wood piles, gas cylinders and petrol containers. You should also park your car somewhere safe - ideally away from dense bush and behind a barrier, such as a wall or rocky structure. 
3. Know where water is
It's important to know where the closest water reservoirs are located, especially those that are "off grid" – like water tanks. This is not just for your own purposes but for use by firefighters in emergency cases. At the very least, ensure your hoses or water supplies are able to reach your property border.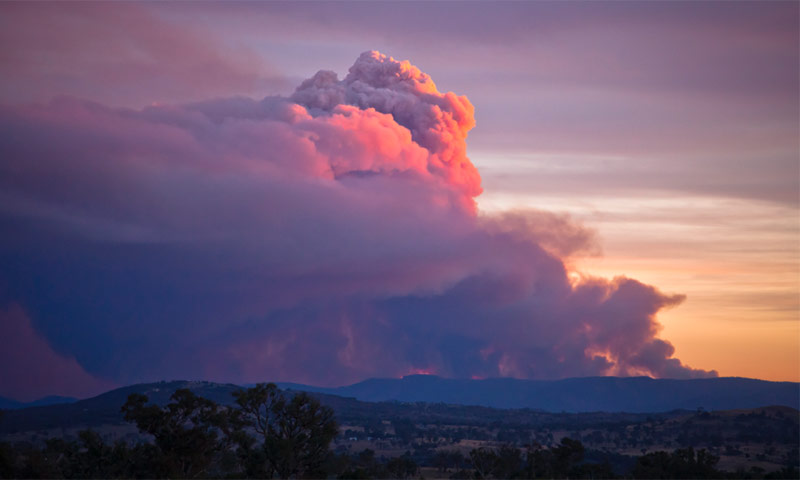 Smoke from a bushfire - Getty Images
4. Protect against embers

Embers are one of the most common ways in which houses catch fire. Any gaps, such as under the roof or under the house, need to be blocked off with fire proof mesh or another inflammable material. Air vents, in particular, are dangerous as they can provide channels for fire straight through to the centre of your home.
5. Think ahead 
When a fire is approaching, your water supply can be suddenly cut without warning. Even your hoses might not work if they've been burned. So, if it's safe to do so, plug gutters and drain pipes before filling them with water. Then, turn your garden sprinklers on and fill every vessel possible with water. 
If a bushfire is approaching and you're out on the road, it's handy to have a backup route in mind in case the main evacuation route becomes blocked. You can also plan ahead by leaving a woolen blanket or other garment in the trunk of your car– so that if a fire front creeps up, you're able to cover up and get down below window level.   
6. If you can, leave early 
Remember, material items can always be replaced. So the safety of you, your family and loved ones should always come first in the case of a bushfire. If you've been alerted to a nearby bushfire, leave early and do your best to reach a safe location. 
If you're stuck at home with a fire front approaching, make sure there's plenty of drinking water available, and that wet towels are on hand to block any gaps where fire might enter. You should also keep a close eye on perimeters – for potential ember spot fires.
No-one wants to experience a bushfire. But it's an unavoidable part of Australian summers. Preparing yourself and your home for fire could be the most important thing you've ever done. 
To check your cover or to make a claim, please visit https://www.coles.com.au/insurance/make-a-claim
This page provides general advice only.  For up-to-date and specific advice relating to the risks in your area please speak to your local council or emergency services.