Curtis Stone's lamb ragu with potato gnocchi
This melt-in-your-mouth lamb ragu gnocchi is the perfect dish for cooler evenings. A recipe that's sure to impress, try it for casual entertaining or a hearty family dinner.
My rich slow cooked lamb ragu is a real crowd pleaser. It's a great dish to make for your family or when you've got friends coming around to visit. I like to serve it with homemade potato gnocchi. 

But of course it's also delicious with ready-made gnocchi or a ribbon-style pasta such as pappardelle. Let's start with the lamb. 
I'm using boneless Aussie lamb shoulder for this ragu and there it is, it's nice and lean and the flavour is just dynamite. Little bit of oil straight to the pan, not too much. Season it with a little bit of salt and a little bit of pepper. Give it a quick toss and then straight into your pan. Once you put that lamb into that red hot pan, just turn the lamb over once you start developing the colour. 
Now, it's going to take about eight minutes to get all beautiful and golden brown on all sides. I've used the lamb shoulder and all I've done is trimmed a little bit of the fat off, there's quite a bit of fat, it's nicely marbled so you'll get plenty of fat on the inside of the lamb shoulder and then I've just diced it into like five centimetre pieces. Toss that lamb around. Oh yeah, look at that, beautiful golden brown already. 
Once you've got all that beautiful caramelisation on the lamb, you can reduce your heat to medium. Go ahead, remove the lamb from the pan. Then you can add just a little bit more oil, just a teaspoon. Get your onions, throw them in one side. I take my mushrooms and I toss those in the other side. And then you want to get a little bit of garlic, maybe four or five cloves, and what I do is I just give them a whack with my knife right over the top and then I throw the whole clove in. 
After 8-10 minutes you've got that beautiful softening of the onion, the mushrooms are releasing their flavour. Go ahead and get your stock and your crushed tomatoes and then you can put your lamb back in. Now you've got two things you can do. Bring it back to the simmer, or you can throw it in the oven, but what I'm going to do is put a lid on it and then simmer over a low heat, stirring occasionally, for three to three and a half hours. 
It's ready when the lamb is fork tender and beginning to fall apart. Here's how you make the fresh potato gnocchi. 
Now if you have the time it is so worth making your own. It's really delicious and pillowy, so soft and beautiful. But you can always make it ahead of time and freeze it until you're ready to cook. Of course, if you don't want to go ahead and get one from Coles, it's going to be really delicious, too. 
First thing you need to do is to preheat the oven to 200 Celsius or 180 if you cooking in fan-forced and then get yourself a little baking tray like this guy and grab your potatoes. Now the first job is to pierce the potatoes. Just use a fork, about 10 or 12 times and then they go into the oven, they bake for about an hour. 
Turn them over every 15 minutes or until they're really perfectly tender in the centre. Then you leave them on the tray for another 10 to 15 minutes, and then they'll be cool enough to handle. So here are my potatoes. They've chilled for about 10 minutes so I can handle them now. And here's what's going to happen. We're going to remove the skin and then we're going to grate the potatoes into a large bowl. So grab yourself a grater. I'm going to stick mine straight in the bowl. And in fact what I'm going to do is cut my potatoes in half and then I pick up my box grater and I can sort of just peel back the sides if you like and grate them straight through that box grater. Grate the potato until there's nothing but that skin left. 
If you've ever been to a restaurant and had that perfectly, pillowy, soft, wonderful textured gnocchi and you think to yourself, I wish I could make it like this at home, and guess what you can! Next, take yourself a silicone spatula, get four egg yolks and you're going to just slowly pour them in, and fold that potato in. Now of course that hot hot potato is going to slowly start to cook that egg yolk which is absolutely great. Next, get your parmesan cheese, a little bit of pepper and a little bit of salt and mix it then you add three quarters of the flour and use the spatula to mix it but gently, you want to fold it in. You don't want to overwork it or overknead at this point because you'll end up with tough gnocchi. So just go ahead, sprinkle that flour over the top. And we're going to gently lift from the bottom and just fold it over. Once you've incorporated all the flour, you grab yourself a piece of cling film, stick it over the top and then you're going to let this dough rest in the fridge for about 30 minutes. Once you've rested the dough, go ahead and remove that plastic wrap. Then what we're going to do is we're going to knead it with the rest of the flour. So we're going to literally use our hands. So grab yourself the rest of that flour, sprinkle it over the top. Save a little bit for your board. Gently incorporate that flour. You don't overwork it you just gently kind of knead it a little bit like a pasta dough. Now this is a very soft dough, that should be slightly sticky and even a little tacky. Next you dust a baking tray with a little bit of flour and then you divide the dough into four portions and then flour your hands as well as the work surface. What you're going to do is you're going to roll out one of these portions of dough into kind of a rope. There'll be about two centimetres in diameter, you want to kind of roll this out into sort of a sausage shape I guess. Start at the middle and just roll along like that. Make sure you dip your knife into a little flour as well so it doesn't stick and then just pinch it and cut straight through and then you can go ahead and drop your gnocchi straight onto your baking tray. Every once in a while, dip your knife back into the flour and just keep on cutting. The idea is to cut them all about the same size, so then they will cook nice and evenly. When you've gone through all four portions of the dough, you'll have about 15 to 16 gnocchi. Now if you like to freeze the gnocchi on trays, go ahead, be my guest, then transfer them to an airtight container and store them in the freezer for up to a month. Now my water is at a rolling boil, here's an important step. You guys have to season the water, you want it to taste like the ocean, alright. Really, really salty because, of course, that salt water is going to penetrate into your pasta or gnocchi which is what we're doing today. So a good generous handful of salt and then you take in your gnocchi. You do it in batches if you like, pick them up and just drop them in. I might take the water off the boil, so make sure it's at a rapid boil before you add them. I wish you were here to smell this with me. It just smells so fabulous. Grab yourself a spoon. Now what you want to look for is that the lamb will fall apart when you sort of press on it with your spoon or fork and it absolutely does. Now you might have to have a taste and you might need to adjust the seasoning so that's a good thing to do right now. Oh, it's so rich in flavour, the lamb and the tomatoes with a beautiful stock that is delicious. The gnocchi starts floating when it's ready. Once they start to float, you want to give them about another 60 seconds, maybe 90 seconds. Of course, if you're cooking them from frozen, you have to add an extra minute on. As the gnocchi cooks, you just lift them out and then you toss it straight into your lamb. You can remove all the heat from your pans, I'm actually going to lift mine up, bring it on over here to my trivet. Give that a really light toss. Now if you want it to be even richer, you can add just a little bit of butter, that's gonna just melt and give you a beautiful flavour. You can see I'm leaving it in the pan because I think it's so beautiful. I would serve it just like that. I take a little bit of fresh mint, sprinkle that over the top, some flat-leaf parsley. I'm going to stir it one more time, let that butter melt. It's going to give it a beautiful gloss as well as really improve the flavour and then nice big hearty bowls. I mean look at that. I'll tell you what, I cannot wait to get stuck into this. I give it just a little sprinkle of parmesan over the top. You'll see it kind of melt the second it hits that lamb. This lamb is beautifully tender and there's just so much flavour in the sauce from the mushrooms, the garlic and the tomatoes. The gnocchi is light and fluffy just how I want it. Are you ready? You can't just stand here and look at it all day. Bit of the lamb, a little bit of the gnocchi, get that perfect bite. I tell you all, once you learn how to make this there's no need to go to restaurants. Enjoy!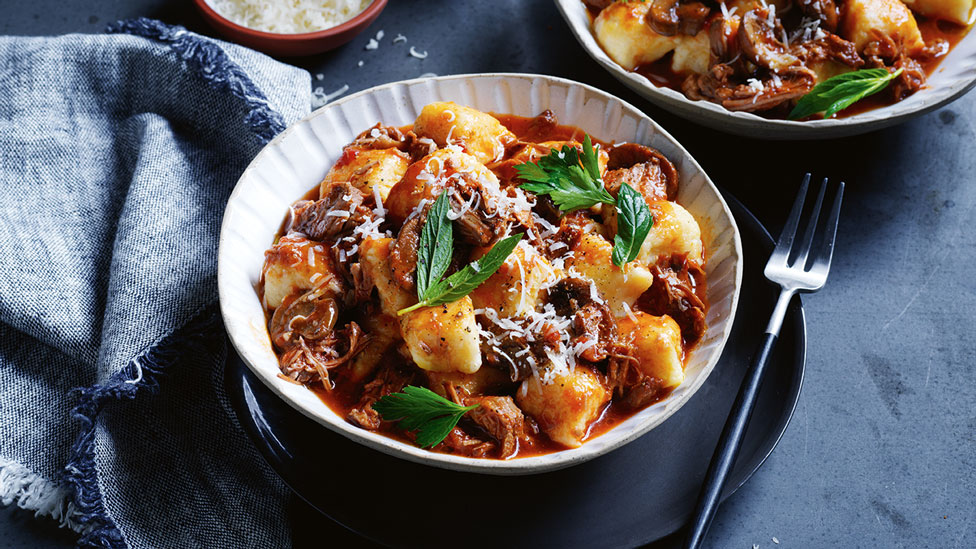 Note: + 30 mins chilling time
Ingredients
1kg Coles Australian Lamb Shoulder Boneless Roast, trimmed, cut into 5cm pieces
2 tbs extra virgin olive oil, divided
400g brown cup mushrooms, sliced
1 brown onion, finely chopped
5 garlic cloves, smashed
400g can crushed tomatoes
2 cups (500ml) salt-reduced beef stock
20g butter
1/4 cup torn mint leaves, divided
1/4 cup flat-leaf parsley leaves, divided
Potato gnocchi
500g washed potatoes (about 2 large)
4 extra-large Coles Australian Free Range Egg yolks
1/2 cup (40g) finely grated parmesan
1 cup (150g) plain flour, divided
Method
STEP 1 
Season the lamb. Heat 1 tbs oil in a large saucepan over medium-high heat. Cook the lamb, in 2 batches, turning occasionally, for 8 mins or until browned on all sides. Transfer to a plate. Reduce heat to medium. Add the remaining oil with mushrooms, onions and garlic. Cook, stirring often, for 6-8 mins or until mushrooms and onions are tender. Add the tomato and stock and return the lamb to the saucepan. Bring to a simmer. Partially cover. Reduce heat to low. Simmer, stirring occasionally, for 3-3 1/2 hours or until lamb is fork-tender and beginning to fall apart. Season with salt and pepper. Stir with a wooden spoon to break up the lamb. Just before serving, remove from heat and stir in the butter and half the mint and parsley.
STEP 2
Meanwhile, to make the potato gnocchi, preheat oven to 220°C (200°C fan-forced). Pierce each potato 12 times with a fork. Place on a baking tray. Roast, turning every 15 mins, for 1 hour or until very tender. Set aside for 10-15 mins or until cool enough to handle. Discard skin. Grate potatoes into a large bowl. Use a silicone spatula to stir in egg yolks, parmesan, 1 tsp salt and 1/2 tsp freshly ground black pepper. Add ¾ cup (115g) flour and gently fold to combine (don't over-knead). Cover and place in the fridge for 30 mins to rest.
STEP 3 
Knead the remaining 1/4 cup (35g) flour into the dough. Lightly dust a baking tray with flour. Divide dough into 4 equal portions. Use floured hands to roll out 1 dough portion on a lightly floured surface into ropes about 2cm thick and 30cm long. Starting at 1 end, pinch and cut 2cm pieces with a floured knife. Place on prepared tray. Repeat with remaining dough portions to make 50-60 gnocchi.
STEP 4
In a large heavy saucepan, bring salted water to a boil over high heat. Cook gnocchi in batches until they float to the surface of the water, then cook for a further 2 mins. Use a slotted spoon to transfer gnocchi to serving bowls.
STEP 5

Spoon lamb ragu over gnocchi. Top with the remaining mint and parsley to serve.
Serve with finely grated parmesan.
Short on time? Serve the lamb ragu with Coles Kitchen Potato Gnocchi instead.
Check ingredient labels to make sure they meet your specific dietary requirements and always consult a health professional before changing your diet. View dietary information here.