Lemon and blueberry vegan tart
Topped with candied citrus, this vegan lemon and blueberry tart is full of zesty flavour. Try it for a wholesome sweet treat.
Lemon tart is an all-time classic dessert, and I've got a fresh twist for you. This no bake dairy-free version is great for entertaining and the blueberries give even more flavour and freshness to make the smooth and creamy filling without any dairy products. You need to use cashews. Place them in a large bowl and pour over enough boiling water to cover, and we stand them for four hours just so they can go nice and soft for the base. Line a 24 centimetre fluted tart tin, it's best to use one with a removable base. So just grease it with some oil spray. I'm also lining the base with a disc of baking paper that stops the base of the tart from sticking to the tin.
To make the tart crust, process almonds, pistachios, some shredded coconut and just a pinch of salt. The salt helps bring the flavour of the nuts out. You just want to process them until they're finely crushed and now add the fresh dates. These are going to be the sticky part that's going to hold the crust together. Pinch with your fingers, like this, and that's what you want. Spoon the mixture into the tin and use the back of a spoon to push it evenly over the base and sides. Place the tin on a baking tray and pop it in the freezer to set. Now the cashews are soft, drain them and place them in a blender.
Then we're going to add some coconut cream, lemon rind, lemon juice and our sweetness is going to be the maple syrup. And you just want to blend that until it's very smooth. Now for the secret ingredient, a pinch of turmeric. This is going to add a natural light yellow colour to the filling. Let's get the tart case out of the freezer.
Now I'm going to pour the filling into the tart case and then just give it a gentle tap, just to get rid of any air pockets, and then just pop it in the freezer for about two hours to firm the filling. Now to make the candied lemon slices to decorate the tart. I've lined a baking tray with baking paper, add some lemon slices into the pan, add sugar and then your water, turn the heat to medium and bring the mixture up to a simmer. Turn the slices occasionally and keep an eye on the syrup, you don't want it to boil as the lemon slices will break down and they'll lose their shape.
After about 20 minutes the lemon rind should be translucent. Carefully transfer it to the lined tray, turn the heat up to medium-high and boil the liquid for about 3 to 5 minutes. You can see how it's thickened up and it's a syrupy consistency. Just set it aside and let it cool completely. To serve up, take the tart out of the freezer and carefully pop it out of the tin onto a serving plate. Decorate it with candied lemon, blueberries and some thyme.
All that's left to do is drizzle with lemon syrup. This beautiful lemon and blueberry vegan tart is a refreshing twist on the traditional citrus dessert. For more desserts to impress, head to our show-stopper dessert playlist here.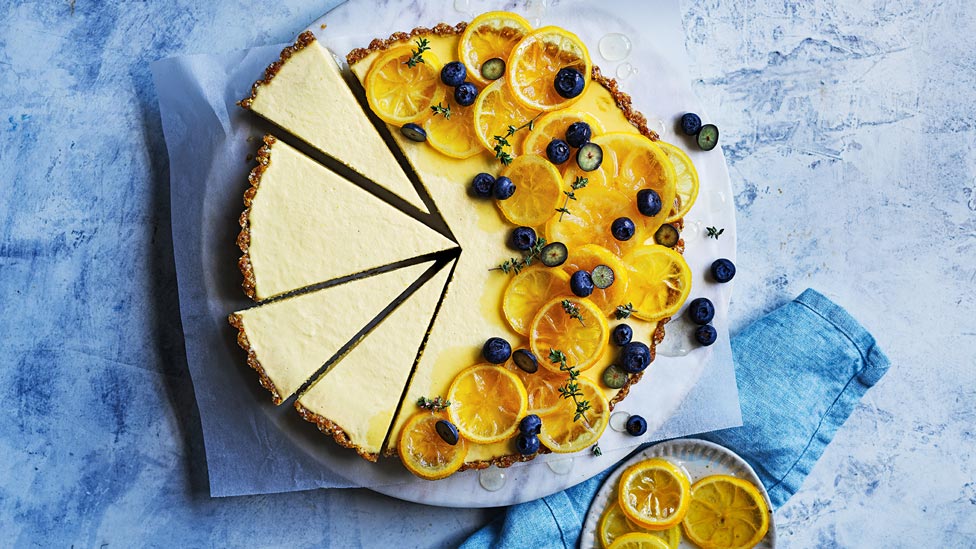 Note: + Freezing, cooling & 4 hours soaking time
Ingredients
1 1/2 cups (225g) cashews
1 cup (160g) whole almonds
1/4 cup (35g) pistachios
1/2 cup (40g) shredded coconut
Pinch of salt
12 fresh dates, pitted, chopped
270ml can coconut cream
1 lemon, rind finely grated, juiced
1/3 cup (80ml) maple syrup
Pinch of ground turmeric
Blueberries, to decorate
Thyme sprigs, to decorate
Candied lemon
2 lemons, thinly sliced
1/2 cup (110g) caster sugar
Method
STEP 1
Place the cashews in a large bowl. Pour over enough boiling water to cover. Set aside for 4 hours to soak.
STEP 2
Lightly grease a 24cm (base measurement) fluted tart tin with removable base. Line the base with baking paper. Place on a baking tray.
STEP 3
Place the almonds, pistachios, shredded coconut and salt in a food processor. Process until finely chopped. Add the dates and process until very finely chopped and the mixture holds together when pinched. Spoon into prepared tin. Use the back of a metal spoon to push the mixture evenly over the base and side of the tin. Place in the freezer to set.
STEP 4
Drain the cashews and place in a blender. Add coconut cream, lemon rind, lemon juice and maple syrup. Blend until very smooth and creamy. Add turmeric and blend until smooth. Pour into the tart case in tin. Gently tap on the bench to smooth the surface. Place in freezer for 2 hours or until firm.
STEP 5
Meanwhile, to make the candied lemon, line a baking tray with baking paper. Place lemon, sugar and 11/2 cups (375ml) water in a frying pan. Bring to a simmer over medium heat. Cook, turning lemon occasionally, for 20 mins or until the rind is translucent. Transfer lemon to the lined tray. Increase heat to medium-high. Bring syrup in the pan to the boil. Cook for 3-5 mins or until syrup thickens. Set aside to cool completely.
STEP 6
Transfer tart to a serving plate. Top with candied lemon, blueberries and thyme. Drizzle with the lemon syrup.
Check ingredient labels to make sure they meet your specific dietary requirements and always consult a health professional before changing your diet. View dietary information here.