Slow cooker mandarin and almond cake
Mandarin and almond cake - need we say more? This irresistible dessert is made easy in the slow cooker.
My slow cooker takes centre stage in the kitchen during the winter months. It's such an easy way to cook and today we're going to make a cake, yes, a cake in the slow cooker.
First, I'm going to slow cook the mandarins. We've already washed these. I'm covering the mandarins with hot water. Then goes on the lid and we'll leave these to slow cook for 2 hours on high. Trim the ends of the mandarins, then cut in half and get rid of any seeds. Once the mixture is pulpy, it's ready. Now for the cake. I'm combining 4 eggs and 2/3 of a cup of caster sugar. Whisk until thick and creamy. Add 1 1/3 cups of almond meal. And 2/3 of a cup of self-raising flour. And the delicious mandarin pulp.
I love the smell of citrus. Spoon the mixture into a greased and lined 20cm cake pan. Here's a great tip when slow cooking cakes. Because the slow cooker will steam the cake, we need to give the cake space to rise and not overflow into the cooker. So fold a piece of paper to create a pleat like this. I'm sealing it with kitchen string because it will hold the paper and foil in place and prevent water from going into the cake pan. Add enough water to come up halfway up the side of the cake pan. Then pop on the lid and cook on high for 3 hours. Add more boiling water if it starts to evaporate. The water needs to be at the same level.
As the cake is nearly ready, I'm going to start making the mandarin topping. It's a very simple technique, but it looks amazing. It gives the cake a real wow factor. Combine 1/2 a cup of caster sugar with 1/4 of a cup of water. Stir until the sugar dissolves. Reduce the heat to low and cook for about 6 to 8 minutes or until the mandarins are tender. I'll just set these aside to cook completely.
Now for the great reveal. Beautiful, fluffy and moist. This is the perfect combination of cake, dessert and hot pudding. See how the candied mandarin just takes the cake to another level. And, of course, a dollop of double cream just tops it off. Enjoy.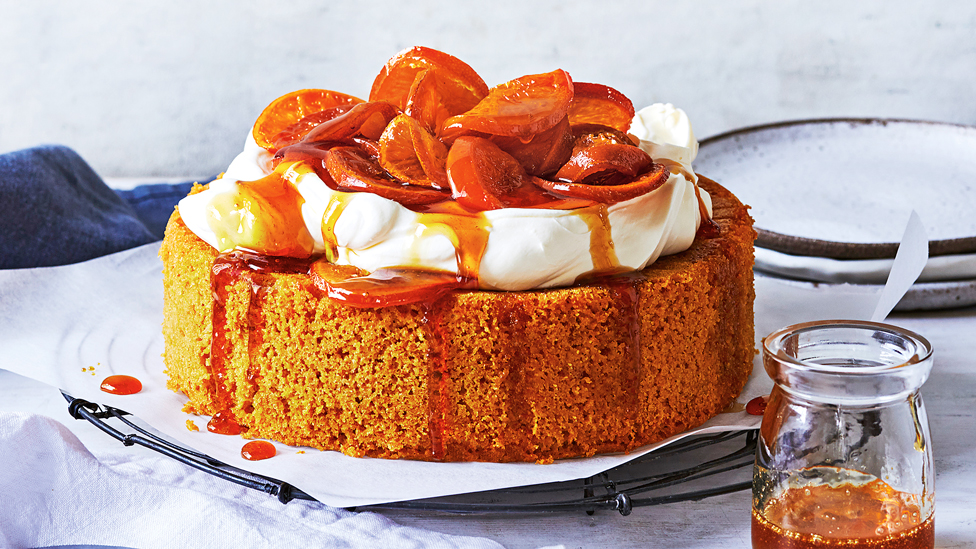 Ingredients
4 mandarins, unpeeled, washed
4 Coles Australian Free Range Eggs
2/3 cup (150g) caster sugar
1 1/3 cups (160g) almond meal
2/3 cup (100g) self-raising flour
4 mandarins, unpeeled, extra
1 cup (220g) caster sugar, extra
300ml thickened cream
Method
STEP 1

 
Place the mandarins in a slow cooker. Cover with hot water. Cover and cook on high for 2 hours. Trim ends from the mandarins, then cut mandarins in half (don't peel the mandarins). Discard ends and seeds. Process halved mandarins in a food processor until pulpy.
STEP 2
Grease a 20cm (base measurement) round cake pan. Line with baking paper. Use an electric mixer to beat the eggs and sugar in a bowl until thick and pale. Add almond meal, flour and mandarin pulp and use a large metal spoon to fold gently until just combined. Spoon into the prepared pan. Top with a sheet of baking paper and foil, pleated in centre, and secure with kitchen string. Place the pan in slow cooker. Add enough boiling water to come halfway up side of pan. Cover and cook, adding more boiling water to the slow cooker if necessary, for 3 hours on high or until a skewer inserted in cake comes out clean. Stand cake in the pan for 5 mins before turning onto a wire rack to cool completely.
STEP 3
Meanwhile, use a small serrated knife to cut the extra mandarins into thin slices. Combine the extra sugar and 1/4 cup (60ml) water in a small frying pan over medium-low heat. Cook, stirring, for 2-3 mins or until the sugar dissolves. Add the mandarin slices and reduce heat to very low. Cook for 6-8 mins or until the mandarin slices are tender and the syrup thickens. Set aside to cool.
STEP 4 
Place the cake on a serving platter. Use a clean electric mixer to whisk the cream in a bowl until soft peaks form. Spoon whipped cream over the top of the cake. Top with the mandarin slices and syrup to serve.
Check ingredient labels to make sure they meet your specific dietary requirements and always consult a health professional before changing your diet. View dietary information here.