Tasia and Gracia's prawn and pork wontons
These tasty prawn and pork wontons are perfect for sharing. Served with a spicy mayonnaise, they pack a flavour punch.
Hi everyone, it's Tasia and Gracia here and today we're going to be showing you how to make an easy yet fun recipe to make at home.  Pangsit goreng literally translates to deep-fried wontons. We're going to fill it with prawn and minced pork, and today we're going to be serving it with a spicy mayonnaise.
So let's get cooking. So for the filling we're going to combine the minced pork, the prawns, water chestnut, spring onion, garlic and ginger, and you've got sesame oil, corn flour, soy sauce, and we're going to season it with salt and pepper. We're going to mix all the ingredients into a bowl, use our hands and mix well until well combined.
So now we got our filling ready. Now the fun part begins. Let's make the wonton. So I've got our wonton sheets here. Take about one heaped teaspoon of the filling, you place it in the middle. And now you want to wet all the edges all around the wonton sheets. You want to fold it diagonally, the corner, press and seal. You want to take the two corners, and meet at the triangle point. So in the middle like this, yep. And press to seal. There you go. It's that simple.
So let's make hundreds of these now. So you want to put enough vegetable oil, we're just putting it into a wok here. You can go get a deep-fryer or a pot. Just make sure to get the temperature to around 180 degrees. Gracia, do you want to do your little trick? Yeah, when the temperature is almost ready, you should see that it starts to bubble around the chopstick.
Fry the wontons, in batches, for about five minutes or until they're golden brown and they're cooked inside. If you hear a little bit of splatter, it's probably because I didn't seal them quite firmly. But that's all right, you won't have every perfect wonton, but it'll taste perfect. So Gracia, they're ready. Look at that golden colour. That's what you want from these wontons.
Use a slotted spoon and you want to place it into a plate with a paper towel. Any leftover wontons, just place them in the container. Make sure you put any baking paper in between each layer. Pop them in the freezer and save for later. So to make the spicy mayonnaise, we're going to combine the chilli sauce, the Kewpie mayo and lime juice in a bowl.
So there you have it. Pangsit goreng, our fried prawn and pork wonton served with the spicy mayonnaise. The best thing about it is most of the specialty ingredients are available in the international food aisle at your local Coles. Yummy!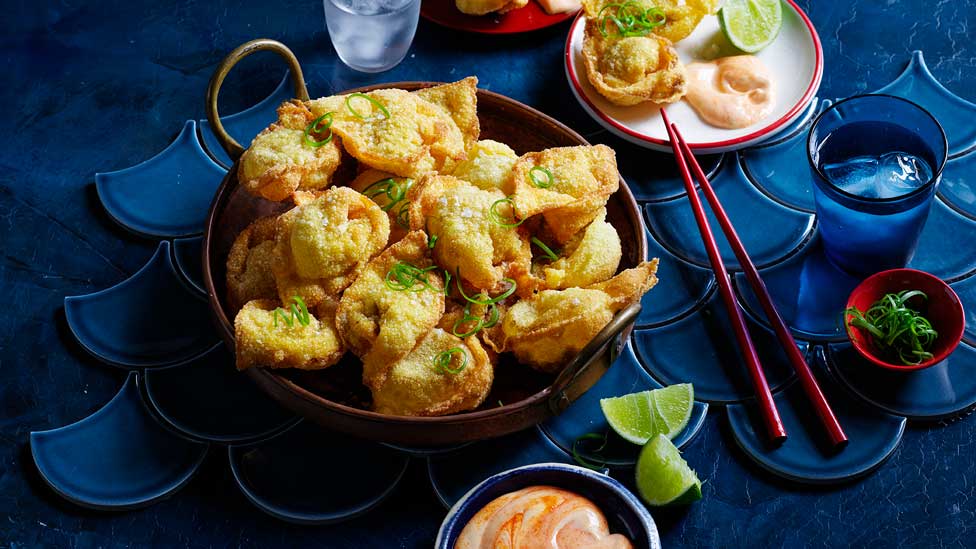 Ingredients
200g raw prawns, peeled, deveined, cut into small pieces
150g Coles Australian Pork Mince
2 spring onions, thinly sliced
225g can Coles Sliced Water Chestnuts, drained, finely chopped
2 tbs cornflour
1 tbs finely chopped ginger
2 garlic cloves, crushed
2 tbs soy sauce
1 tbs sesame oil
30 wonton wrappers
Vegetable oil, for deep-frying
Spicy mayonnaise
1 cup (280g) Kewpie mayonnaise
1/3 cup (80ml) ABC Extra Hot Chilli Sauce
1/2 lime, juiced
Method
STEP 1
Place the prawn, mince, spring onion, water chestnut, cornflour, ginger, garlic, soy sauce and sesame oil in a large bowl. Use your hands to mix until well combined. Season.
STEP 2
Place 1 wonton wrapper on a clean work surface. Place 1 heaped teaspoon of wonton filling in the centre of the wrapper. Brush edges with a little water. Fold 1 corner over diagonally to the opposite corner to make a triangle. Press to seal. Bring the opposite 2 corners to meet the triangle point. Press to seal. Place on the prepared tray and cover loosely. Repeat with the remaining wonton wrappers and wonton filling.
STEP 3
Add enough vegetable oil to a wok or large deep frying pan to come 6cm up the side of the pan. Heat to 180ºC over medium-high heat (when the oil is ready, a cube of bread turns golden brown in 15 secs). Cook the wontons, in batches, for 5 mins or until golden brown and cooked through. Use a slotted spoon to transfer to a plate lined with paper towel.
STEP 4
Meanwhile, to make the spicy mayonnaise, combine the mayonnaise, chilli sauce and lime juice in a bowl.
STEP 5
Serve wontons with the spicy mayonnaise.
Serve with lime wedges and spring onion curls
Check ingredient labels to make sure they meet your specific dietary requirements and always consult a health professional before changing your diet. View dietary information here.