Crackling ham boneless leg
We're bringing together two all-time Christmas favourites – ham and crackling roast pork – for the ultimate festive main. Trust us, you'll want to try this recipe.
What's your ultimate, show-stopping Christmas main? Is it mouth-watering ham ready to carve? Or pork roast with crispy crackling? Well, Coles has brought together these two Christmas favourites in this crackling ham roast, and I'm going to show you how to cook it.
First, preheat your oven to 240 degrees Celsius, or if you're using a fan-forced oven, 220 degrees Celsius. You don't want to crowd the oven with veggies and other dishes as this will add moisture and affect the crackling process. To prepare the ham, we're going to cut it out of the bag, and then just get some paper towel and pat the skin dry. If you have time, you can leave it uncovered in the fridge and that will just dry the skin out even more and give you perfect crackling.
Now remove the net from the ham. Just score the rind with the knife - about 3mm to 5mm apart. And you want to just cut through the rind and a little bit of the fat. You don't want to go into the ham meat. Rub the ham with some salt, and that will help draw out the moisture so that you get that lovely crispy crackling. I'm going to put this into the roasting tray and I'm standing it for about five minutes, just to draw out any moisture from the ham. I'm going to place the ham in the oven for about 40 to 50 minutes, until I can see that the rind is starting to blister and crackle.
Reduce the oven to 200 degrees Celsius and keep roasting for another hour to an hour and 20 minutes. When the ham's ready, the rind will be nice and golden brown. And look at that crackling. Yum! If you're using a meat thermometer, just place it in the centre of the ham, about halfway in, and it should read 60 degrees and then you know your ham's cooked all the way through. Now for the carving - I'm going to use a sharp knife. That'll just help cut through the crispy layers of the crackle. Oh, look at that! Try and get beautiful, even slices of ham and crackling.
This crackling ham roast is delicious served straight from the oven, with some steamed fresh vegetables and some salad. If you have any leftovers, they're delicious in a sandwich the next day with mustard or chutney. For more festive recipes, head to our Christmas entertaining playlist here. And to make sure you don't miss out on any of our videos, click here to subscribe.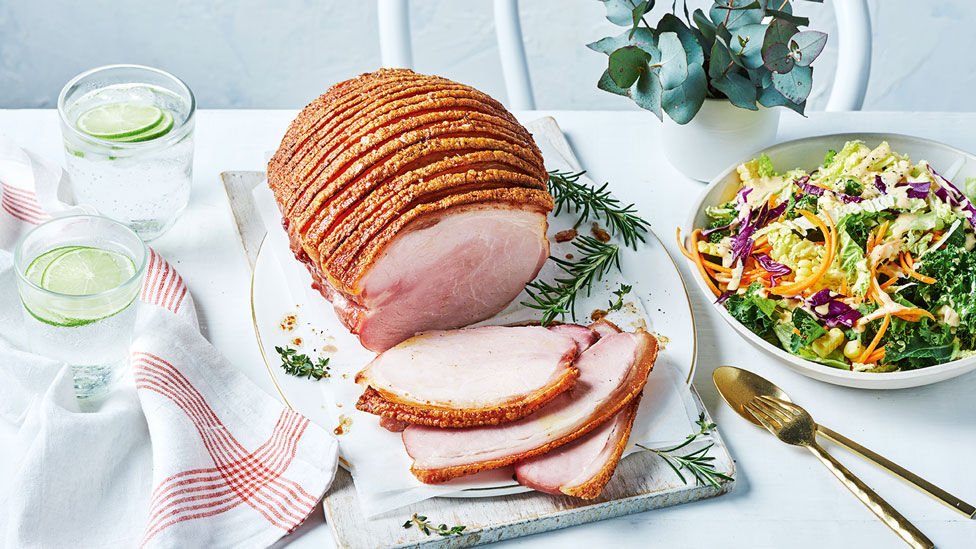 Note: + Overnight chilling & 5 mins standing time
Ingredients
1.5kg Coles Australian Crackling Ham Roast
1 tbs salt flakes
Method
STEP 1
Preheat oven to 240°C. Remove the ham from the bag. Pat dry with paper towel and place, rind-side up, on a baking tray. Place, uncovered, in the fridge overnight to dry.
STEP 2
Remove the net from the ham. Using a sharp knife or box cutter, score across the rind at 3-5mm intervals. Rub salt over the rind. Place ham on a rack in a roasting pan and set aside for 5 mins to draw out the moisture.
STEP 3
Roast ham for 40-50 mins or until the rind starts to crackle. Reduce oven to 200°C and cook for a further 1 hour – 1 hour 20 mins or until the rind is golden brown and crackling and an instant-read thermometer inserted into the centre of ham reads 60°C. 
STEP 4
Transfer ham to a carving board and use a sharp knife to slice.
Tip: for best results, cook the ham on its own in the oven. Don't turn the oven temperature down until the skin starts to crackle or you won't end up with delicious crispy crackling.
Check ingredient labels to make sure they meet your specific dietary requirements and always consult a health professional before changing your diet. View dietary information here.