Smoked salmon fettuccine with creamy lemon sauce
Liven up your midweek repertoire with our delicious smoked salmon fettuccine. It's a speedy meal that's ready in just 25 minutes.
Cook your fettuccine in a large saucepan of water, following the packet directions or until it's just al dente. Add the asparagus, snow peas and peas to the water, and cook for another minute. You want the veggies to be bright green and just tender. Drain the pasta and vegetables well.
Get started on the creamy lemon sauce. Heat a large frying pan over medium heat, then add some spring onions to the pan. Cook for one minute until the spring onions soften. Pour light thickened cream into the pan and bring it to a simmer.
Now add wholegrain mustard, horseradish cream and lemon juice. Give the sauce a stir occasionally and let it simmer for two to three minutes until it thickens slightly. Make sure you don't bring the sauce to a boil. When the sauce is ready, add the cooked fettuccine and vegetables along with some flaked smoked salmon and chopped dill. Gently toss to combine and then take it off the heat.
All that's left to do is season it with salt and pepper and sprinkle over some lemon zest. This delicious weeknight pasta dinner is on the table in under 30 minutes.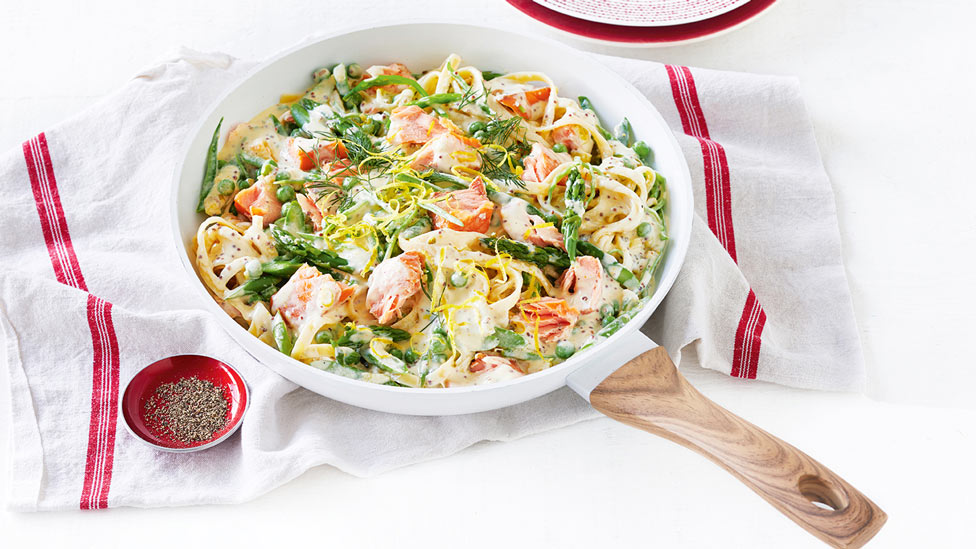 Ingredients
375g Coles Australian Fettuccine
1 bunch asparagus, woody ends trimmed, thinly sliced diagonally
150g snow peas, thinly sliced
1 cup (120g) frozen peas
2 spring onions, thinly sliced
300ml light thickened cream
2 tsp wholegrain mustard
1 tsp horseradish cream
1 lemon, zested, juiced
185g pkt hot-smoked salmon, flaked
1/4 cup coarsely chopped dill
Method
STEP 1
Cook the pasta in a large saucepan of boiling water following packet directions or until just al dente. Add the asparagus, snow peas and peas and cook for a further 1 min or until the vegetables are bright green and just tender. Drain well.
STEP 2
Meanwhile, heat a large frying pan over medium heat. Add the spring onion and cook for 1 min or until spring onion softens. Add the cream and bring to a simmer. Add the mustard, horseradish and lemon juice and cook, stirring occasionally, for 2-3 mins or until the sauce thickens slightly.
STEP 3
Add the pasta mixture, salmon and dill to the sauce in the pan and gently toss to combine. Remove from heat. Season. Sprinkle with lemon zest.
Check ingredient labels to make sure they meet your specific dietary requirements and always consult a health professional before changing your diet. View dietary information here.