Stephanie Alexander's silverbeet and potato torte
This silverbeet and potato torte is loaded with veg. Simple and delicious, it makes a great starter or light lunch.
Hi, I'm Stephanie Alexander and I'm going to demonstrate one of my favourite lunch dishes which is silverbeet and potato torte. Torte is an Italian word, which more or less means tart. And I've chosen my silverbeet today to be what is really called rainbow chard. It's a cousin. And it has all these beautiful coloured stems.
And now whilst I was introducing the recipe, I wanted to bring to your attention the two different uses of the word mozzarella. This yellow firmish cheese is what you always find on your pizza. But sometimes in a recipe when it says mozzarella or fresh mozzarella, it really means a much softer, whiter cheese, which doesn't grate really well at all. So check whether your recipe says mozzarella, or fresh mozzarella.
Okay, now I'm going to prepare my silverbeet. The stems are edible, it just means you have to take the stem, separate the stems from the leaves. Like this.
Go through the whole lot, you end up with a pile of stems, and a pile of leaves. 
Okay, so there's all the stems separate. And this is all the leaves. I cut them lengthwise, just because they are bit fat. Again, if your silverbeet is very young, you might not need to do this because the leaves, the stems will be quite thin.
Turn them around like this, get them all together in a nice, even pile. And this is where you use your knife skills slowly and carefully. You slice through all the stems.
Okay, now those stems I'm going to put into this bowl. And then I'm going to cut the leaves. And the way we do that is to find one of the biggest ones first, then put all the others on top of them. Like a big pile. And then what I do is I roll them, roll it up tightly like that. And now you cast this into slices, shredding the leaves.
Okay, now I'm going to add the Leaves to the stems in the bowl. And what I want to do is to make it shrink and to lose some of the moisture in the leaves. So I'm going to put into here two teaspoonfuls approximately, of ordinary kitchen salt, in like says
and I mix it with my hands. Get the salt everywhere and the salt will make liquid come out of the silverbeet. Now what you need to do now is to set it aside for at least half an hour, an hour, two hours is even better if you've got the time. So, and we'll come back and we'll rinse it later. 
Right, I'm now going to make the olive oil pastry, it's probably the easiest pastry I've ever made. I need 200 grams of plain flour, I've got my scales here. I put a pinch of salt in that, and then I transferred to a food processor.
Here I have half a cup of cold water and I'm going to add one and a half tablespoons of extra virgin olive oil.
Okay. This is very very quick, but it will make a noise. Okay.
Now what I do is put a tiny bit of flour on my board,
get this pastry out of the food processor and give it a very quick knead. Just in this little bit of flour, is all it really needs to come together. And I'm going to add a few drops of olive oil to my bowl so the surface doesn't dry out. The pastry in the oiled bowl, and that is going to be set aside for an hour and then we'll come back to roll it. Okay, so now I'm going to make the filling. So I've already grated my mozzarella and I'm going to put it into my big bowl. Okay, I'm going to chop half an onion. 
Okay ,onion going in, and so does the cheese. I've picked some parsley from the garden. So I'm going to chop that.
Okay, parsley going into the bowl. I've boiled some potatoes and I've allowed them to cool down a bit so I could handle them. And now the potato pieces are cut into small pieces, you don't want them to break through the pastry. I like to use a waxy potato if you've got a choice, because they keep their shape very well.
Okay, now because I'm going to add,next in a few minutes, the drained silverbeet, I don't want to add any salt to this, but I will add some pepper. And I'm now going to put an egg into it. I might add a little extra parsley, we did have a bit of extra parsley.
That's looking pretty good.
Okay, so here is my silverbeet after it's been soaking for a couple of hours, and you can see how much liquid has come out. Now I didn't put water in this, this is just the action of the salt on the leaves. So now I'm going to use the basket inside my salad spinner as a useful way of rinsing this under the tap to get that salt out. Silverbeet has been rinsed.
And I'm now spinning it because as if it's lettuce for a salad, which will take out a lot of that water. And now I'm going to tip it into a nice thick, dry tea towel.
And this is a good trick. It's actually easier sometimes to do this with two people because one person can twist one way, and one can twist the other but I think I'll be able to manage. So I'm going to twist and squeeze. You remember how much silverbeet we started with. You can see what it's come down to. And that's good because that means that when it's in the filling it won't shrink anymore.
Okay, I think I've got a fair amount of all that moisture out. So I'm going to open this and I'm going to add it to our filling, and then give it a really good mix. Okay, well that's ready.
So now for the pastry. Okay, so this pastry has been allowed to relax and it's in a slightly oiled bowl, put it out here now, some extra flour for my board. And I'm going to use two thirds of it. The bigger bit of course is for the bass and then start rolling it out. We want this to be nice and thin.
You do need to keep dusting it for a bit of flour, so it's not sticking.
Now I'm going to pick this pastry up on the rolling pin and then unroll it over my oiled tray. So leave that there and I will roll a smaller circle, which is going to be the lid. All right now I think that's just about right for the top. So now we're ready to add the filling to the pie. Okay, so this is the final stage, the exciting bit, put the filling into the pie, or the torte of course. And now you must leave a little bit around the age that has no filling to leave room to put the top on.
All right, now what I'm going to do now with my pastry brush, is just brush the ages with a bit of olive oil to help the top stick to the bottom.
So put the top layer on, don't stretch it just let it fall where it wants to fall. And then you fold the extra pastry over and give it a bit of a press with your finger so that it sort of creates a nice rolled edge. Now where I tore it before, accidentally. I'm going to put another little hole that lets the steam out of the pie. And I'm going to brush the top with some more olive oil and then scatter it with a little bit of sea salt and it's going straight into the oven for about 25 minutes.
The oven is at 200 degrees. The torte is now ready. So just for safety, I'm going to make sure with my palette knife that it hasn't stuck to the tray and it feels pretty loose and good. Doesn't that look fantastic? That with a beautiful green salad or tomato salad, we'll make a very lovely lunch. Okay, my torte is finished. So now I'm just going to cut another slice and sit down and taste my own cooking.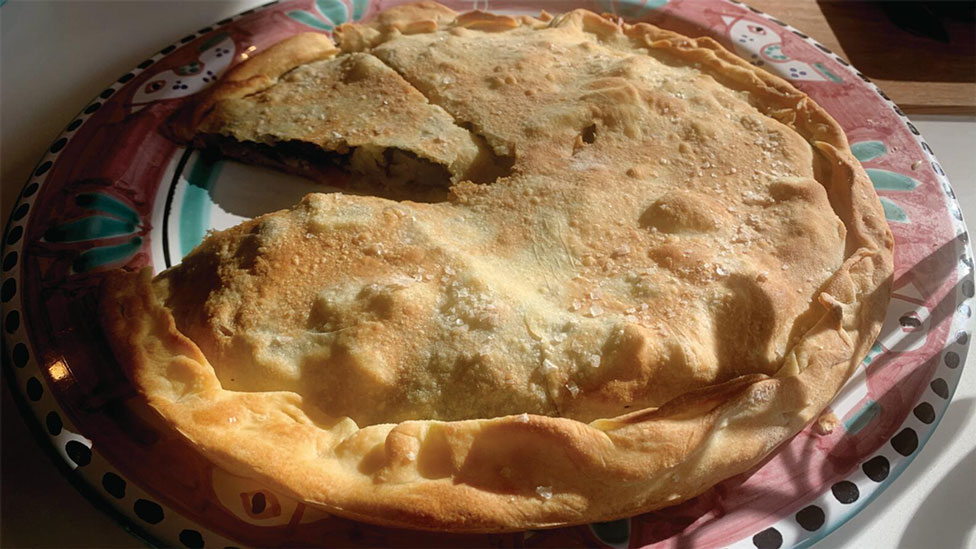 Ingredients
15 silverbeet leaves, stems chopped, leaves shredded
2 tsp salt
150g mozzarella, grated
1/2 brown onion, finely chopped
1 handful flat-leaf parsley, finely chopped
2 medium potatoes, peeled, boiled, cut into small pieces
1 egg
Extra virgin olive oil, for brushing
Pinch of sea salt flakes
Pastry
200g plain flour, plus extra to dust
1/2 tsp salt
1/2 cup (125ml) cold water
1 1/2 tbs extra virgin olive oil, plus extra to drizzle
Method
STEP 1
Place the silverbeet in a medium bowl with the salt. Toss to combine. Set aside for at least 30 mins to rest.
STEP 2
To make the pastry, place the flour and salt in a food processor. Place the water and oil in a small jug or bowl. With the motor running, slowly add the oil mixture to the flour mixture and process until the mixture resembles coarse breadcrumbs. Turn the dough out onto a lightly floured work surface and gently knead for 1 min or until smooth. Drizzle a little of the extra oil in a medium bowl. Place the dough in the prepared bowl and set aside for 1 hour to rest.
STEP 3
Preheat the oven to 200°C. Lightly grease a large baking tray. Place the mozzarella, onion, parsley and potato in a large bowl. Season with pepper. Add the egg and stir to combine.
STEP 4
Transfer the silverbeet to a colander and rinse under cold water. Drain well. Transfer to a bowl lined with a clean tea towel. Squeeze over the bowl to remove any excess liquid from the silverbeet. Discard liquid. Add the silverbeet to the potato mixture in the bowl and stir to combine.
STEP 5
Place the dough on a lightly floured work surface. Reserve one-third of the pastry. Roll the remaining pastry into a thin disc and transfer to the prepared tray. Spoon the silverbeet mixture over the pastry base, leaving a 5mm edge. Brush the edge with oil. Roll the reserved pastry into a thin disc and carefully lay it over the filling. Fold the edge of the pastry base over the pastry top and pinch the edges to seal. Use a fork to prick the pastry top a few times. Brush with oil and sprinkle with sea salt flakes. Bake for 25 mins or until golden.
STEP 6
Set aside for 5 mins to cool. Use a large serrated knife to cut into wedges to serve.
Check ingredient labels to make sure they meet your specific dietary requirements and always consult a health professional before changing your diet. View dietary information here.