Meet the producers: Cone Bay barramundi
Bred in the pristine waters along WA's Kimberley Coast, Cone Bay barramundi are wowing fish-lovers across the country.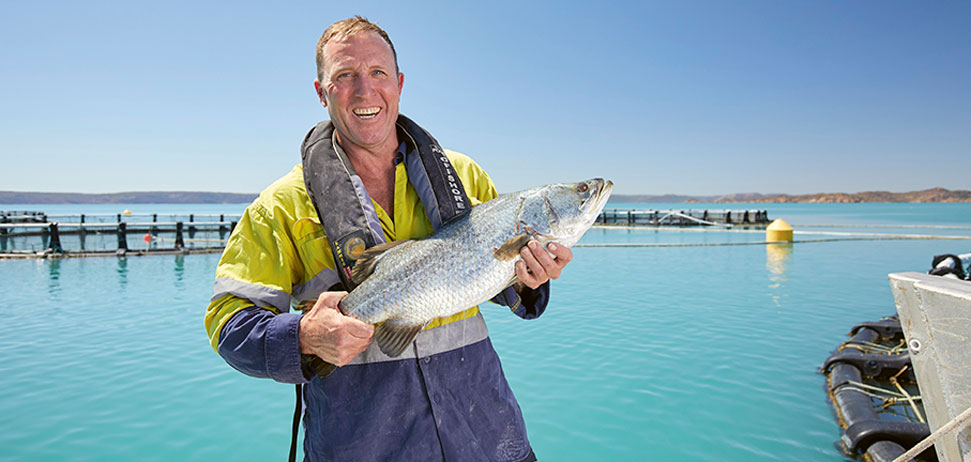 Cone Bay barramundi are raised in sea pens along the remote Kimberley Coast in the far north of Western Australia. Because of the dramatic tides in this part of the world, these magnificent fish are superbly athletic, resulting in barramundi known for their superior clean taste and consistency.
Richard Buczak, sales and marketing manager for Cone Bay Barramundi, says Cone Bay (110km north of Derby) provides the ideal conditions for top-grade barramundi.

"Our fish swim in 12-metre tides twice daily, so they are constantly swimming – first one way and then the other as the tides change," he says. "They are lean, mean machines."

Established in 2006 Cone Bay is Australia's only commercial ocean barramundi farm and now produces 3000 tonnes of high-quality barramundi annually – the bulk of which is sold to Coles supermarkets and the hospitality trade.

Richard says that unlike other land-based barramundi farms that are produced in ponds, Cone Bay ocean barramundi mature in the warm and pristine waters of the Buccaneer Peninsula.

"The beauty about farming in the ocean is that the flavour of our fish is consistent. It's never earthy, muddy or tainted," he says.

Ocean-farmed barramundi is especially favoured by professional chefs for its clean-tasting flesh, consistent quality dependability.

"When chefs put Cone Bay barramundi on their menus they know they can bank on the quality," says Richard. "And it's very hard to overcook or spoil because it always maintains its moisture."

Running a sophisticated aquaculture operation in a place such as the Kimberly is not without its challenges – each barramundi takes around 2.5 years to reach maturity and requires constant supervision.

"Cone Bay is about as remote as it gets," Richard says. "Most of our work force is based in Broome which is over 200km away. They work on a two-week-on, two-week-off roster, so it's a pretty big commitment – and we operate 52 weeks a year."

Once harvested the barramundi are taken by harvest vessel south to Derby and then transferred by road train to Fremantle and then shipped to the rest of Australia.

Cone Bay Barramundi adheres to the highest ethical and sustainable standards – this includes feeding barramundi on pellets derived from sustainable animal and plant protein.

Cone Bay farmed barramundi has been certified as sustainable by the Best Aquaculture Practices (BAP), and Richard says Cone Bay is always looking at ways to lessen its environmental footprint.

"One day we would like to grow our own seaweed and use that in our barramundi feed," he says. "Not only does seaweed grow naturally it also helps to remove CO2 from the atmosphere."

Coles Own Brand responsibly sourced barramundi from Cone Bay is available at Coles supermarkets nationally.
Find out more about sustainability at Coles. 
Want to make the most of our barramundi? Have a go at these delicious recipes