An apple tradition since 1929
Tradition and innovation work hand in hand at Newton Orchards to produce Australia's crunchiest apples.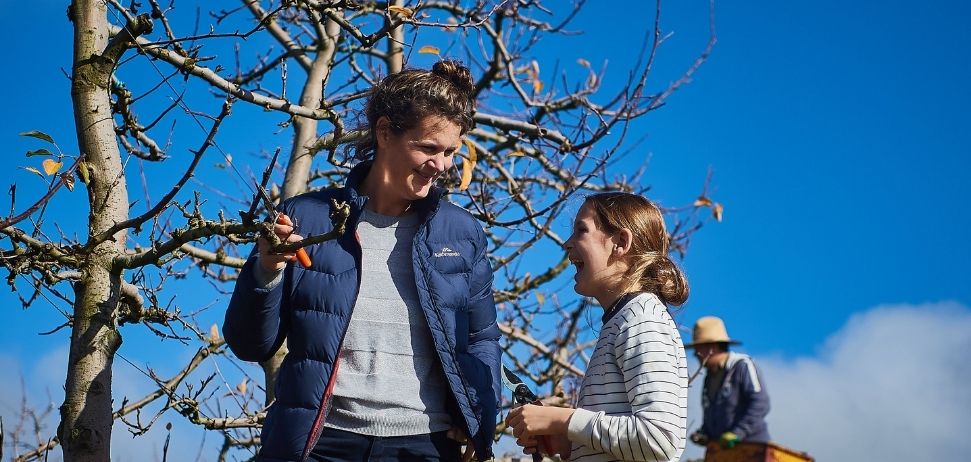 Newton Orchards proudly calls itself "The Home of Crunchy Apples" – a title that it is determined to maintain.
Located in WA's Southern Forest region, Newton Orchards was launched  by English brothers Harold and George Newton in 1929 and is still run by their descendants, including Nic Giblett, a director of the company.
"Harold and George came out to Australia when they were still teenagers," explains Nic. "They were the original 'ten-pound Poms'. And when they got here the land was covered in massive trees."
Nic says the secret to producing crunchy apples is partly climatic and partly due to knowing exactly when to pick each variety so that they reach the supermarket at the very peak of their condition.
"We have a very mild Mediterranean climate in Manjimup which is very good for growing super-premium fruit," she says.
The third-generation apple and pear grower says that consumers play a key role in ensuring that these WA apples maintain their crunchiness.
"We can look after our fruit until it reaches the door of Coles but after that it's really about keeping your apples as cool as possible when you get them home," she says.
Newton Orchards has been supplying apples to Coles for over 30 years and Nic says the family values the close personal links it has forged with Coles in both WA and the Eastern states – an important consideration for a producer a long way from the nation's population centres.
"What we really enjoy about our partnership with Coles are those relationships," she says. "Nothing compares with the old-fashioned sense of connecting with our buyers."
Now covering around 700 hectares, Newton Orchards grows several varieties of apples, including Royal Gala, Pink Lady, Kanzi, Granny Smith and Fuji, but is very proud of its Bravo apples which do not brown when cut.
"This is a massive advantage when you are cutting an apple for a child's lunchbox," she says. "It's got a much better chance of coming home eaten than a slice of apple that browns in the school bag."
As a lifelong fan of apples Nic says that what most people forget is that apples can be used in so many different cuisines – and have a life well beyond the school lunch box and pie dish.
"You can put them into just about everything from sausage rolls, roasts or salads," she says. "Whenever a recipe is calling for sweetness consider using an apple instead."
Despite its impressive history as the producer of high-quality fruit the company is constantly investing in new plant and equipment so that it remains sustainable and innovative.
With irregular seasonal rainfall over recent years new netting has been installed to protect the fruit from birds but also maintain moisture levels and cut down on water use.
"This year has not been too bad, but over the past 10 years our rainfall has been well below the average," says Nic. "So we have to look at smarter ways of using our water resources."
Newton Orchards apples are available in Coles supermarkets across WA.