My love affair with mangoes
German-born Martina Matzner has been growing mangoes for 20 years and is still passionate about this sweet-tasting gem.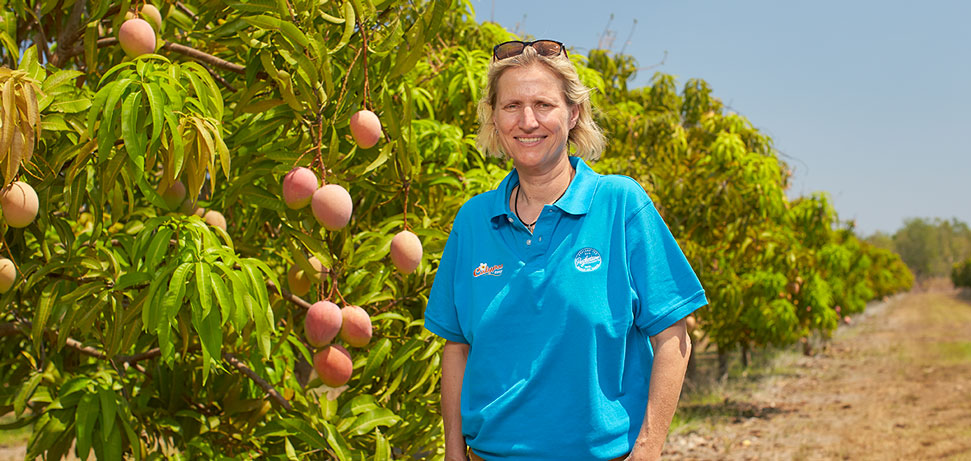 Martina Matzner has spent most of her adult life researching, planting and growing mangoes – and still loves the stone fruit.
"I wrote my thesis on mangoes in 1990 when I was a student in Germany," she says. "So I suppose it was my fate to end up working with mangoes in the Northern Territory."
These days Martina manages the 260-hectare Calypso Mango farm at Acacia Hills, just outside Darwin. The farm is one of the Territory's largest mango orchards with 55,000 trees.
"We love a challenge!" says Martina, who helped pioneer the Top End's $122 million-a-year mango industry.
For the NT's mango growers October and November are the busiest months of the year as the fruit is harvested. At Acacia Hills up to 130 workers are employed to pick and pack up to 90 tonnes of fruit a day.
"Most of our fruit is picked over a six-week period," she says.
Two decades of mango farming have not dimmed Martina's enthusiasm for the sweet-tasting tropical fruit – or her love of the people, landscape and feel of the NT.
"I still love mangoes, but it's everything around the industry – the people, the planning, the research that I love," she says. "We have staff coming here from all over the world, so it's a very vibrant place to work."
For Martina expanding production at Acacia Hills is set against the future challenges posed by climate change, more cyclonic activity and erratic rainfall patterns in the Territory.
"We don't know how the climate is going to change in the future, but we do know that it will change – so we need to be prepared," she says.
Water conservation is a major priority and the orchard is implementing a range of new practices to improve efficiency.
"We are looking at how we can be as water-wise as possible and conserve our water supplies," she says.
Acacia Hills has also introduced new barcoding technology that makes it possible to track fruit through the supply chain.
Other technology estimates yields which aids planning, packing requirements and other supply chain requirements.
"You look at the map and you can actually target the areas you're picking, taking the risk out of picking immature fruit," she says.
Having this information early on means that the orchardist knows how many pickers are needed, when to harvest and how many trucks and cardboard boxes to order.
"Farming is technology," says Martina. "And farming is exciting."
Calypso Mangoes are available in Coles supermarkets nationwide.
Want to make the most of our mangoes? Try these 3 delicious recipes