Harriet Hudson's at home exercises
Learn three different exercises you can do at home with Australian Rower Harriet Hudson.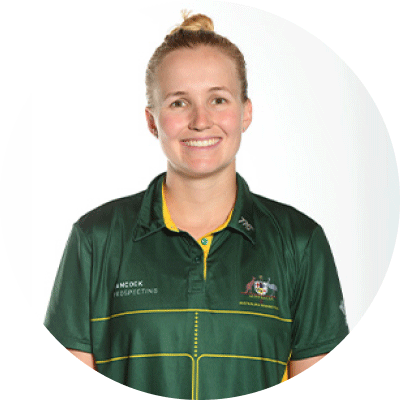 Q: What does healthy living mean to you?

Good physical and mental health. They all go hand in hand. We need to look after each other, eat well, move more and be kind to one another. 
Q: Why do you think it's important to lead a healthy lifetyle?
Cardiovascular disease is one of the biggest health issues Aboriginal People face and we can change this if we are eating better and exercising more. Looking after ourselves means we can live longer and stronger.
Go easy on the salt, my people!
Q: What's your best healthy food tip?
My little son Billy is coeliac so we eat a lot rice dishes for dinner as we don't really have much gluten anymore. I love chicken and mushroom risottos, fried rice with egg and seafood paella.
Hi guys, I'm Harriet Hudson here from the Australian Rowing Team and today I'm going to show you three easy exercises which you can do to stay fit.
So the first one's going to be some high knees, so this is really good just to keep the heart rate going and getting it nice and high. So I like to put my hands out in front and I'm just lifting my knees up trying to tap my hands just like this. I think a good starting point would be maybe 45 seconds.
The next one that we're going to do is some squats, so really thinking like we're sitting back into a chair, hold your hands out front for stability, and we're just sitting back like that. So try and go as deep as you possibly can, you want to think about keeping the chest up and the head up and just going down like that.
And then the final one is some lunges. So super easy, standing with your feet hip width apart and we're just going back with one leg lunging forward like that and then the opposite leg. So thinking about keeping your knee in line with your ankle. Just like this and sinking really nice down low and pushing up through the front foot.
So a good circuit for five minutes might be you know a minute on each and you could do that as many reps as you'd like.
Healthier living starts here
Whether you're looking for tasty and nutritious midweek dinner ideas or are catering for a range of dietary requirements, we have you covered with our healthy recipe collections
Supercharge it
The fiber and healthy fats in avocado are what make it a superfood for long lasting energy stores. It also contains many of the B vitamins that help with your red blood cell count which in turn helps regulate your iron levels!