Harriet Hudson's push-up tips
Watch this quick and easy workout you can do at home with Australian Rower Harriet Hudson.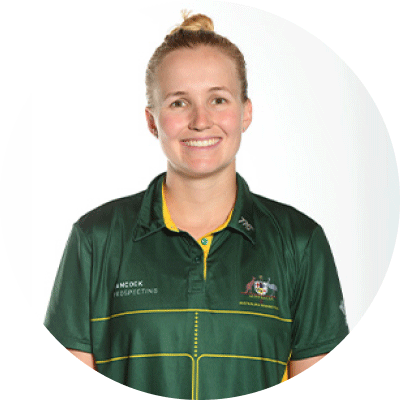 Q: What does healthy living mean to you?

Healthier living is about eating a variety of healthy, vibrant foods (all the colours of the rainbow) as well as moving your body as much as you can! You don't have to go for a run every day to be active. Try dancing, Zumba, hiking, swimming, or throwing a frisbee! 
Q: Why do you think it's important to lead a healthy lifetyle?
Because ultimately it makes you feel good. You feel more energised, focused, motivated, and ultimately better about yourself. 
Q: What's your best healthy food tip?
When I am craving something sweet, I like to have some frozen mango and berries with honey rather than eating a whole block of chocolate! 
Hey guys, Harriet Hudson from the Australian Rowing Team here, today i'm going to show you three core exercises which you can do at home.
So the first one we're going to do it's called push up into rotation. So coming into a good kind of tabletop position, what you want to do is you want to push up so you bring so you go down into a shallow kind of push up, and push off and you rotate out like this, trying to keep your chest nice and flat and then we go back to again another push-up, shallow and then rotating the other way. Really thinking about trying to keep your hips as stable as possible and just pushing through that hand on the floor just like that.
So the next exercise is pretty easy to go into from there, again it's that tight top position, and it's just going to be some shoulder taps. So keeping your back really nice and straight in that tabletop position, hips nice and flat, and just trying to tap the shoulders just like this. Now it's important to make sure that we're not moving the hips as we go, we just want to keep them nice and flat and just tapping the shoulder like that. A really good way is just thinking about just bracing that core as you're moving.

Final exercise that we're going to do is some leg lowers. So, what you might want to do is put your hands kind of under your hips like this, you want to keep your back on the floor, we lift the legs up and slowly we're just going to lower them to the ground, not touch the ground but then come back up. Now if this is too difficult an easier one is just to bring your legs up to 90 degrees your knees to 90 degrees, and we're just going to go down like that. Thinking about being nice and slow, nice and controlled as you go down to the ground and you come back up so that should be a really good three core exercises to slice and dice those abs.

Healthier living starts here
Whether you're looking for tasty and nutritious midweek dinner ideas or are catering for a range of dietary requirements, we have you covered with our healthy recipe collections
Supercharge it
The fiber and healthy fats in avocado are what make it a superfood for long lasting energy stores. It also contains many of the B vitamins that help with your red blood cell count which in turn helps regulate your iron levels!