James Podsiadly's park exercises
Fitness Coach James Podsiadly simple exercises you can do at your local park.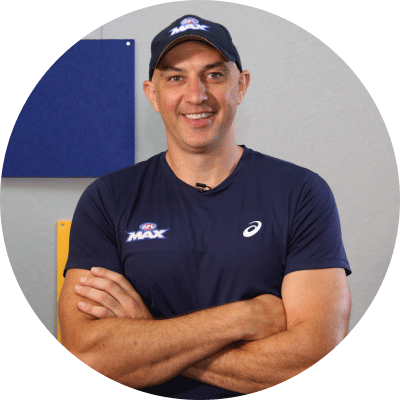 Q: What does healthy living mean to you?

It's about developing healthy habits and routines that can stay with you forever. For me it's about exercising every day, eating a balanced diet full of vegetables and fruit and staying connected with friends and family. 
Q: Why do you think it's important to lead a healthy lifetyle?
Everyone has different motivations and I have 2 clear ones when it comes to why I try and live a healthy lifestyle;
Exercising and eating well gives me the energy I need to work and run a business. I'm much more creative and less stressed when I'm exercising and eating well regularly. 
I'm a new dad and I'm motivated to stay fit and mobile so I can kick the footy or have a hit of tennis in 10 years' time with our son Ted.
Q: What's your best healthy food tip?
Eat your fruits instead of drinking them. Fruit contains fibre which helps release their sugars slowly.
Training outdoors! Now for those who don't have a gym membership or a gym at home, today I want to show you some exercises you can do at your local park using different equipment or different settings. I'm here at my local park today, let's go see what we can find.
All right, now most parks out there have some sort of a platform, so step ups. Really good to get the heart rate up, right get those quads, hamstrings, glutes and calves going. Really simple. Now whether you can do them for time or you know do 10 at a time that's totally up to you and where your goals are with your fitness, but a great platform um is always good to do some step ups.
All right where to next, I see a piece of equipment over here. All right, here we go we've got some sort of a bar here, most parks have got a fence or something for pull-ups. Great exercise for your biceps and your back, nice straight back, all right, knees bent, pulling up chest to bar, all the way. Now as I said earlier, you choose how many reps you do but that's a fantastic piece of equipment to do some pull-ups on.
What's next, oh I'm going down here, let's go. All right I found a netball court, now what we can do here is some shuttle runs. If you want to increase your cardio training here's an idea. Find anywhere, any oval or any basketball court, netball court with some lines on it and all we're going to do is we're going to sprint out and jog back and try and hit every line as quick as you can. I'll show you how it's done. So, ready sprint out and slow jog back and then back to the end, sprint out to the next line, jog back.
Now I'm going to finish over there and look for the next piece of equipment, come with me. All right the old trusty park bench. Now every park's got one of these, no excuses. Two exercises, push-ups, on the park bench. Gotta love these. All right, try and get your chest down and touch the bench, righty-o, up and down. Now you know varying the angle of your push-ups works different types of your muscles so play around with that, sorry different types of your pecs so play around with that.
Last one I want to show you is just some basic dips, right on the park bench. Righty-o, down, if you want to go straight legs it's a little bit harder, bent knees is a little bit easier, so you guys gage where you're at. I'm about done here, no excuses for you guys at home. No gym no worries, the park's got you covered.
Stay tuned for my next fitness tip brought to you by Coles Healthier Living.
Healthier living starts here
Whether you're looking for tasty and nutritious midweek dinner ideas or are catering for a range of dietary requirements, we have you covered with our healthy recipe collections