James Podsiadly's post exercise stretch
Fitness coach James Podsiadly shows us a great post exercise stretch to help you warm down after a big workout.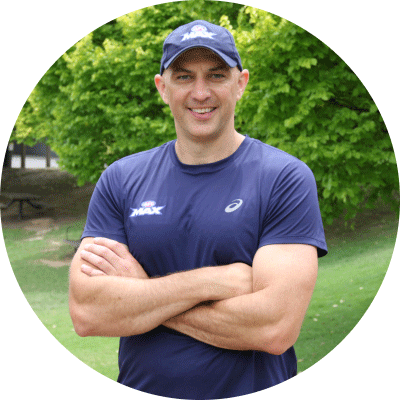 Q: What does healthy living mean to you?

It's about developing healthy habits and routines that can stay with you forever. For me it's about exercising every day, eating a balanced diet full of vegetables and fruit and staying connected with friends and family. 
Q: Why do you think it's important to lead a healthy lifetyle?
Everyone has different motivations and I have 2 clear ones when it comes to why I try and live a healthy lifestyle;
1.Exercising and eating well gives me the energy I need to work and run a business. I'm much more creative and less stressed when I'm exercising and eating well regularly. 
2.I'm a new dad and I'm motivated to stay fit and mobile so I can kick the footy or have a hit of tennis in 10 years' time with our son Ted.
Q: What's your best healthy food tip?
Eat your fruits instead of drinking them. Fruit contains fibre which helps release their sugars slowly.
Hi my name is James Podsiadly from AFL Max and Coles Healthy Kicks.
Today I'm going to share with you one of my favourite ways to stay fit brought to you by Coles Healthier Living. Stretching after a workout not enough people do it, either they don't value it or you don't have enough time. That's okay, I'm going to give you one stretch that you must do after each workout. And it's killing two birds with one stone. It's a quad and hip flexor stretch.
Let's hit the mat and I'll show you what to do. So all we're doing is knee on the floor, we'll start with our right leg back left leg forward, and put that left leg forward just a little bit more forward so when you go forward you don't go over your toes too far. Now the idea here is work on your balance at the same time, grab your ankle so stretch that quad and all we're going to do is lean forward so we're feeling a stretch in your quad and also your hip flexor. Every stretch that you do I recommend holding it for about 20 to 30 seconds before you rotate to the other side. Holding that, feeling that in that quad, stretching it forward leaning forward. The more you lean forward the more you should feel in your quad and also your hip flexor. Okay, now we know stretching helps improve the risk of injury so try and include it into your workout, either at the end or before. And a quick one like that hip flexor and quad, takes no time at all.
Healthier living starts here
Whether you're looking for tasty and nutritious midweek dinner ideas or are catering for a range of dietary requirements, we have you covered with our healthy recipe collections
Supercharge it
The fiber and healthy fats in avocado are what make it a superfood for long lasting energy stores. It also contains many of the B vitamins that help with your red blood cell count which in turn helps regulate your iron levels!