James Podsiadly's quick warm up routine
Before you start your exercise, use this warm up routine from ALF Legend James Podsiadly.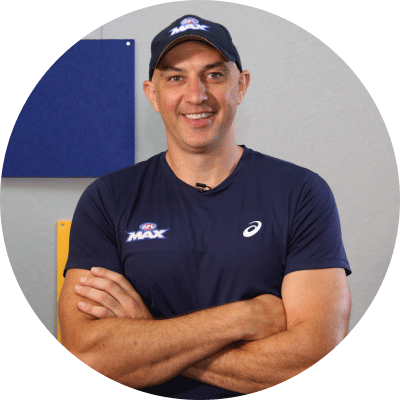 Q: What does healthy living mean to you?

It's about developing healthy habits and routines that can stay with you forever. For me it's about exercising every day, eating a balanced diet full of vegetables and fruit and staying connected with friends and family.
Q: Why do you think it's important to lead a healthy lifetyle?
Everyone has different motivations and I have 2 clear ones when it comes to why I try and live a healthy lifestyle;
1.Exercising and eating well gives me the energy I need to work and run a business. I'm much more creative and less stressed when I'm exercising and eating well regularly. 
2.I'm a new dad and I'm motivated to stay fit and mobile so I can kick the footy or have a hit of tennis in 10 years' time with our son Ted.
Q: What's your best healthy food tip?
Eat your fruits instead of drinking them. Fruit contains fibre which helps release their sugars slowly.
Warm-ups. Now I know everyone out there is seriously time-poor and barely has time for exercise and you neglect warming up,  but I'm telling you it's really important!
Important for injury prevention and important for getting ready for exercise, so you can perform. So today a quick two minute warm-up that I do before all my workouts and it's basically a full body warm-up, gets you ready to go. So the first exercise out of the four is lateral lunges. All right so lateral lunges, all we're doing is stepping out, stepping back, stepping out, stepping back. Now these get the hips going right, really get that full range of motion as you progress out, get lower and lower. Activates the groins and also your glutes. All those muscles, they're involved in change of direction and balance. Great exercise lateral lunges.
All right next one is some quad arabesque. So all we're going to do is stretch your quads and work on your balance. All right so we're doing is up quad, down touch the ground work on your balance, back. Other side, rotate. Now these exercises as you're doing them, you're going for 30 seconds each side, 30 seconds max, all right. So total two minutes. There's no excuses to get warmed up. Great one for the quads, good for the hammies.
Now my next exercise gets your blood going, a bit of high knees. All right so you can just do this on the spot, as you can see this warm up is all done on the spot. You don't need a lot of space, all right so 30 seconds of high knees gets your heart rate up, gets the blood flowing. Idea is try and get your knees up above your hip, really warms up those hip flexors, a bit of glute activity there as well. All right last exercise, no excuses for the warm-up.
This one gets your upper body going, all right. I'll face this way, these are just push-ups with a catch, all right. So all we're doing is we're dropping down catching ourselves, now for those of you who are advanced you can push yourself back up or you can just crawl on your way back up, back up. All you're going to do here, activating the shoulders getting that upper body ready for any activity that we're going to do with our upper body.
All right one more as a demo, down catch yourself and push yourself back up. All right, I know exercises it's tough to find time for it and warm-ups even tougher, but there you go. Two minutes, you activate your full body and you're ready to perform.
Healthier living starts here
Whether you're looking for tasty and nutritious midweek dinner ideas or are catering for a range of dietary requirements, we have you covered with our healthy recipe collections
Supercharge it
The fiber and healthy fats in avocado are what make it a superfood for long lasting energy stores. It also contains many of the B vitamins that help with your red blood cell count which in turn helps regulate your iron levels!