Ruby Svarc's warm-up exercise
Professional AFLW player Rub Svarc shows us her favourite exercises to warm up.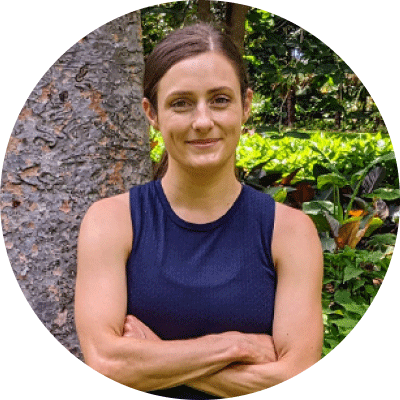 Q: What does healthy living mean to you?

Healthier living to me means you are making little choices every day to care for your mind and body. Whether that's drinking enough water, spending time with a friend, or eating a piece of fruit. It's about being aware of your choices and understanding that consistency is more important than stringency – it's okay if you don't make the best choices sometimes. 
Q: Why do you think it's important to lead a healthy lifetyle?
If you're healthier, you're usually happier. Leading a healthy lifestyle comes from a place of self-respect; physically, mentally and emotionally, and helps to build your self-esteem. This in turn leads to happier, healthier relationships with yourself and others, and helps to set you up for success in whatever it is you choose to pursue in life. 
Q: What's your best healthy food tip?
Eat the rainbow. When you do your shopping or cooking, use fruits and vegetables from a variety of colours to make sure you are getting a range of antioxidants, vitamins and minerals. Each colour contains different antioxidants to keep you healthy. 
One of my favourite go-to snacks is a tuna and avocado toasted sandwich – a good balance of protein (tuna), carbs (bread), and healthy fats (avocado).
Hi I'm Ruby Svarc from the Lions AFLW and today I'm going to share with you one of my favourite ways to stay fit, brought to you by Coles Healthier Living.
Before any exercise or physical activity it's really important to make sure your body's warmed up properly. This helps to prevent injury and work to fire up your muscles so you really get the most out of your session.
Today we're going to warm up our glutes, using the classic bodyweight squat. Our glutes are one of the most powerful and largest muscles that we have, but a lot of people actually have weak glutes from a little too much sitting that we do in our day-to-day lives. So all you need for this exercise is just yourself and you can have some weights or bands in them if you would like the extra challenge.
So to get started extend your feet hip distance apart and bend down into the squat, making sure your knees are in line with your toes. So it's really important to make sure that your knees aren't turning inwards, so making sure they're right in line with your toes. So from the side it looks as if you're sitting back down into a chair, so pushing your hips behind you with your back nice and straight. And you should feel that work within your glutes. So I'll repeat that 10 to 12 times, um that's a classic bodyweight squat, it's a really great addition to your warm-up routine.
It's super easy to do, you can do it anywhere. It's really versatile as well as you can add weights or bands or all sorts of other variations to the squat. So remember the key thing is making sure you're really nice and warmed up properly before any sort of physical activity to help prevent injury.
Healthier living starts here
Whether you're looking for tasty and nutritious midweek dinner ideas or are catering for a range of dietary requirements, we have you covered with our healthy recipe collections
Supercharge it
The fiber and healthy fats in avocado are what make it a superfood for long lasting energy stores. It also contains many of the B vitamins that help with your red blood cell count which in turn helps regulate your iron levels!