Sabrina Frederick's performance stretches
Discover Professional AFLW player Sabrina Fredrick's favourite stretches to improve performance.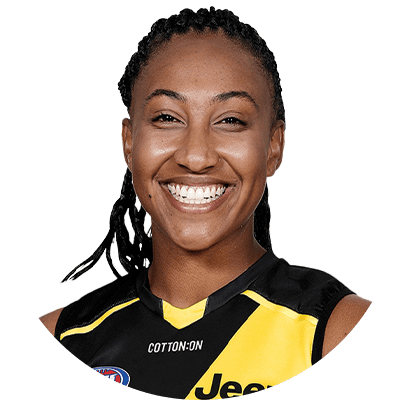 Q: What does healthy living mean to you?

To me, healthier living means to live a balanced lifestyle which consists of a wholesome diet with plenty of exercise. 
Q: Why do you think it's important to lead a healthy lifetyle?
As an athlete optimal nutrition compliments my training, which increase my chances of performing at my best. When I retire, continuing a healthy lifestyle will help me maintain my quality of life and prevent chronic illnesses. 
Q: What's your best healthy food tip?
A hot tip of mine to make a meal healthier is adding fruit to leafy salads which uses their natural sweetness rather than adding sugary dressings. One of my absolute favorite sides to any meal is a salad with kale, red cabbage and carrot topped with a mango and toasted pepitas.
Hi I'm Sabrina Frederick from the Richmond Football Club, and today I'm going to be sharing with you one of my favourite ways to staying fit, brought to you by Coles Healthier Living.
Now sometimes people think exercises have to be so vigorous and a lot on the body and you've gotta be sweating a lot. Which you can and they all count, but for me what counts even more is probably more my recovery and the recovery exercises that I do.
So today I'm going to be taking you through a couple of stretches that I like to do, on the daily, that just keeps my body in check, ready to perform and keep fit.
Just get one foot out, one foot across and make sure you pull this leg in nice and tight. Put one arm across the knee, and look out towards your back. Now like I said you want to hold each stretch for about a minute, if you want a really really good stretch. And you want to breath in through your nose and out through your mouth. Sometimes you're gonna get a bit of a burning sensation and that's ok, just try and hold it for as long as you can. And if you can't, that's also ok.
So my next exercise, all you have to do is straighten your legs out, pull your arms out, and lean forward. Now some people they might not be able to reach their toes, and that is the aim to try and reach your toes. But if you can't that's fine, all you have to do is reach your ankles or your socks or just your shins even, whatever you can reach, and pull down as much as you possibly can. Now you want to hold that exercise again for about a minute, and make sure you're breathing in and out. With this one I like to go down even further after a minute, so I like to do that twice. So the first time go down, then the second minute try and push down even further after you've gotten a bit warm.
My third and final exercise I love to do is the Butterfly. So I bring my my heels in, my feet in as far in as I possibly can, and what you want to do is you want to grab your ankles, use your elbows to push down on your knees as far as you possibly can. Now I know some people, like myself, are not as flexible and can't get their knees all the way to the ground, just try and push down as much as you possibly can.
And there you have it. My three exercises I like to do, almost daily, to keep my body in recovery and to keep fit.
Healthier living starts here
Whether you're looking for tasty and nutritious midweek dinner ideas or are catering for a range of dietary requirements, we have you covered with our healthy recipe collections
Supercharge it
The fiber and healthy fats in avocado are what make it a superfood for long lasting energy stores. It also contains many of the B vitamins that help with your red blood cell count which in turn helps regulate your iron levels!