Behind the scenes in the Coles Test Kitchen
We tracked our award-winning pasta from an idea to launch, a rigorous nine-month process of testing and tasting.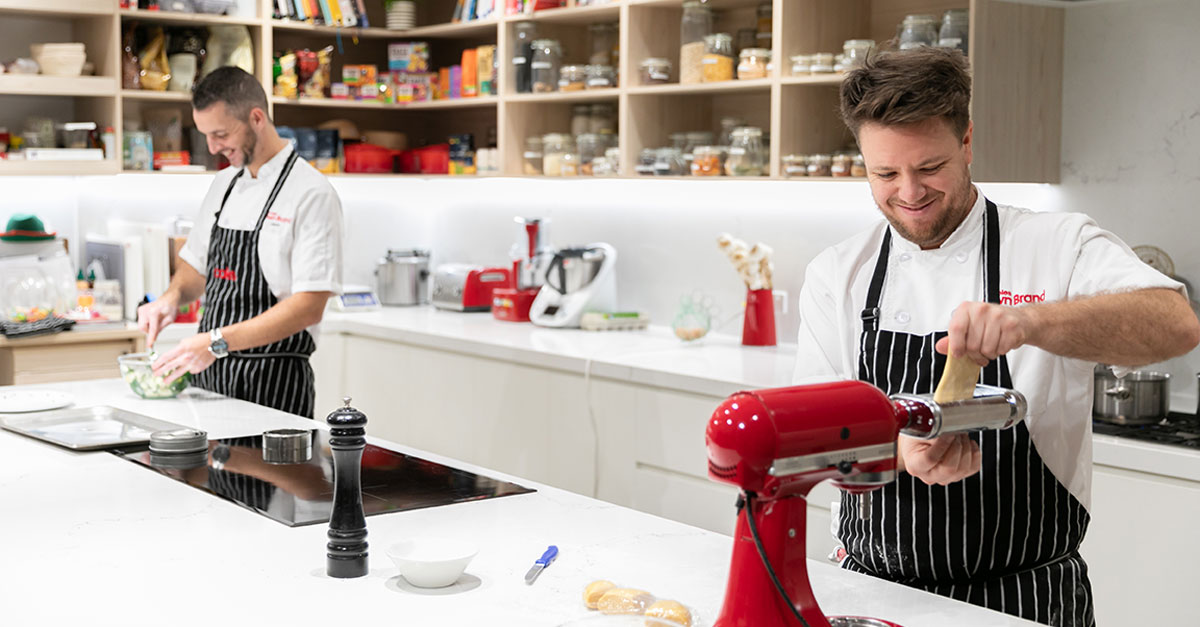 In little more than 10 minutes, a pack of Coles Brand spinach and ricotta agnolotti can be opened cooked, drained, tossed with melted butter and fresh herbs, finished with grated cheese and served to such acclaim that you might be tempted to declare you made it from scratch.

It seems simple but behind that quick meal is an astonishing amount of work.
A small battalion of highly skilled people has been working for nine months to perfect the agnolotti, which recently won a Canstar Blue award - an independent survey rated by nearly 400 Australians – for best fresh pasta.
All that simplicity and success began in the Coles Test Kitchen at the Coles Store Support Centre in Melbourne.
The Test Kitchen is a cross between restaurant kitchen, display kitchen and science laboratory. Shiny stainless-steel surfaces, induction and gas cook tops, multiple ovens and fridges, benches bristling with every kitchen appliance you can think of (and several more you may not have) and shelves packed with an astounding number of well-thumbed recipe books. It's the domain of Jason Oven, Lead Sensory and Development Chef, and Michael Weldon, Senior Development and Events Chef, former MasterChef runner-up and now Coles ambassador.
The two chefs are, according to Coles Senior Product Developer Victoria Whitlock, not just the gatekeepers for the quality of all the 2000-plus new food products that they taste test in the kitchen each year, but for the whole of the Coles Own Brand range that now includes more than 4000 products, running the gamut from pasta, health food and ready meals to fresh baked bread, cereal and baby food. The chefs are also "integral to the creation of new food ideas" for Coles, like the spinach and ricotta-filled pasta. So how did the agnolotti come about?
The idea
"Sometimes it's as simple as us going into one of the stores and having a look to see what we're missing," says Victoria. "Often Jason and Michael come up with ideas of their own."
Michael adds: "We are always going out to restaurants to see what's happening there and we grab any new cookbook we can get our hands on. We also spend a lot of time on Instagram to see what's hot in places like London, LA and New York but that is just the start of an idea because we then have to make it work in a supermarket situation."
Jason says they also look to see what's happening in international supermarkets such as Tesco, Waitrose and Marks & Spencer. "It's interesting to see what they're producing at a factory level – it increases the scope for what is possible," he says.
Coles' chilled pasta range is consistently reviewed. A core of best-selling products is a constant but the chefs are always looking to add to the range. Once they have a recipe they're happy with, the process begins that, with good luck and planning, will see the product on the shelves in nine months' time. 
The testing
For a new chilled pasta product, the chefs make the pasta by hand, rolling it out using a smart electric pasta machine, then cutting, filling and folding the pasta themselves.
"It is like a restaurant situation," says Jason. "But we're also very mindful that this is a recipe that has to be recreated at scale so we have to be exact about ratios of spinach and cheese.
"Coles has strict nutrition and dietary guidelines when it comes to ingredients like sodium and sugar. We also have to be aware of the cost of ingredients and the steps involved in making the product, as this can add unnecessary cost. Other considerations might include, for example, how moist the filling is – if it's too moist, the pasta will go soggy and can break when placed in boiling water."
Once ready, the pasta prototype goes through its first "Sensory", a process in which it is judged on appearance, aroma, taste and texture. If the chefs approve, they take the recipe to Victoria who will ask partner suppliers to begin the complicated task of turning a kitchen recipe into one that can be made successfully in a factory.
"The process is extensively documented from the beginning because when a production site goes into scaling up trials, it gets very expensive," say Victoria. "You're not talking a pot on a stove any longer but large quantities of raw product."
When a supplier is awarded the contract, Senior Product Technologist Emma Lodge gets involved. Her job is "food safety, quality and legality" or, in layman's terms, she ensures the production sites have the right food safety controls in place, that there are measures to ensure that the pasta is consistent in terms of shape, filling and flavour and meets Coles' strict nutritional guidelines, and that all the wording on the label – from allergy declarations to cooking times – is correct. She also checks that the packaging materials are recyclable (Coles aims to have all Coles Brand packaging recyclable, reusable or compostable by 2025*) and that the packaging format sits well on the shelves.
Before the agnolotti goes into full production, it's back to the Test Kitchen for another Sensory and then, after production, it returns again, this time for a blind tasting, where, unlabelled, it is tested and tasted alongside similar chilled pasta products available commercially on the market.
This is the final hurdle. If it doesn't pass all the tests – from how it looks cooked and uncooked, to the amount of filling and the thickness of the pasta – to a standard that's as good as or better than competitor brands, it's back to the factory to make the necessary tweaks.
The launch
It's a lot of pressure for a packet of spinach and ricotta agnolotti but it passes the test – not just taste and flavour-wise but in terms of its nutritional, sustainability and quality standards. It's taken nine months but, as the Canstar award and the number of packets flying off the shelves can attest, the effort has paid off.
"We're proud of the product and how well it's done," says Jason. "But we're already looking at recipes for 2022. That's the fun part of the job – there's always something new."