Your easiest Christmas yet
The cream of Australian media was invited to a Sydney studio for a sneak peak of Coles' dazzling Christmas creations.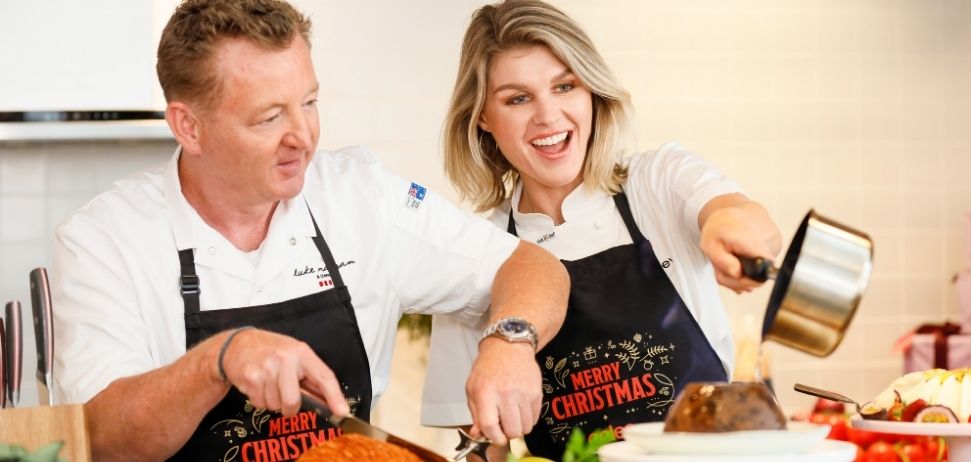 It's just before 11am and a Channel 7 crew is filming celebrity chefs Luke Mangan and Courtney Roulston as they light up a Coles spiced rum pudding on their festive studio kitchen bench.
"How good is that," says Luke, as he begins delicately carving a whole crackling ham, another Christmas treat from Coles.
Stepping away from the TV lights for a moment, Courtney explains that while this year's offering from Coles is bigger, bolder and more exciting than ever it fulfils the goal of making Christmas as stress-free and affordable as possible.
"Coles has made Christmas so easy this year," she says. "We really want families to be spending time together and not slaving away in the kitchen. Coles has not missed a thing."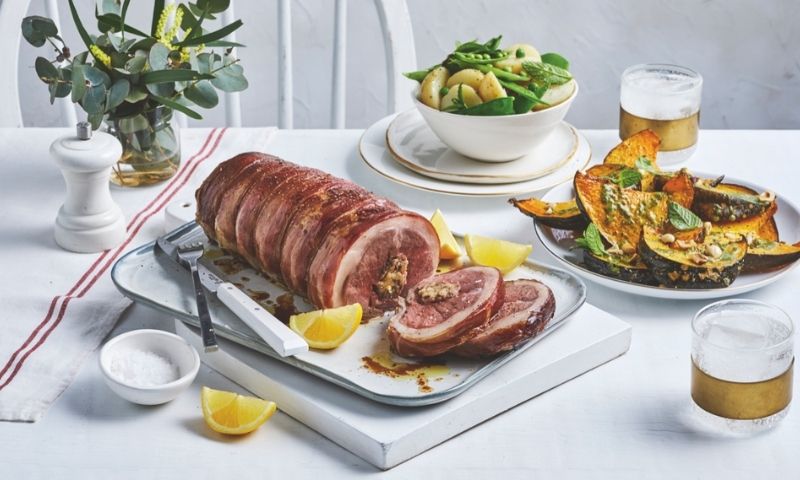 Despite COVID-19 restrictions some of the biggest names in the Australian media, including A Current Affair, The Australian, New Idea and Woman's Day, made it out to Sydney's southern suburbs for the launch of Coles' 2020 Christmas selection.
Flanking Luke and Courtney on the kitchen bench are a whole baked ham, stuffed salmon roast, prosciutto wrapped saddle of lamb and Coles's hassle-free desserts such as chocolate and hazelnut mouse and a pavlova festooned with berries.
"I'm a huge fan of pavlova, but meringue can be a tricky thing to pull off – especially on a hot summer day," says Luke. "With this Coles pavlova all you have to do is whip up the cream and add your berries and tropical fruits."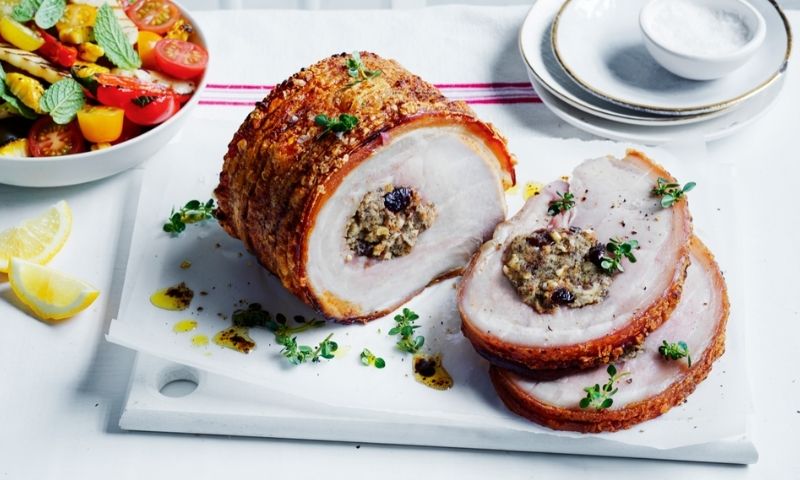 As Luke explains, there is often a lot of pressure on those hosting Christmas meals to produce elaborate, multi-course feasts – and this can make the experience quite stressful.
"Coles has made Christmas easy and affordable," he says. "And that' what it's all about. Less time in the kitchen means more time spent with friends and family, which is what I love doing."
The 2020 Coles Christmas catalogue contains 275 new or improved products using locally-sourced ingredients and created by a team of product developers over several months.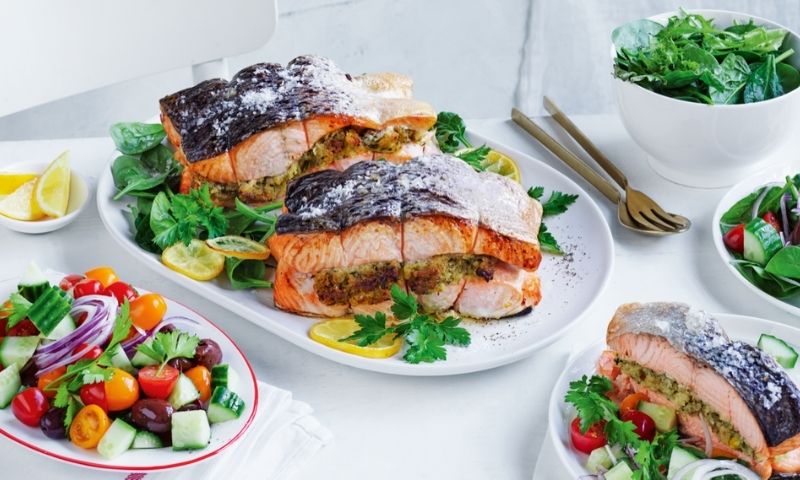 Alongside family favourites such as triple smoked leg ham, sausage rolls, fruit mince pies and panettone, Coles is this year unveiling several exciting new dishes for those who want to add a little more glamour to their Christmas table.
Highlights include Crackling Ham Roast, a cured and cooked ham with a crunchy crackling covering, Prosciutto Wrapped Saddle of Lamb , with a cranberry, orange and onion stuffing and a Passionfruit and White Chocolate Mousse Dessert.
"One of my favourites is the Coles Stuffed Salmon Roast," says Courtney. "The salmon comes from Tasmania and the stuffing is a mixture of fetta, leek, spinach and lemon. It's a light and healthy alternative to a meat roast for Christmas."