International Women's Day: meet Jessica Toth
To celebrate International Women's Day, we meet influential women who impact the way we shop, cook and think about food.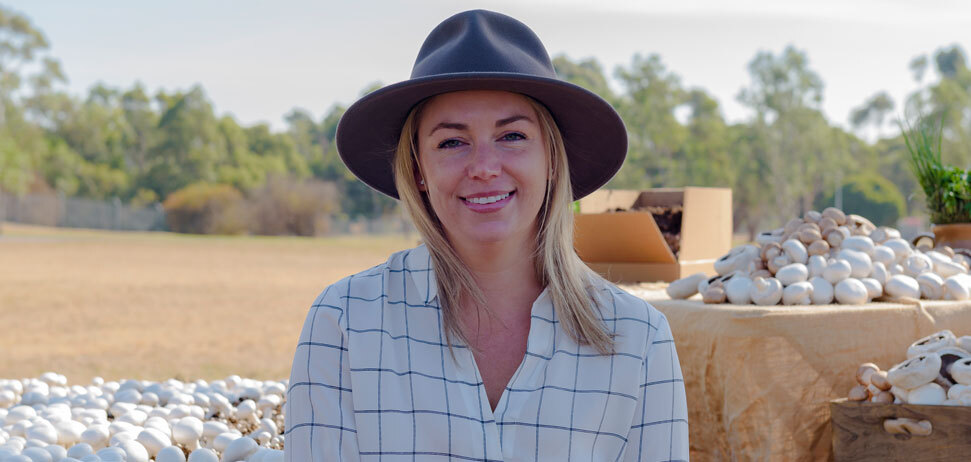 Jessica Toth grew up on a farm where she first gained experience growing mushrooms. She later became Head Grower for the mushroom category for Costa Group and is now State Manager (WA). Regarding opportunities for women, she believes "There is nothing stopping us!"
Name a female chef or mentor who has in some way inspired your career.
My mum. Mum is the backbone of our family. She ran the entire household, raised kids, cooked amazing meals, and ran the family business, a chicken farm.  At nine months' pregnant mum was still loading birds into chicken sheds. The truck drivers would tell her to stop and rest and she would say "women aren't disabled when pregnant, you know". 
I was always shown and taught that we can do it all because she was - and is still - limitless. Limitless in her determination and ability, but always confident enough to give things a go, try new things and simply get the job done. Barriers don't exist. She gave us independence and confidence in our ability from a young age: just go and do it and ask for help if you need it.
Our family kitchen was the central point of our home. We celebrated every milestone and festivity, and enjoyed the company of family and friends. Christmas had all the traditional festive foods – turkey, leg of lamb, pork, you name it. We would congregate with about 20 of us in a small kitchen while she was cooking, slowly chipping away at the food being prepared with no one in the living room. The distraction never phased her, only the fact that we were eating all the food before it hit the family table – quietly she loved that.

If you could change anything about the opportunities for women in food today, what would it be?
I would say it's more about changing women's perceptions about opportunities, because there is nothing stopping us! We simply need to just go for it and put our best foot forward.


What has been the biggest positive change you've seen regarding women in the food industry in the past 5-10 years?
I work at a farm that has an 80% female workforce and a management team that is 80% female. I've seen women start stepping into roles that were previously dominated by men and I have two great examples of that. 
The first is our female compost maker, now leading the compost team. Lizzy Byleveld is not defined by her gender and thrives on getting the job done. Every piece of machinery we operate, whether it be front loaders or any other heavy machinery that takes high skill to operate, Lizzy is onto it. In my lifetime in the agricultural industry I have never seen this and it's amazing to see.   
Another example is Samantha Moody, a qualified electrician who returned from maternity leave and is now leading projects on our farm in a role that was traditionally male dominated.


What would you say to a young woman considering a career in food today?
There are no limits: you can do anything you set your mind to if you really want it. Women can be caregivers as well as have a rewarding career in any industry.


Do you still see any stereotyping of women in the kitchen today – in the industry or in homes?
I don't personally but I believe that women are owning their roles. We are empowered to make the choices that make us happy and align to our ambition and our values.
On a day-to-day basis I see women breaking those stereotypes. They are owning being women as individuals, mothers or caregivers. I'd like to believe it's not stereotyping; I see it as conscious choices that we as individuals are empowered to make.


What was the best thing that happened in your own food career?
The opportunity to grow and develop. Mostly, feeling empowered to grow as an individual with roles that stemmed from growing to now a secondment position running the mushroom farm in WA. 
I encourage our people to grow and develop regardless, with a core focus on ability as opposed to gender. I am surrounded by incredible people each day and for that I am grateful.
Costa mushrooms are available in Coles stores nationally.