Meet the Coles Manager helping families in need
In Sydney's south-west people from all backgrounds are determined to make this Christmas one to remember.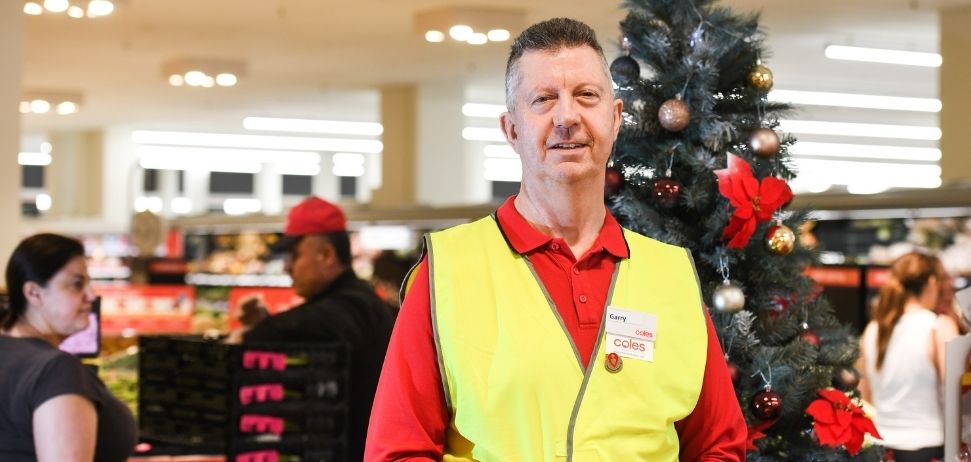 For Garry Ackroyd the festive season and all of its magic really begins with the sight of his first Christmas tree.
"We always have four trees in the store," he says. "You know it's Christmas when we put the trees up and decorate them."
Garry, the Store Support Manager at Coles Roselands, says another local tradition is distributing Christmas trees to needy families. "This year one of our trees went to a local Sri Lankan family," he says. "We're heavily engaged with the local Ceylonese community and connect with them on several levels."
Roselands, 16km from the Sydney CBD, has a colourful mixture of Middle Eastern, Greek and Anglo-Australian residents – and Garry believes the store reflects this energy.
"The predominant ethnic community is from the Middle East," he says. "So we have a fully dedicated Middle Eastern aisle within the store. Our meat range has also been tweaked and contains a lot of Halal products for our Muslim customers."
The suburb is also home to around 3000 new arrivals from Sri Lanka and Coles Roselands works with several charities such as Redkite, Oz Children Relief Association and SecondBite to help these families with food, clothing and other much-needed support.
"We do a lot of in-store collecting on behalf of Oz Children Relief and also go around to other supermarkets on their behalf," says Garry.

In order to support members of the Sri Lankan community the team at Coles works closely with schools in the area – families put a lot of energy and resources into educating their children.
After 18 years with Coles, Garry believes that the company is making a genuine difference to people's lives through its work with refugees and the disadvantaged.
"The outreach program is something we should all feel very proud about at Coles," he says. "It's all about helping people in need and shining a bit of light where we can."
While COVID-19 has been a challenging time for the people of Roselands, as it has for those across Australia, Garry believes that the pandemic has actually helped to strengthen ties among the area's diverse communities.
"We're very community-centric at Coles and I think that's increased over the years I've been with the company. The pandemic has brought people together in a way that we rarely see," he says.
"In fact, I've never seen this community so united. COVID-19 has brought the Greeks, Aussies and Muslims together as one because - let's face it - everyone is on the same emotional roller-coaster, and wrestling with the same fears."
While Christmas at Coles Roselands promises to be as frenetic as ever, things will be a little more subdued in the Ackroyd household – Garry lost his mother in the bushfires this year.
"To borrow a well-known phrase I'll be thinking of Christmas past," he says. "And remembering how Mum used to put thruppence pieces in the Christmas pudding every year."
This loyal Coles employee will be approaching Christmas 2020 in a spirit of thoughtful reflection, but with a dash of optimism about how things will pan out over the next few months.
"It's going to be a very special Christmas this year because we've all pulled together during the pandemic," he says. "Life always gives you opportunities, don't you think?"