International Women's Day: meet Nornie Bero
To celebrate International Women's Day, we meet influential women who impact the way we shop, cook and think about food.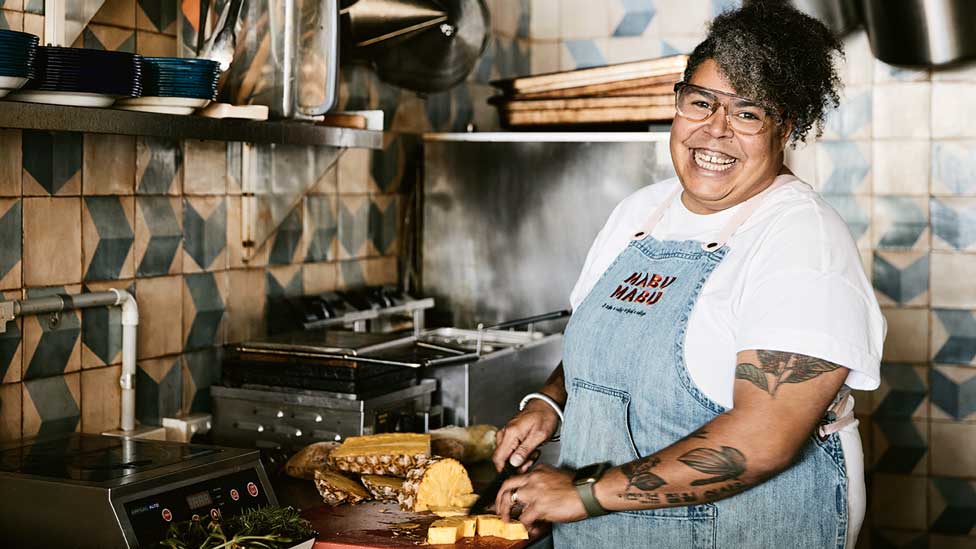 Originally from Mer Island in the Torres Strait, Nornie Bero has been a professional chef for over 20 years and is on a mission to make indigenous ingredients everyday items in kitchens across Australia. She is the head chef and business owner of Mabu Mabu, in Melbourne.
Name a female chef or mentor who has in some way inspired your career.
The most inspiring female chefs in my career have to be the women who helped raise me, my aunties and grandmothers. They knew how to make every dish just right and never cut corners on flavour, putting in the hard work and timing needed for each fantastic meal to come together. I think of them whenever I'm putting together a menu to make sure every bite is packed with new flavours. I'm also inspired by the many women in this industry who don't get the limelight they deserve but who have still shaped the industry and paved the way for how it's changing into the future.
If you could change anything about the opportunities for women in food today, what would it be?
I'd like to see more women in business being represented front and centre, and getting those bigger opportunities - the larger-scale events where we tend to be passed over. I think women in this industry are the future, a future in which we need to change the way we look at hospitality as a whole. If the pandemic has shown us anything, it's that women have stepped up, doing amazing things. Not only in diversifying and pivoting their businesses but also showing the resilience needed to achieve these days in such challenging environments.
What has been the biggest positive change you've seen regarding women in the food industry in the past 5-10 years?
In the last few years, there has clearly been more ownership of hospitality businesses by women in the sector, which is fantastic to see. But it's only in the past five years we have seen a visible change in leadership and in the representation of women coming through the ranks. 
What would you say to a young woman considering a career in food today?
To all women considering a career in food today, I'd say "Give them hell! Stand up and be seen and heard. No one will give you the job, you have to take it. If you believe in your abilities then you will achieve big things.
Do you still see any stereotyping of women in the kitchen today – in the industry or in homes?
I think there is still some stereotyping of women in this industry, for example the idea that women in professional kitchens are still diamonds in the rough. Yes, it has been a male-dominated area for many years but I do see the industry evening itself out these days.
What was the best thing that happened in your own food career?
The best thing was being able to build my own business around amazing women in the industry and creating a women-led business at Mabu Mabu. I wanted to create a workplace for my community, and now I have this amazing team full of women of colour, Queer, and First Nations staff both in the kitchen and front of house. If I think about my career, I have a few great memories of the handful of women in my life that have put me on the right path. They have made me proud to walk in their footsteps of hard work and dedication, enabled me to stand on my own two feet, and I want to do that for my community.
Nornie Bero is a Coles ambassador. See her recipes here.