Reservoir honours its Italian heritage
After a challenging year the people of Reservoir are looking forward to a big Christmas, and a slice of panettone.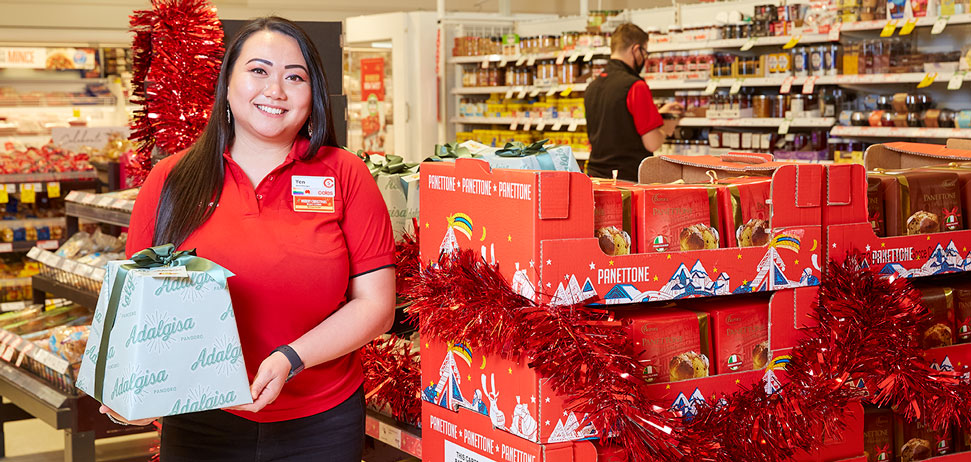 Christmas will have a distinct Italian flavour in the Melbourne suburb of Reservoir this year.
Yen Phan, the Manager of the Coles Reservoir store, says that she has made sure that the area's large Italian population will have a good choice of panettone.
"For Christmas we've ordered in every type of panettone under the sun," she says. Originally from Milan, this cupola-shaped sweet bread is a popular Italian treat over Christmas and New Year.
Yen says the store will also be offering a wider choice of cured ham than ever – ham is another seasonal favourite. "We have 11 new ranges of hams coming in," she says.
Although Reservoir, located about 13km north of the Melbourne CBD, has a number of migrants from Greece, the UK and Ireland, the suburb is best known for its large Italian population.
"We do have a very big Italian-speaking community here," says Yen. "There are also a lot of Greek, British and Irish people in Reservoir, but they're not as prominent as the Italians."
At just 25 years of age, Yen, who has French-Vietnamese ancestry, has been working with Coles since she was a teenager and understands the importance of community.
"As they say, it takes a village to raise a child," she says. "And Coles Reservoir is pretty much my child. I definitely treat the store like my child. The community here are my customers but they also bring in their unique personalities. Not only does that extend to the customers but also with the team that I have here. None of this would be possible without them here."
As one of Melbourne's more established suburbs, Reservoir also has a large number of older citizens and Yen ensures that Coles continues to support the local aged care centre – and also the community centre.
"During the COVID pandemic we have been supporting the aged care centre with bottled water," she says. "We normally support the community centre in Summer Hill. This has not been possible in recent months, but it's something we'd like to resume."
Although Yen, who has a degree in Criminology from Deakin University, has been at the Reservoir store only for a few months, she has got to know plenty of locals and is delighted that Coles has an ongoing commitment to the community.
"There's a lot of things that Coles does behind the scenes and doesn't make public," she says. "It makes me proud of working for such a company."
Coming from a migrant family, Melbourne-born Yen says Christmas is a wonderful time to connect with friends and family, regardless of your heritage.
"Christmas is very big deal in our family," she laughs. "We have between 30 and 40 people around the table. Cooking for that number requires a big group effort and anyone who has some culinary skills jumps into the kitchen to help out."
After a challenging year Yen says she is looking forward to Christmas celebrations, nominating roast chicken as her favourite seasonal fare rather than turkey or ham.
"We have a very weird Christmas because one side of the family celebrates Christmas and the other not so much," she says. "I converted to Islam three years ago so we have every type of culture under one roof and regardless of the difference in culture and religion, any time with the family after such a tough year is very fulfilling!"