Stephanie Alexander Kitchen Garden Foundation - Kitchen Garden at Home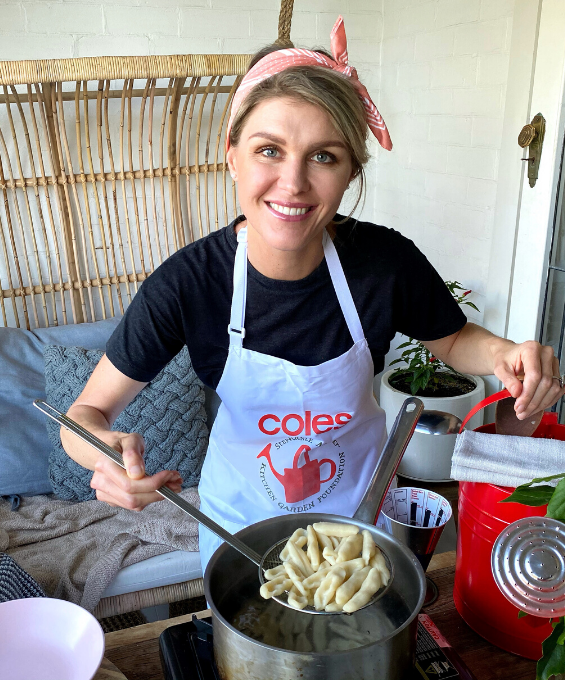 Coles is partnering with Stephanie Alexander Kitchen Garden to bring the magic of learning and experimenting in the kitchen straight into the homes of children around Australia.  
Last week, Coles supported the Stephanie Alexander Kitchen foundation's launch of its Kitchen Garden at Home program, a series of themed garden activities,  recipes and curriculum links created by the Stephanie Alexander Kitchen Garden Foundation (SAKGF). 
Presented in a remote learning format, the program is structured around the Kitchen Garden Program mantra of growing, harvesting, preparing and sharing. The bespoke content is intended to keep students and schools engaged in the program and build their interest in fresh, seasonal and wholesome foods. It will see eight new collections released weekly running until June, having begun in April.
Kitchen Garden Program at Home will be available to more than 2000 registered schools and early learning centres via the SAKGF shared table, a large online community where all members have a profile. 
A selection of the cooking videos will be made available to the public via the Stephanie Alexander Kitchen Garden Foundation website, YouTube channels as well as being accessible on the Coles YouTube channel. Subscribe to stay up to date!
How is Coles supporting the Kitchen Garden Program at Home?
Together with the Stephanie Alexander Kitchen Garden Foundation, Coles is helping to develop the recipes and videos to be released weekly. These will support teachers and educators to enhance their kitchen garden class, as well as inspire Aussie families to grow, harvest, prepare and share, fresh seasonal delicious food in their homes!

Coles has engaged ambassadors, Michael Weldon and Courtney Roulston for the delivery of these videos. The chefs do an exceptional job of taking kids on a step by step journey through recipes, really getting the children engaged and excited about fresh food.
In early May, Stephanie Alexander and other chefs featured on the Coles What's for Dinner Segment during the Channel 7 evening news, promoting the program and encouraging families to get children involved in the cooking process as home. 
Interested in getting your school involved in the program? Get more information about the Stephanie Alexander Kitchen Garden Foundation via their website. 
The recipe we'll be cooking today is from the Stephanie Alexander Kitchen Garden Foundation and in conjunction with Coles, it's designed to support kitchen garden kids at home.
So, we're going to be making baked ricotta and spinach gnocchi, a really nice Italian recipe full of fresh flavours.

And the first thing we need to do is to blanch our spinach. We've got a pot with just some boiling or near-boiling water and I'm going to put a sieve into the water.

Alright, the spinach doesn't take long at all to wilt - about 30 or 40 seconds in that hot water.

Make sure you get rid of any excess water. And I'm just going to pop this straight onto my board. And using your rock-and-chop, just run the knife through that spinach.

OK, now the spinach is chopped, we can pop that into a bowl. Now, traditional gnocchi would be made with potatoes and flour, but we've got a really quick cheat's version today and it adds a really nice flavour.

I've got 500g of fresh ricotta. So this is from the deli at Coles and we just want to crumble that in with the spinach. I'll add a pinch of sea salt for our seasoning.

I've got half a cup of plain flour here. So, we just pop in our flour. 80g of pecorino cheese, and I'm just going to grate that in with the ricotta and the flour and the spinach. I'll put some pepper for some seasoning.

Just crack that in. So, we can pop in some parsley and I've also got some mint here. And just with a couple of spoons, we're going to give this a mix. So, you want to mix this until it becomes like a crumbly, sticky dough.

And, of course, gnocchi needs a beautiful sauce to go with it, so we're going to make a fresh tomato sauce. And like all good Italian recipes, this starts with some onion and some garlic.

So, I've got a brown onion here. We're just going to dice up this onion. We just need to pop a couple of tablespoons of olive oil into a pan that I've got on a nice medium heat here.

And the onion's going to go in there. The second ingredient for our sauce is some garlic. OK, and the garlic can now go in with the onion also. Season with a pinch of sea salt.
OK, the onion and garlic smells really nice and I can see that it's softened down, so we can pop in some parsley.

We're using some tomato passata for this. We'll add in a little bit of pepper. A pinch of sea salt. You just want that on a really nice little low heat and that can cook out for around 20 or 30 minutes.

OK, while the tomato sauce just gently cooks away, we can roll our gnocchi out.

So, I've got a baking tray. And we just want to line the baking tray with a little bit of extra virgin olive oil.

And this is going to help the gnocchi from stopping to stick to our tray. And using some spoons, we're just going to form little balls or gnocchi balls.

Alright, the last gnocchi can go into our tray. Our tomato sauce is smelling delicious and it can go onto our gnocchi now.

The last thing to go on before this goes into the oven to bake is some mozzarella cheese.

I've got the oven set at 200 degrees and this needs around 15 to 20 minutes.

And there we have it. That is the baked ricotta and spinach gnocchi from the Stephanie Alexander Kitchen Garden Foundation.

I think there's only one thing left to do now, and that is to eat. Rich tomatoes, that soft, pillowy ricotta. I really think you kids are going to love this one.

You should definitely give it a go.