International Women's Day: meet Tasia and Gracia Seger
To celebrate International Women's Day, we meet influential women who impact the way we shop, cook and think about food.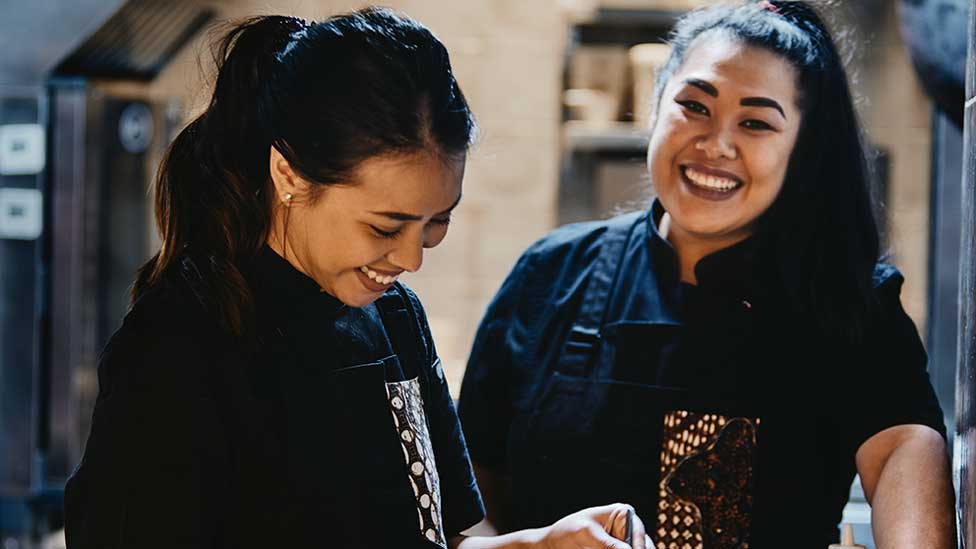 Tasia and Gracia Seger were born in Indonesia, lived in India, and settled in Melbourne, and while travel is a passion food has always been in their hearts as the centrepiece of relationships with family and friends. The sisters became well-known after winning the television series My Kitchen Rules and now have a restaurant in Melbourne.
To celebrate International Women's Day, we asked them about their inspiration, mentors, and what advice they'd give a young woman beginning a career in the food industry today.
Name a female chef or mentor who has in some way inspired your career – and explain why.
One of the female chefs who inspired our career in the food industry is Kylie Kwong. We remember the times we would catch her on TV and be so inspired by her cooking and how passionate she was with educating the public about the food of her heritage. She has shown us that there was a space for South-east Asian cuisine to be accepted in Australia and around the world, and instilled in us that there was a possibility for our own heritage, Indonesian food, to also have a platform.
If you could change anything about the opportunities for women in food today, what would it be?
One opportunity we feel could use some improvement is for women in food to be recognised and admired by a male audience as much as a female audience would admire a male chef. To expand: male chefs have both male and female audiences that follow them, whereas female chefs are mostly followed by female-based fans.  
A major factor contributing to this is that males in the industry are often promoted more and given a larger platform to be recognised in the industry. Because women have held the central role in the kitchen of their household for many years, male chefs in the commercial food industry are often labelled as "gifted" whilst women in the industry are more perceived as a "given" talent.
What has been the biggest positive change you've seen regarding women in the food industry in the past 5-10 years?
One of the more refreshing changes, especially in Victoria, is the rise of female head chefs and female chefs being at the forefront of a restaurant brand and name. When we were growing up all the names of famous chefs were predominantly male. It has been a positive change seeing more women as leaders in the food industry.
What would you say to a young woman considering a career in food today?
We would say "Give it a chance as things are changing!" Although the industry was once a male-dominated place, it is now more accepting of female chefs. Both of us have experienced first-hand how much mutual respect there is from our male co-workers in the kitchen. Being a woman in the industry is seen as refreshing and inspiring!
Do you still see any stereotyping of women in the kitchen today – in the industry or in home?
Stereotyping of women in the kitchen today, both in the industry and in the home setting, is still very visible. It is still very apparent that the industry is mainly accommodating to male chefs, yet it is the norm that females are the main players in a household kitchen.
One of the stereotypes which should be challenged in the commercial kitchen is doubt of physical strength. We are often met with male chefs insisting to be the one to lift the heavy items. Although our physical strength is at times limited and we appreciate the thoughts, it can feel a little bit like they are disregarding our strengths.
What was the best thing that happened in your own food career?
Opening Makan Restaurant (Melbourne) has been one the highlights of our career. We never would have imagined owning our own restaurant let alone being head chefs in the kitchen. Our food journey isn't backed up by a fancy degree in the culinary industry but was built on our passion for cooking and introducing the Indonesian food we grew up eating. With a lot of help from each other, friends, family and business partners who believed in us, we are running the kitchen and are surrounded by amazing people in the kitchen with similar passion and creativity.
See Tasia and Gracia Seger's recipes here.