Courtney Roulston's whole roast miso cauliflower
Here's an inventive way to plate up the veggies tonight. This whole roast cauliflower is baked in a miso glaze and served drizzled with a tasty cashew mixture. It's a guaranteed hit!
Hey everybody, I'm Courtney Roulston and welcome back into my kitchen.
I've got an absolute favourite that I'm going to show you tonight.
It is my whole roasted Miso Cauliflower. It is an absolute flavour bomb. It is really easy to make. So let's get on with the cooking.
First thing you are going to need is a cauliflower. I've got a nice big one here. A whole big cauliflower is enough to feed 4 people.
Now the thickest part of the cauliflower is that core, and by putting a cross in it, that just means we're going to get some even cooking.
I like to give the cauliflower about 5 minutes in some salted boiling water before we put it into the oven. 
Alright next we can prepare the Miso glaze. And it's super simple. You are going to need some miso paste. I've got about 2 tablespoons.
Pop that in. about a third of a cup of Mirin. A couple of drops of sesame oil, just some maple syrup to sweeten up that salty Miso paste. Give this a whisk and just get that nice and smooth. And just set that aside.
Alright, the cauliflower's had five minutes in that salted water and I'm going to pop it in a little roasting pot here. 
All we need to do now is some salt and extra virgin olive oil onto the cauliflower. Cover it with some foil.
This is going to go into a 180 degree oven for about 30 minutes. So we're going to make a really nice vegan sauce to go with this. I've got some raw cashews in. These have been soaking in some warm water.
I'm going to pop them into a jug. And a little bit of spicy raw ginger in our sauce is going to be really nice. A splash of apple cider vinegar and a pinch of sea salt. We're going to blitz this with a stick blender until it becomes beautiful and creamy. 
Alright we're 30 minutes in with the cauliflower in the oven. You can take the foil off and I've got over here
The beautiful miso glaze that we made earlier.
This is going to back into the oven. Still at 180 degrees, it's going to need maybe another 20 minutes.
Check this out!
Look at that super caramelized crunchy tender on the inside cauliflower. All we need to do now is to put all the garnishes on. So that beautiful cashew dressing, spiked with ginger. The green chilli, the little French shallot we sliced up, some of those pomegranate jewels, sesame seeds, sunflower seeds, mint that we picked fresh out of the garden. Look at that miso roast cauliflower. Rock star of a vegetarian dish!
And that's how you make my miso roasted cauliflower.
Give it a go. You will not be disappointed.
Happy cooking!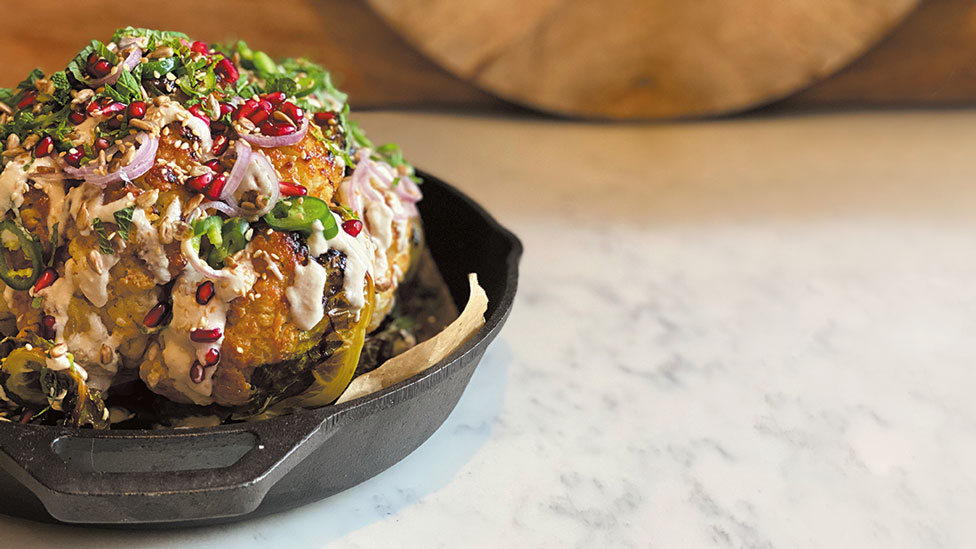 Note: + 30 mins standing time
Ingredients
3/4 cup (120g) raw unsalted cashews
1 large cauliflower
2 tbs extra virgin olive oil
1 tbs apple cider vinegar
1 tsp maple syrup
2 tbs pomegranate seeds
1 tbs sesame seeds, toasted
1 tbs sunflower seeds, toasted
1 long green chilli, sliced
1/4 cup mint leaves, sliced
Red onion, thinly sliced, to serve
Miso glaze
2 tbs miso paste
1/3 cup (80ml) mirin seasoning
1 tbs maple syrup
1 tsp sesame oil
Method
STEP 1
Place the cashews in a bowl. Cover with 3/4 cup (180ml) boiling water. Set aside for 30 minutes to soak. 
STEP 2
Preheat oven to 180°C. Cut the base of the cauliflower so it will sit flat on an even surface. Cut a cross into the base of the stem with a small sharp knife. Bring a large pot of salted water to a simmer and place the cauliflower upside-down in the pot. Simmer for 5 minutes. 
STEP 3 
Remove the cauliflower from the pot and allow excess water to drain off. Place upright on a lined baking pan or tray and drizzle with extra virgin olive oil. Season with a little salt. Cover tightly with foil and bake for 25-30 minutes. 
STEP 4 
Meanwhile, to make the miso glaze, whisk the miso paste, mirin seasoning, maple syrup and sesame oil in a bowl until smooth. 
STEP 5 
Remove the cauliflower from the oven and take off the foil. Spoon over the miso glaze and place back in the oven, uncovered, for a further 10-15 minutes or until the glaze is bubbling and golden. 
STEP 6
Place the cashews and soaking water, vinegar and maple syrup in a jug. Use a stick blender to blitz until smooth and creamy. 
STEP 7
To serve, drizzle with cashew mixture over the cauliflower. Sprinkle with the pomegranate seeds, sesame seeds, sunflower seeds, chilli, mint and red onion. Serve warm with a fresh green salad.
Check ingredient labels to make sure they meet your specific dietary requirements and always consult a health professional before changing your diet. View dietary information here.