Courtney Roulston's Greek chicken pie with Greek salad
Craving some tasty comfort food for dinner? Look no further than this Greek chicken pie with Greek salad. It's crispy, golden and full of flavour.
Hi guys, I hope you're well, Courtney Roulston here, with my next and possibly the best yet What's for Dinner recipe. 
Tonight I'm making my Greek chicken pie. It's utilising the best of humble ingredients to feed a family of four for under $20, so it's brilliant value too. 
Let's get on with the cooking, so I'm using chicken thighs for my pie today, they are great value for money and they are just packed with flavour. We're going to slowly cook these down and shred them. With that chicken, I've gone in with three sliced onions and you want to add in two cups of chicken stock. Cover it with the lid and let that gently simmer away for around 30 minutes. 
Have a look at our braising chicken and onions, look at that. So I'm going to remove the chicken now and I'm just going to let the chicken cool slightly and then I'm going to shred that for our pie filling. 
With the onions and the remaining stock, I'm just going to let it cook down and thicken up for around another 15 minutes. 
All we need to do is finish off this pie filling and we need some eggs for this so no cream in this pie. Our shredded chicken can go in with the onions. So a good pinch of sea salt and a few really good grinds of cracked black pepper. Pop in the eggs, cookers not on just so you know, the only heats off, we're not making scrambled eggs, you want to keep this mixture nice and cool. 
Ok for our pastry for our Greek pie, I'm going to generously grease the bottom of that that tin and we just need to brush each layer of filo with a little oil as well. I'm going on with three sheets on the bottom. Add filling, now I can go in on top of our filo pastry, three more layers on the top of the pie. Roll up the edges of the pie. 
Final touch of olive oil over the top of the pastry. My oven is set quite high to start with this pie we're going to give this about 15 minutes, we're going to cut some pieces of the pie and then it's going to go back in the oven for another 30 minutes. 
So a good job while the pie is resting is  just to make a really nice quick Greek green salad to go with our pie. 
Alright look at that brilliant pie, bit of green salad to make a complete meal all for under $5 a portion. Head on over to coles.com.au for loads more recipe inspiration, for now, I'm not going anywhere me and my Greek chicken pie. Oh yeah, winner winner!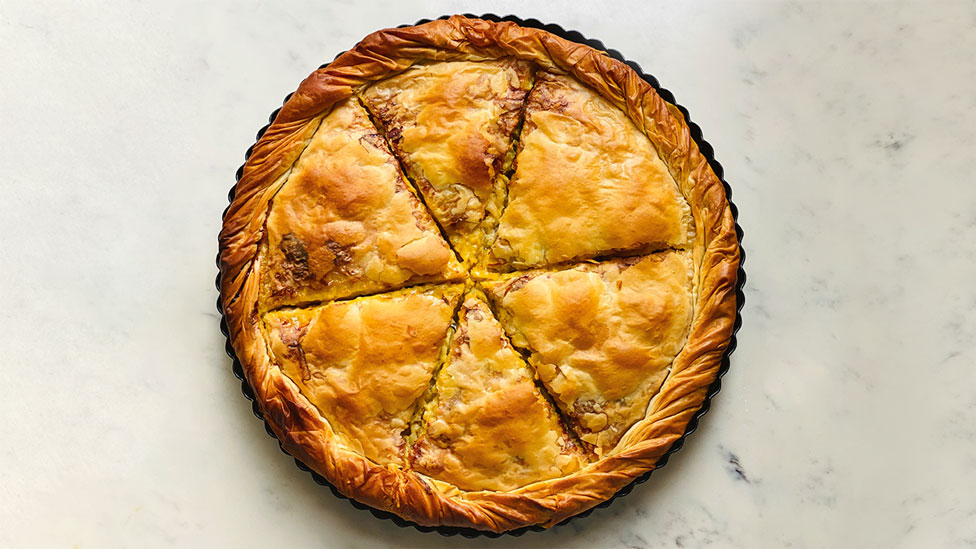 Ingredients
800g chicken thigh fillets
1/3 cup (80ml) extra virgin olive oil
3 large brown onions, thinly sliced
2 cups (500ml) salt-reduced chicken stock
4 free-range eggs, lightly whisked
6 sheets filo pastry
120g mixed salad leaves
1 large Lebanese cucumber, sliced
1 lemon, rind finely grated, juiced
1/4 bunch dill, chopped
Lemon wedges, to serve
Method
STEP 1 
Preheat oven to 220˚C. Heat a large non-stick frying pan over medium heat. Add the chicken and a little oil and cook for 2-3 mins each side or until browned. Add the onion and stock. Reduce heat to medium-low. Cover and cook for 25-30 mins or until the chicken is cooked through. 
STEP 2 
Transfer the chicken to a plate and set aside to cool. Use 2 forks to coarsely shred. 
STEP 3 
Meanwhile, cook the onion mixture for a further 10-15 mins or until the sauce thickens. Set aside to cool completely. 
STEP 4 
Return chicken to the onion mixture in the pan. Season with salt and pepper. Add the egg and stir to combine.
STEP 5 
Grease a 24cm (base measurement) round fluted tart tin with oil. Line the tin with 1 pastry sheet and lightly brush with oil. Repeat with 2 more pastry sheets and oil, layering the sheets in alternate directions so the entire tin is covered (allow the excess pastry to hang over the edge). Spoon the chicken mixture over the pastry. Top with the remaining pastry sheets, lightly brushing with oil in between each layer. Roll up the excess pastry and tuck into the outer edge of the pie. 
STEP 6 
Brush the pastry lid with oil. Bake for 15 mins. Use a sharp knife to cut the pie into wedges. Reduce oven temperature to 200˚C and bake for a further 30 mins or until the pastry is golden and crisp. Set aside to cool slightly.
STEP 7 
Combine the salad leaves, cucumber, lemon zest and a squeeze of lemon juice in a large bowl. Season with salt. Sprinkle with dill and drizzle with a little oil. 
STEP 8 
Serve the pie with salad and lemon wedges.  
Check ingredient labels to make sure they meet your specific dietary requirements and always consult a health professional before changing your diet. View dietary information here.