Curtis Stone's creamy carrot carbonara
Try this spin on the classic carbonara by Curtis Stone. Packed with carrot for texture and flavour, this creamy dish will be a new household favourite.
Hey guys, Curtis here, I've got a really quick simple recipe for ya that's nutritious and delicious, which doesn't always happen, right.
It's a Carrot Carbonara, we're gonna make it with Spaghetti.
The thing I love about this recipe is that in the time it takes to cook this  pasta, which is like 11 or 12 minutes, the sauce is done. So dinner here is literally a 10-15 minute preparation.
So a pot of boiling water, lift your lid, here's the thing that you have to do. Before you put your pasta in the water, is get some salt, generously season it with that salt because you almost want it to taste like sea water. Right, so the pasta goes in, we turn that up on full.
Into this hot pan, I've got a little bit of chopped up bacon. Cured salty porky bits, delicious.
Now once your pasta has been in for just a minute, you know it's softened and it's now all fallen down into the water, just give it a little stir. That little stir will help it from not sticking together.
Once your bacon is starting to get a little crisp, what you do next is throw in some onions, now, my recipe calls for a brown onion, guess what? I don't have any, so I'm using a red onion and that's gonna be just fine. Once that's had maybe 30 seconds or maybe a minute, time for the garlic. In seconds you guys, it smells unbelievable in here. Carrots go in next, that's gonna go for about 2 minutes, you can do it with the lid on or the lid off, I'm gonna go ahead and drop my lid back on.
Now traditional carbonara, doesn't actually use any cream, which is always a surprise to people. It's sort of a liaison between that parmesan cheese that I just dumped in there and that beautiful egg yolk. Whisk it real nice.
Now some carbonara's will tell you never use cream, I'm gonna just cheat and use just the littlest bit. And that's it, I'm gonna turn it right down, the Spaghetti is done. I've got a little bit of extra virgin olive oil.
We've got our pasta done and it is all looking super beautiful. You might just want to spoon just little bit of pasta water in. Then what you do is you bring this beautiful egg yolk and parmesan mixture in.  Go ahead and turn your pan off.
Then what you just lift this up and you toss it together.
That's it, call 'em to the table, dinners ready, lots of love, lots of delicious vegetables. Of course fabulous fabulous flavours. I said it was a one pot wonder and I wasn't joking, Bon appatite.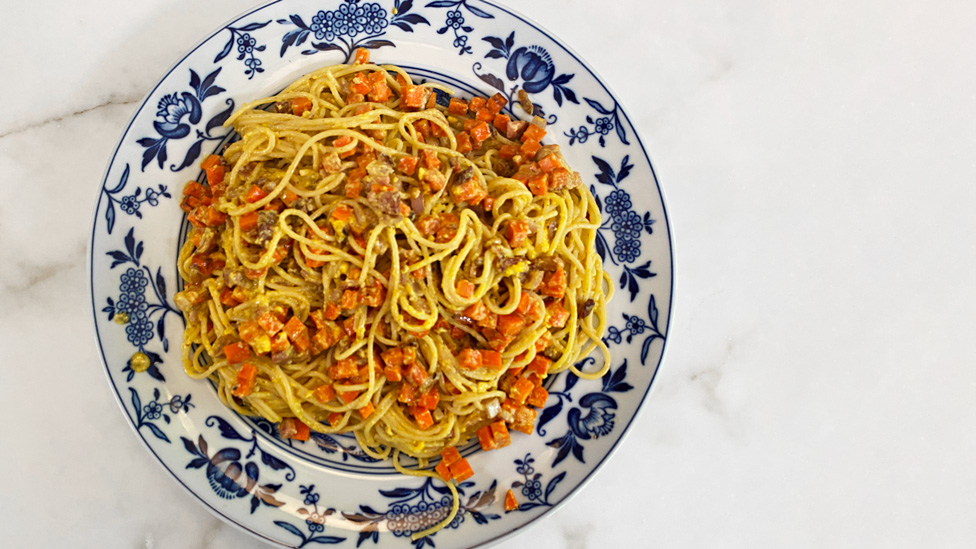 Ingredients
2 tbs olive oil
100g pancetta, chopped
2 medium carrots, peeled, finely chopped
1/2 small brown onion, finely chopped
2 garlic cloves, finely chopped
2 tbs thickened cream
300g spaghetti
4 large Coles Australian Free Range Egg yolks
1/2 cup (40g) finely grated parmesan cheese
Method
STEP 1
Heat a large frying pan over medium heat. Add the oil and pancetta. Cook, stirring frequently, for 4 mins or until pancetta is almost crisp. Add the carrots, onion and garlic. Season with salt. Cook, stirring occasionally, for 10 mins or until the vegetables are tender and lightly browned. Stir in the cream and remove from heat.
STEP 2
Meanwhile, bring a large saucepan of water to the boil over high heat. Add the spaghetti and cook following packet directions or until al dente. Drain the spaghetti, reserving 1/3 cup (80ml) of the cooking liquid.

STEP 3
Return the spaghetti to the pan with the carrot mixture. In a medium bowl, whisk the egg yolks, parmesan and 1/2 tsp freshly ground black pepper. Whisk in the reserved cooking liquid. Stir the egg yolk mixture into the pasta mixture in the pan and toss over low heat for 1 min or until the sauce is creamy and coats the pasta (do not allow the sauce to boil). Remove from heat and season with salt and pepper. Serve immediately.
Check ingredient labels to make sure they meet your specific dietary requirements and always consult a health professional before changing your diet. View dietary information here.